Once More Unto Bangkok
My first visit to Bangkok was a very mixed bag. I was anxious to give it another go.
---
On July 22nd 2019, after an adventure spanning 272 days (~9 months), 4 countries, 12 locations, and 23 different residences, it was time for me to return to the United Kingdom. My exit from Asia was essentially a mirror to my arrival, so gave the opportunity to reflect on everything that had happened during the time.
It wouldn't be accurate to say that Bangkok was where my adventure began. That honour went to Zagreb, in Croatia. That being said, my brain really seems to want to categorise Croatia differently from the eight months that followed it. Bangkok wasn't where my adventure began, but it was the start of a new chapter.
Returning to Bangkok felt significant. Bangkok was my first taste of a culture that was entirely dissimilar to my own. Whilst it had only been eight months, it felt like a life time ago, and I felt changed.
But I'm getting ahead of myself - first I had to get there from Chiang Mai.
Overnight Sleeper Train
To get from Bangkok to Chiang Mai in November, I had taken the overnight train. A lack of available spaces had forced me into taking the third class sitting cabin on the older train 51, so I had a less than pleasant experience. Train 51 had uncomfortable chairs, rude food vendors who woke me up repeatedly, and a lack of AC during a time when I had zero heat acclimation.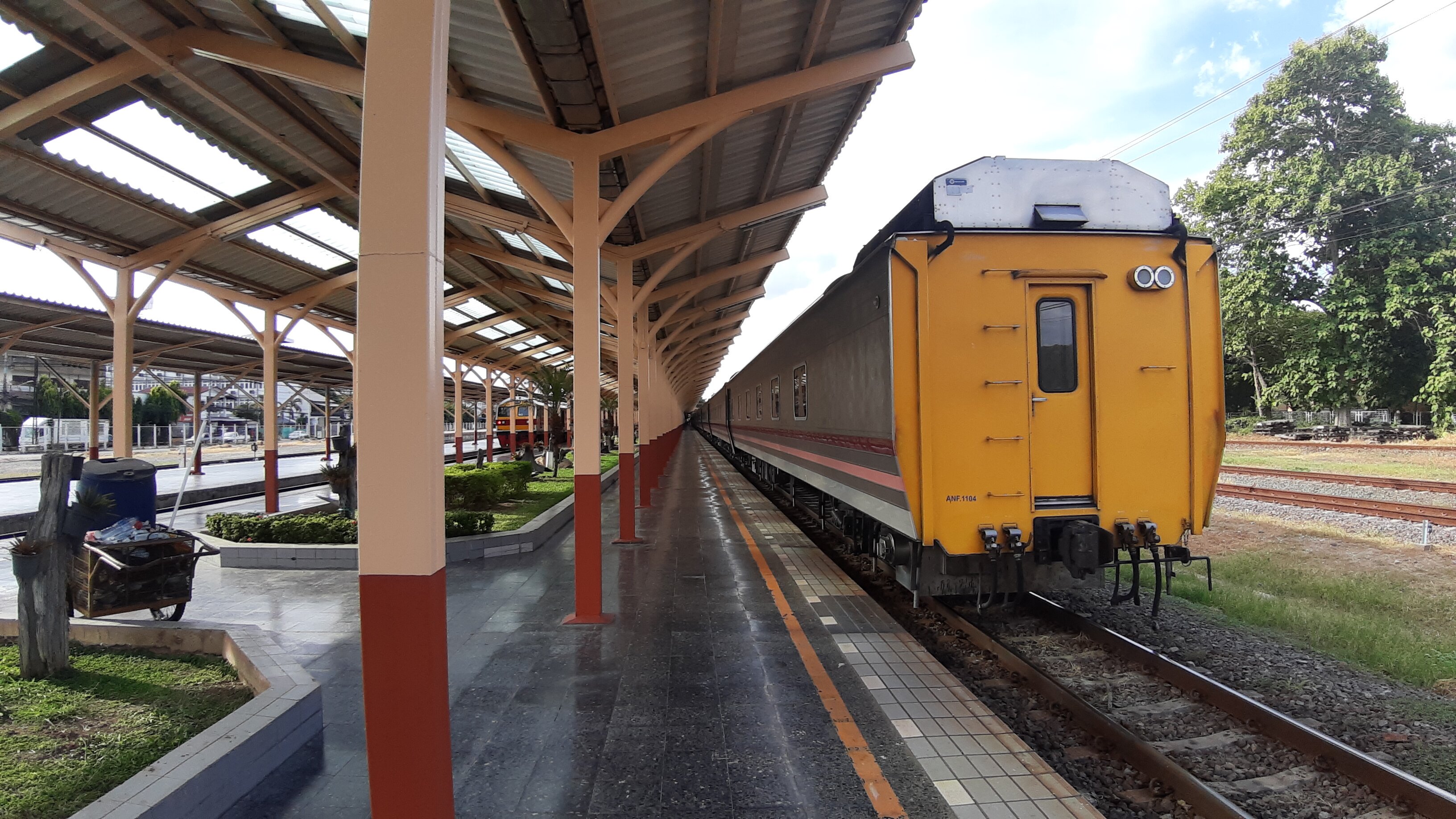 The train sitting in Chiang Mai Railway Station.
Hoping to avoid all that, I booked myself into the second class sleeping cabins of the newer train 10, which is one of the best available trains. It has chairs which convert into bunk beds, allowing you to sleep during the stay, and the whole carriage is aggressively air conditioned.
I booked a few days in advance, and whilst I would have preferred to stay in the bottom bunk (which has slightly more space, and allows you to look out of the window), there were no tickets available. I booked my ticket in the top bunk for the standard fare of 941฿ (€27.22, £24.41, $30.57). This was significantly more expensive than the 291฿ (€8.49,£7.75,$9.42) ticket I booked last time.
When I entered the train at 4:30PM (an hour and a half before departure), most of the booths were empty. The train was too cold - I'd have liked to have a jacket and trousers to wear, but I didn't have any. Otherwise, the train looked great, with comfortable seats and partition walls between the passengers.
The chair opposite mine was occupied by a portly middle-aged man whom I assumed to be German from his accent, but whom I later found out to be from Luxembourg. The first thing I did was lie down on the floor. Needless to say, that took him by surprise. I wanted to compare my height to the length of the booth, as I suspected I might be too tall - turns out that I am around 2-4cm too tall. I explained that I was worried that I would have to lie diagonally once our chairs had been converted to beds.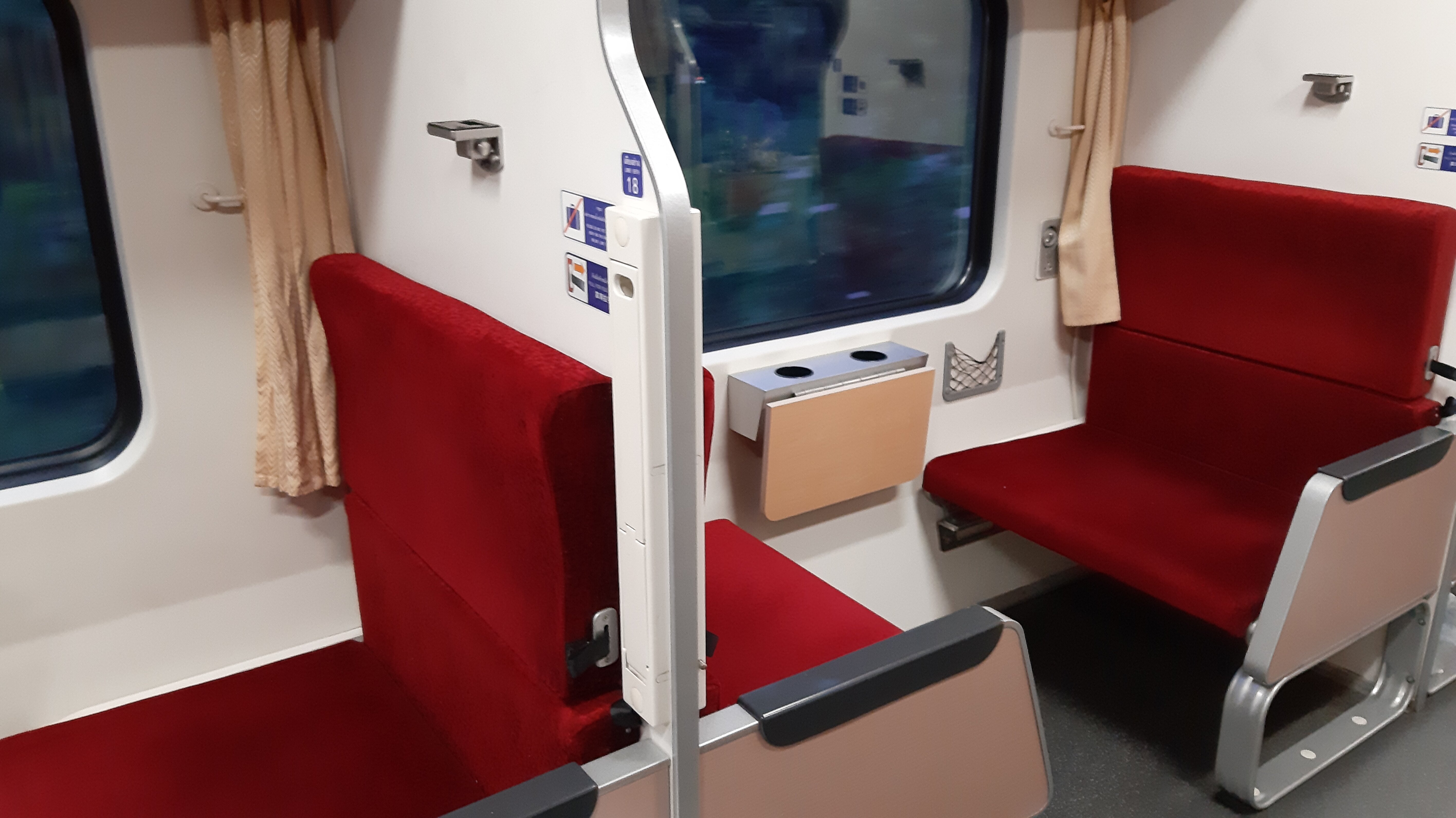 Vacant booths inside the train.
My booth companion was an acutely intelligent man, recently retired, who had overseen banking regulation within the EU. I enjoyed talking to him about his experiences, his insights into economic events like the 2008 Financial Crisis and the Greek Debt Crisis, as well as how financial systems worked in general. In turn, he was very curious about my work with Electronics, as well as my take on the British mentality around Brexit. It was a pleasure to talk to someone so insightful.
The train departed at 6PM. Almost on the minute, which I can respect! The train had been sitting stationary on the platform for several hours, though, so that isn't too difficult to arrange. Uniformed men marched around the train inspecting tickets. For reasons that weren't clear, they burst out laughing when they saw that my companion and I were both going to Bangkok. I have no idea why! Those crazy Thais!
At around 7:30PM, the staff converted our chairs into beds, prematurely ending my conversation with The Man From Luxembourg (yes, we forgot to ask each other for our names…!)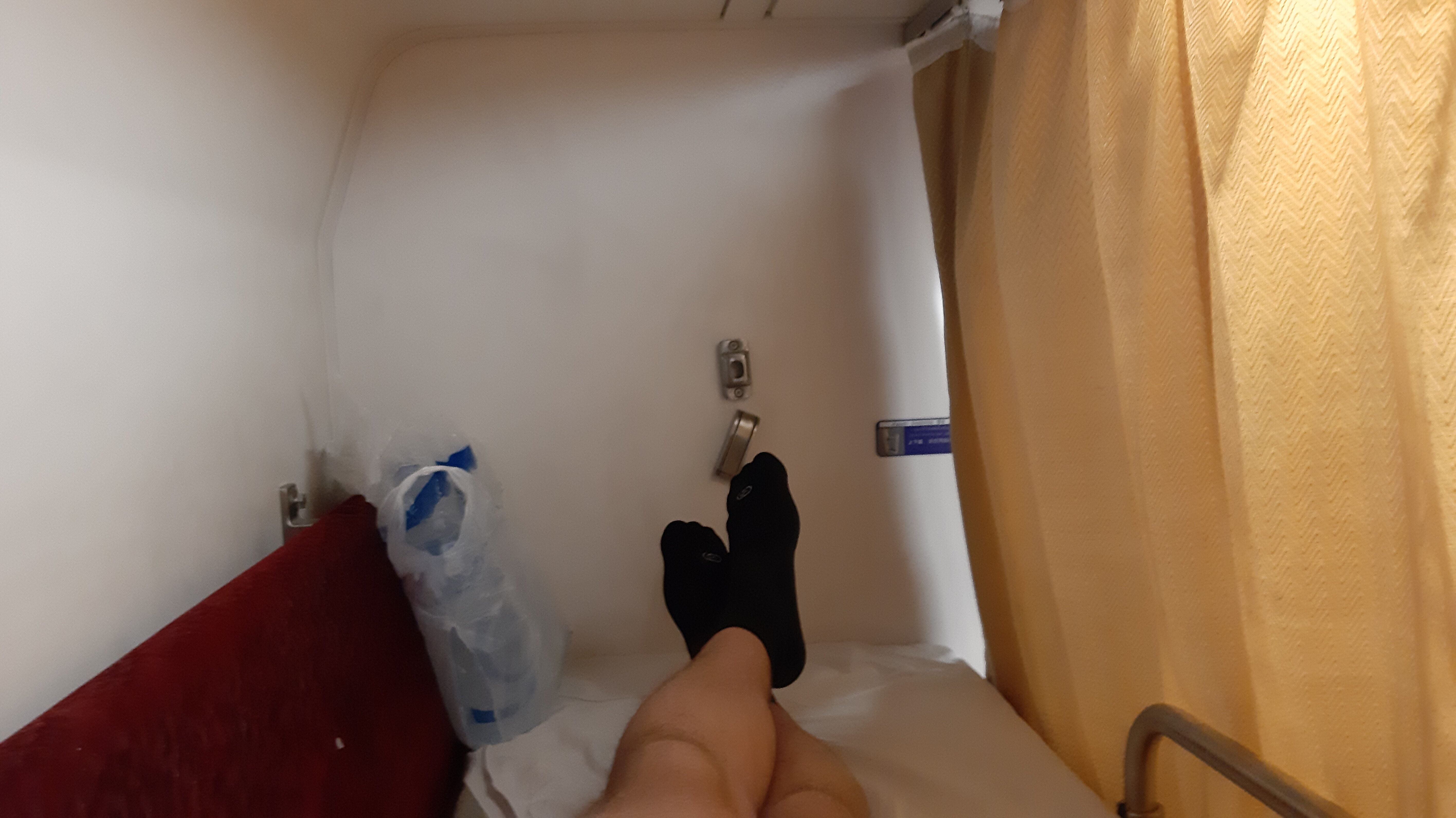 In bed during the train ride. I could only just fit - this photo is taken from a sitting position.
After settling in to the bed, I felt a little more comfortable as I had a blanket which could offset the chill that I felt from the air conditioning. The whole time that I had been sitting, my legs felt very cold (and by the morning my nose felt icy). A screen told me it was 31C outside and 22C inside. Given that I felt so cold at what would be a warm UK temperature, I was sincerely worried about how I would cope once I got home.
I spent most of the night practising German and Indonesian on the Duolingo app, with short bouts of chatting with my girlfriend whenever the train WiFi was actually working (or whenever we stopped at a station so that I could use my 4G data).
I tried to sleep for most of the night but I kept waking up every few hours. I'm not sure if this was from the movement of the train, the noise from the tracks, or just other passengers, but it didn't really amount to much as I didn't feel tired by morning.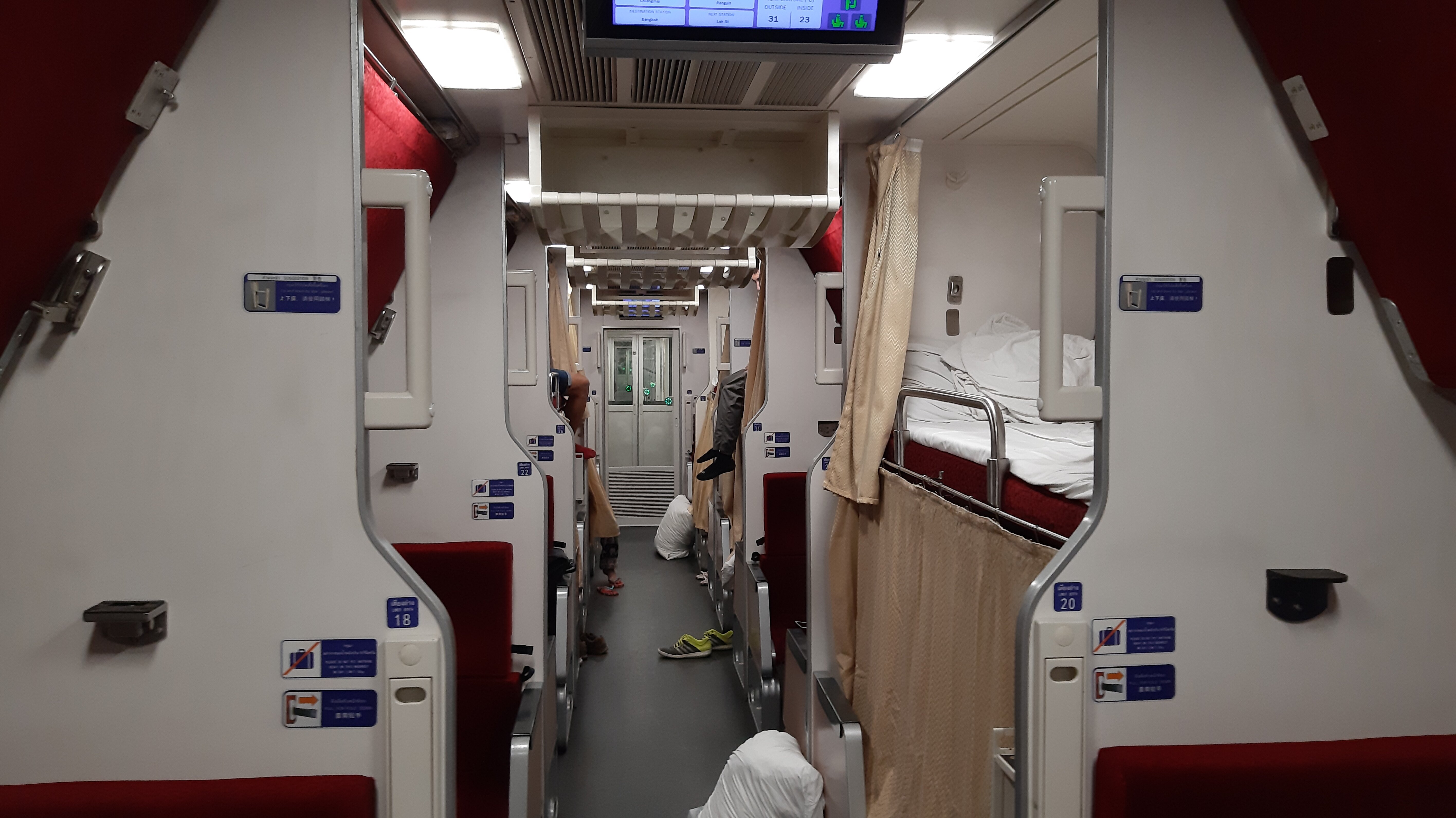 The train car at some point during the morning.
The staff converted the beds back into chairs at 6AM, and everyone dispersed to occupy the seats that had been vacated by departed passengers at previous stations.
All in all, I much preferred my trip on the newer train to the trip on the older train. Being able to lie down in an air-conditioned space was definitely nicer than being forced to sit in a swelteringly hot one. I felt well rested, relaxed, and comfortable by the morning, rather than feeling neck pain, sweaty & sticky, and desperately desiring to shower.
That being said, at 941฿ (€27.22, £24.41, $30.57), it might be worth considering taking a flight. If you book a month or so in advance, a flight will set you back just 500฿ (€14.59, £13.32, $16.18). But the overnight train essentially also covers a night of accommodation, so factor that into your equations and the train often works out to be a cheaper and more flexible (because you can book it when you need it).
Early Morning Bangkok Blues
I arrived in Bangkok at 6:55AM, at Hua Lamphong Railway Station, the same place I had departed Bangkok months earlier. In the light of the morning, I could see little tin shacks and ramshackle housing units by the side of the rails as we arrived. I could see people moving around inside, which saddened me as the conditions looked terrible.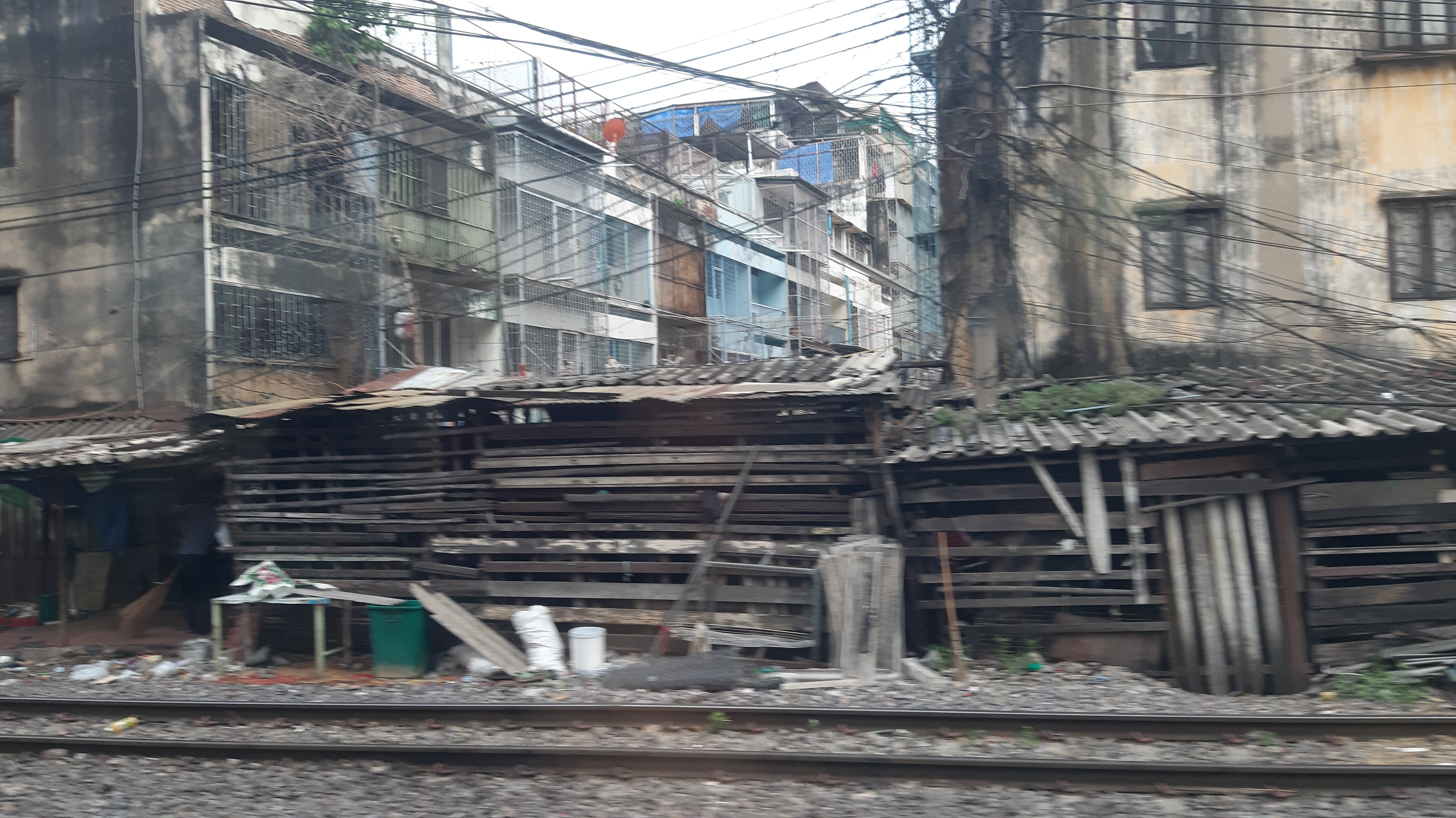 Shacks and apartments by the side of the road. A man can be seen sweeping at the left of the frame.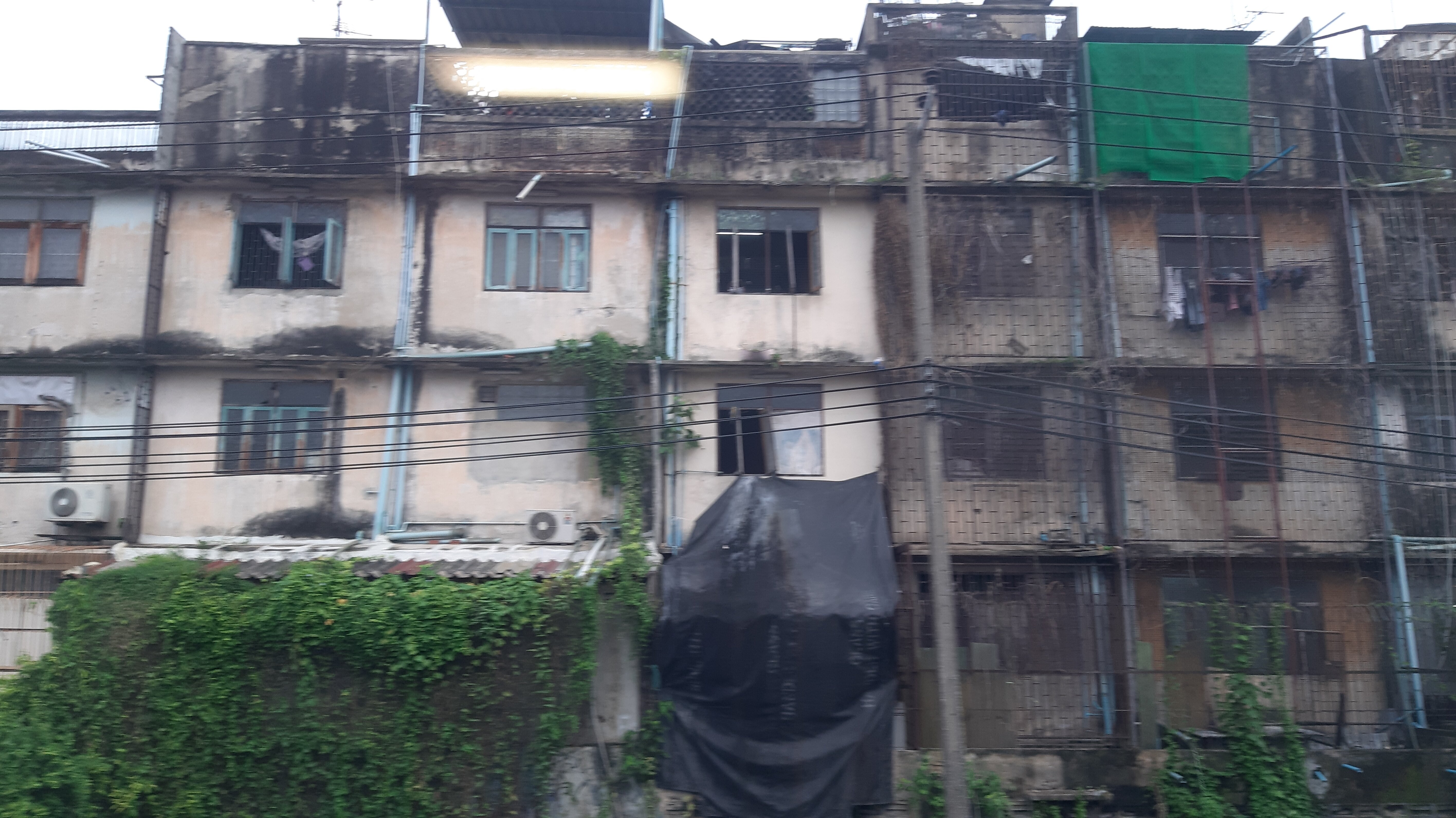 Apartments by the side of the road.
I had brought ample water supplies with me for my trip on the train, as I remembered feeling dehydrated last time. I probably brought too much and didn't want to take it with me, so I drank it all before leaving the train. Once I was walking around after leaving the train, I realised that my bladder was full and I needed to go to the bathroom. Unfortunately, the only bathroom on the platform was a pay toilet - something I object to - so I just left, regretting that I didn't use the bathroom on the train one last time. I was also feeling hungry, so I decided to look for somewhere that I could meet my bodily needs and perhaps do something useful too.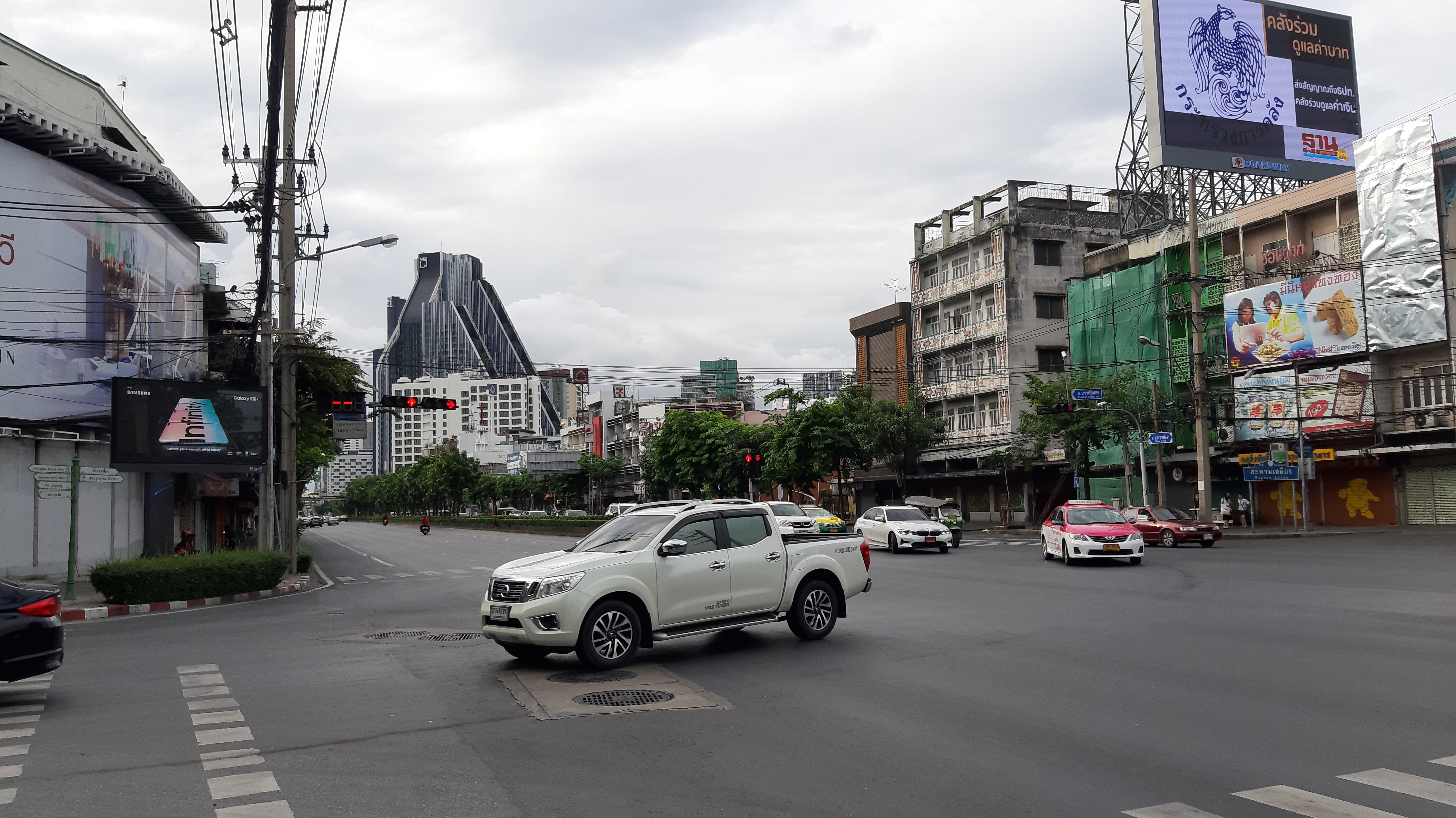 Crossroad in Bangkok.
I knew very little of Bangkok, so headed to Siam, a mall-heavy location that represents the only 'city centre' type area that I know of. Whilst I expected that the malls would be closed until mid-morning, I hoped and expected to be able to find a café, coffee shop, or some other location to eat and rest until I could check in to my room.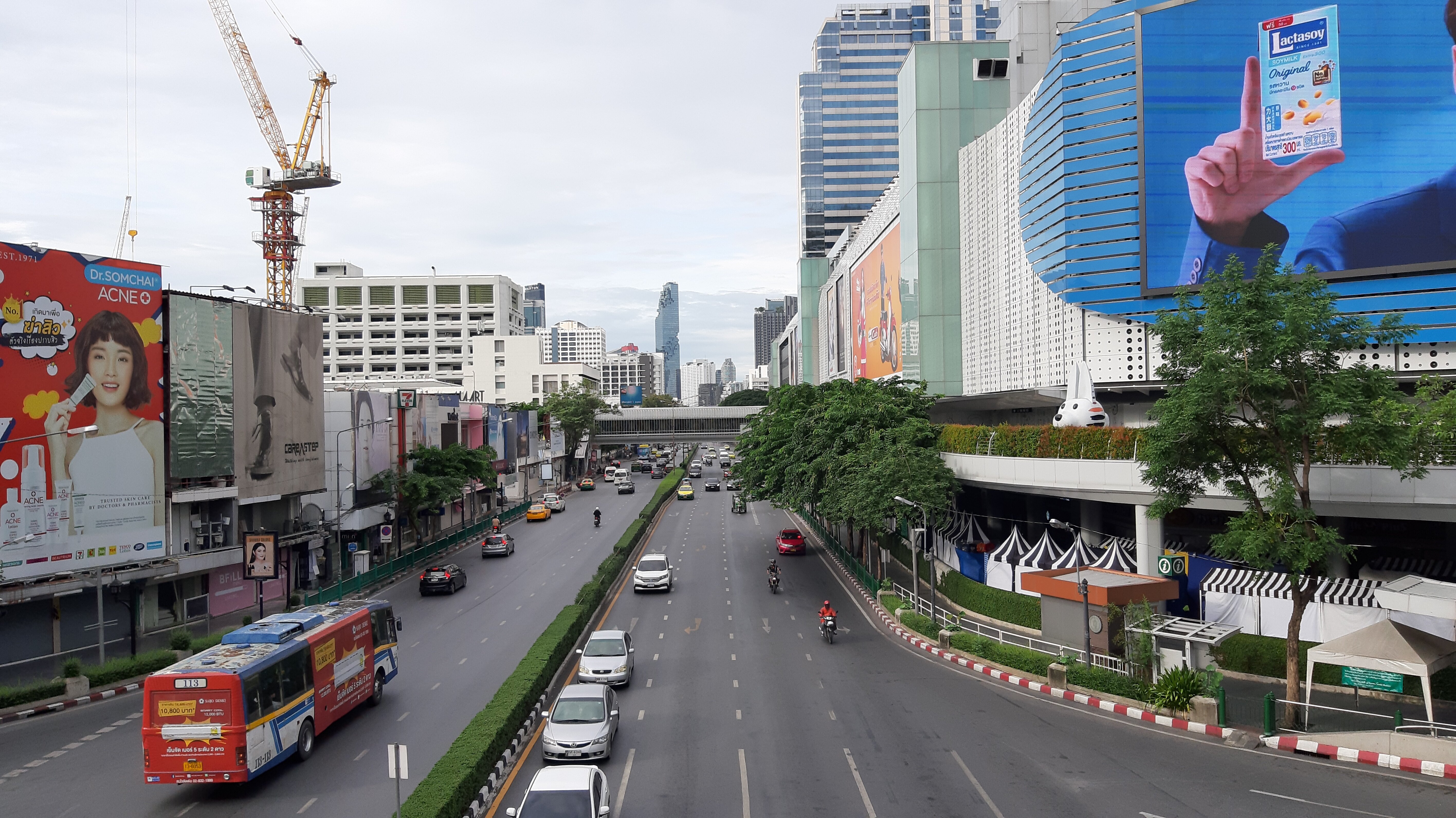 Siam area, near the malls. Mirroring this photo from my first Bangkok post.
Unfortunately, I found that all the cafés and coffee shops were closed until mid-morning. Even chains like McDonalds were closed. I realised I was experiencing the flip side of what Pieter experienced in 2013. Where he found that most businesses closed too early in Bangkok, I was finding that they were opening too late.
Too Fast To Sleep
I decided to learn from Pieter and take the same solution he did. I headed to Bangkok's 24 hour coffee shop chain, Too Fast To Sleep. (Great name, by the way!)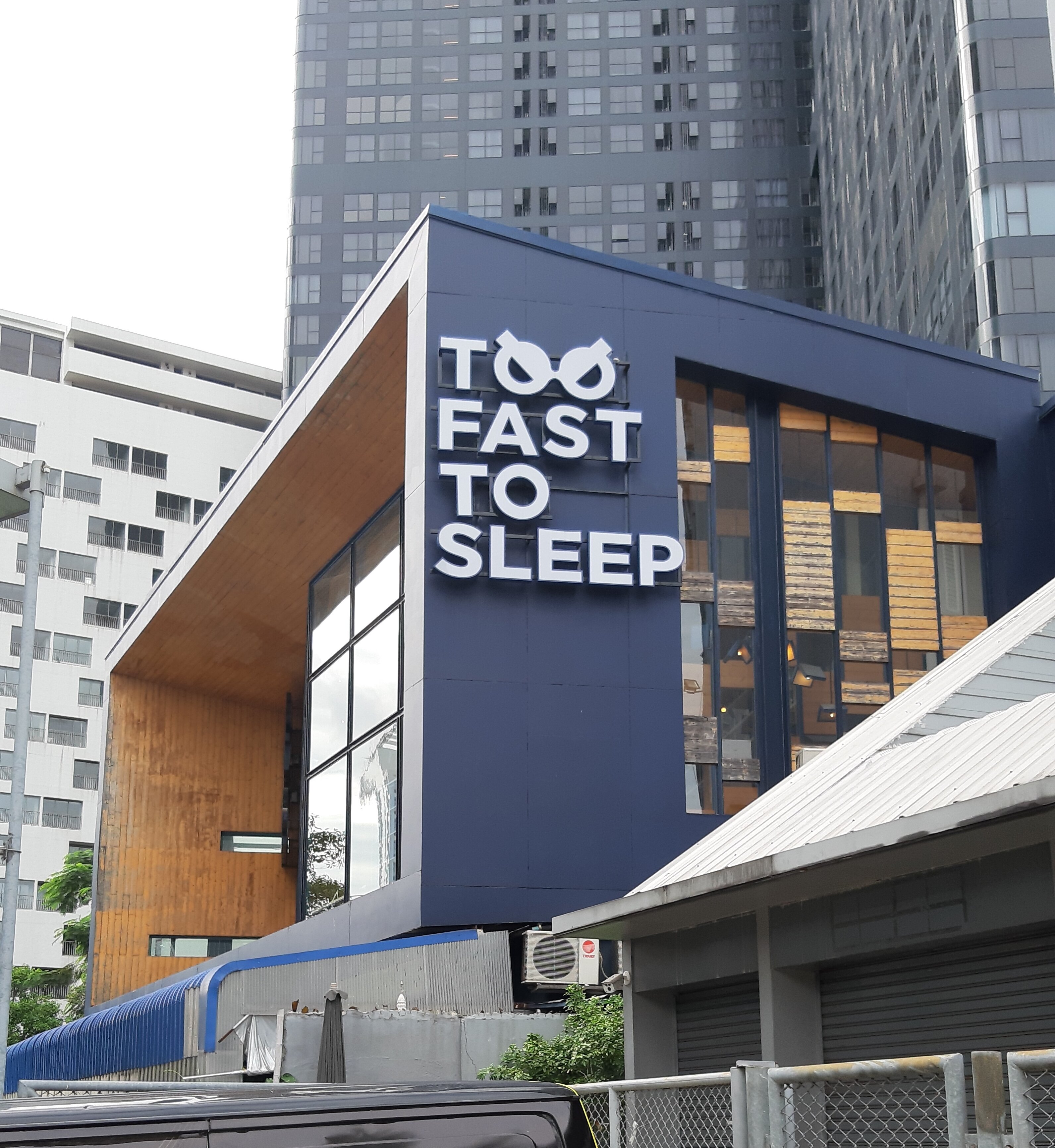 Exterior of Too Fast To Sleep in Samyan. Mirroring this photo from Pieter's post.
Too Fast To Sleep Samyan is just 2km from Siam, and 100m from the nearest MRT station. This makes it a convenient to be able to work from after eating in the Siam malls. Too Fast To Sleep is a relatively central late-night/early-morning workspace.
There is also a Too Fast To Sleep in Siam, but it's owned/managed by Siam Central Bank (SCB), and they gatekeep who can enter - you need to be able to show that you are a user of their app, which I wasn't, so they turned me away.
View of the highway from Too Fast To Sleep.
The theme of Too Fast To Sleep is books. Their mascot is an owl reading a book. There are fading paperback books on shelves everywhere (most far too high to actually reach). The stair rail and door handles are plastic faux-books, and the many of the light fittings are shaped like books. A secondary theme is probably learning and school, as one of the feature walls resembles American High School lockers.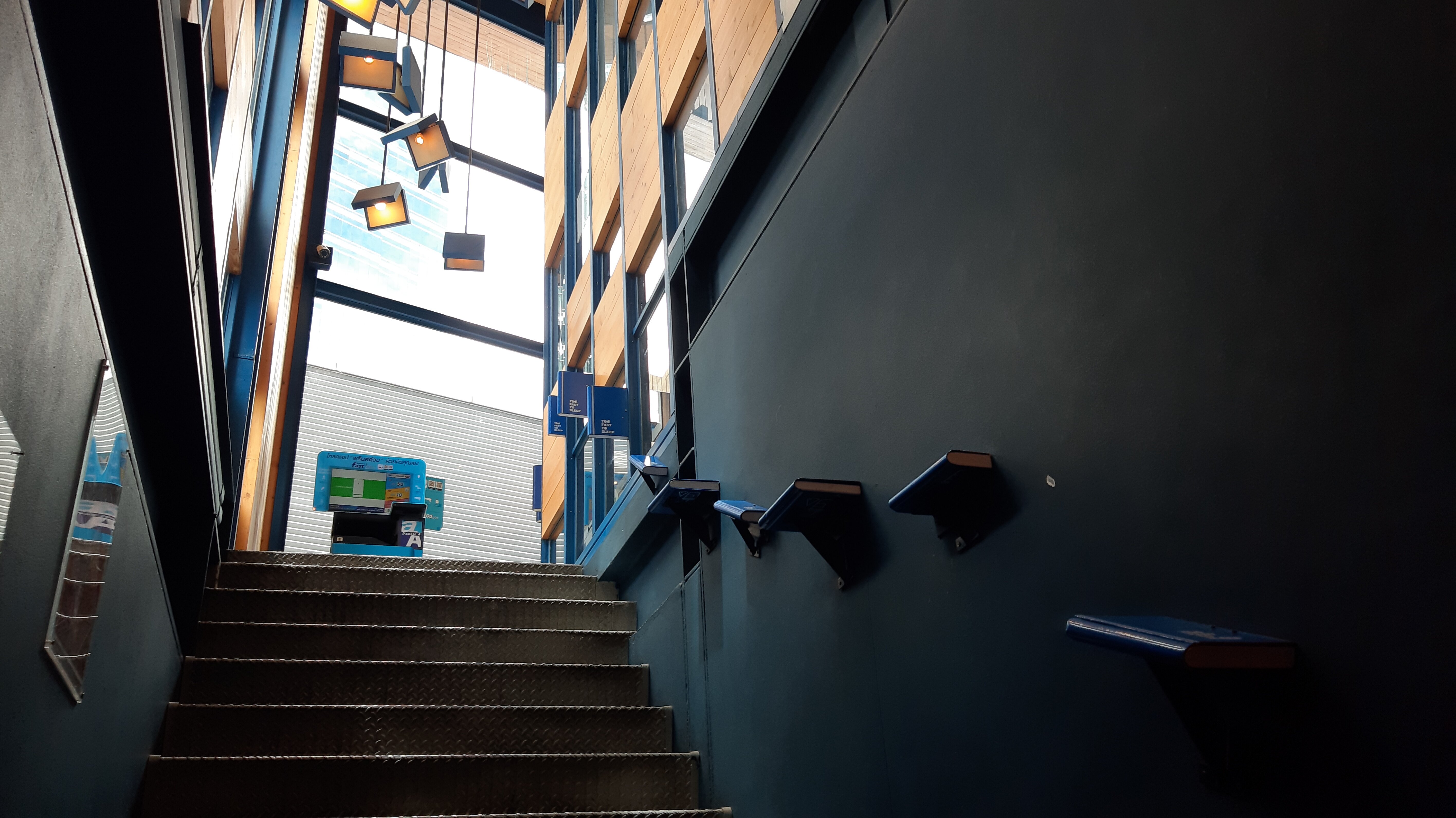 Stairs inside Too Fast To Sleep.
When you buy food or a drink here (in the actual premises, not in the food market outside), they give you a token that you can use to access the WiFi for a few hours. However, I found it more convenient to connect to the TrueMove H WiFi hub, which gave 5.0Mbps and wouldn't interrupt my flow by requiring me to go and buy something else every three hours.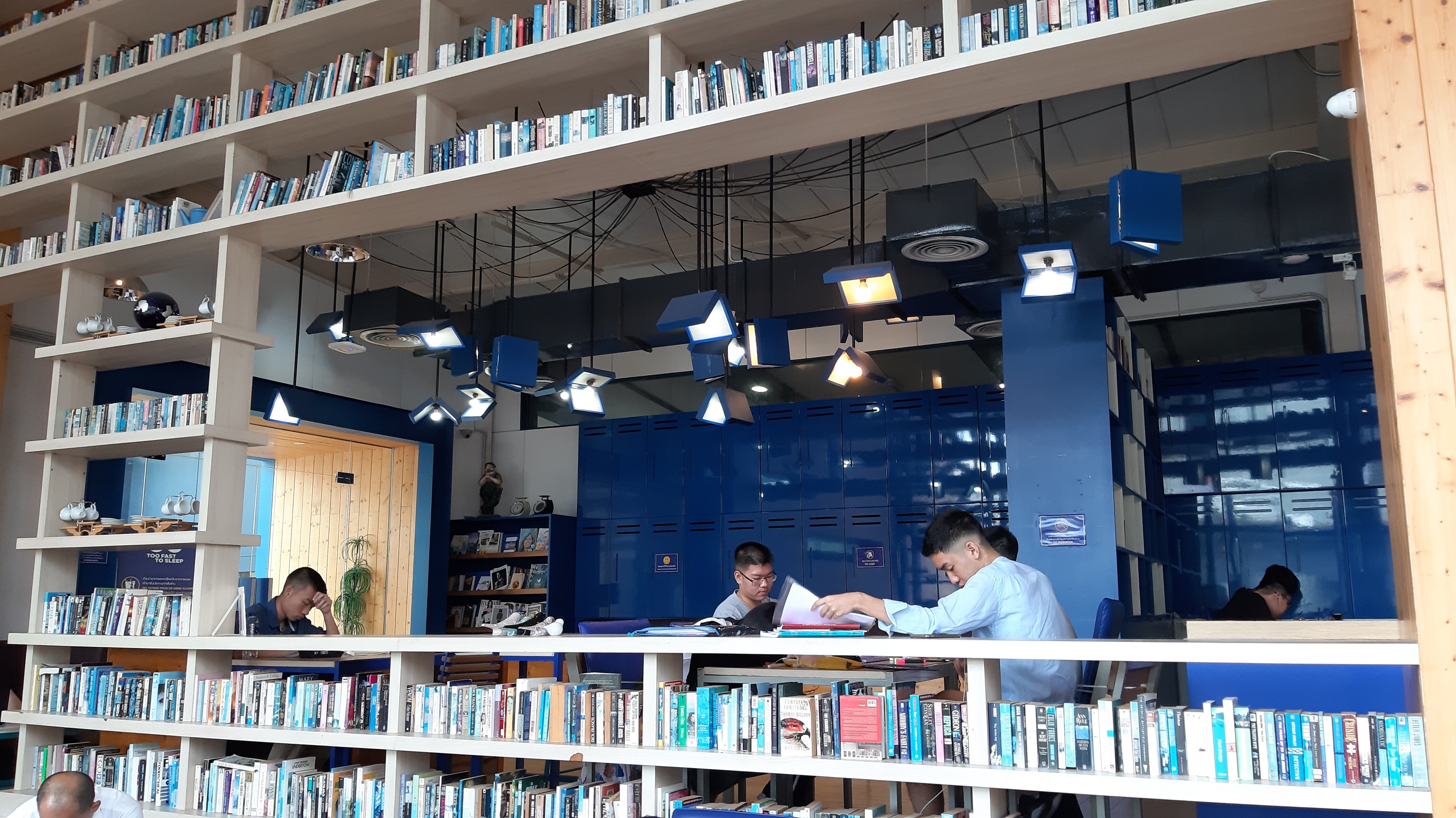 Books and lights-shaped-like-books.
My only real gripe about Too Fast To Sleep was that they were 100% cashless. Normally, I prefer this, but I had a big wad of Thai Baht in my pocket to use after my Chiang Mai apartment returned my deposit, so it was actually a little inconvenient for me.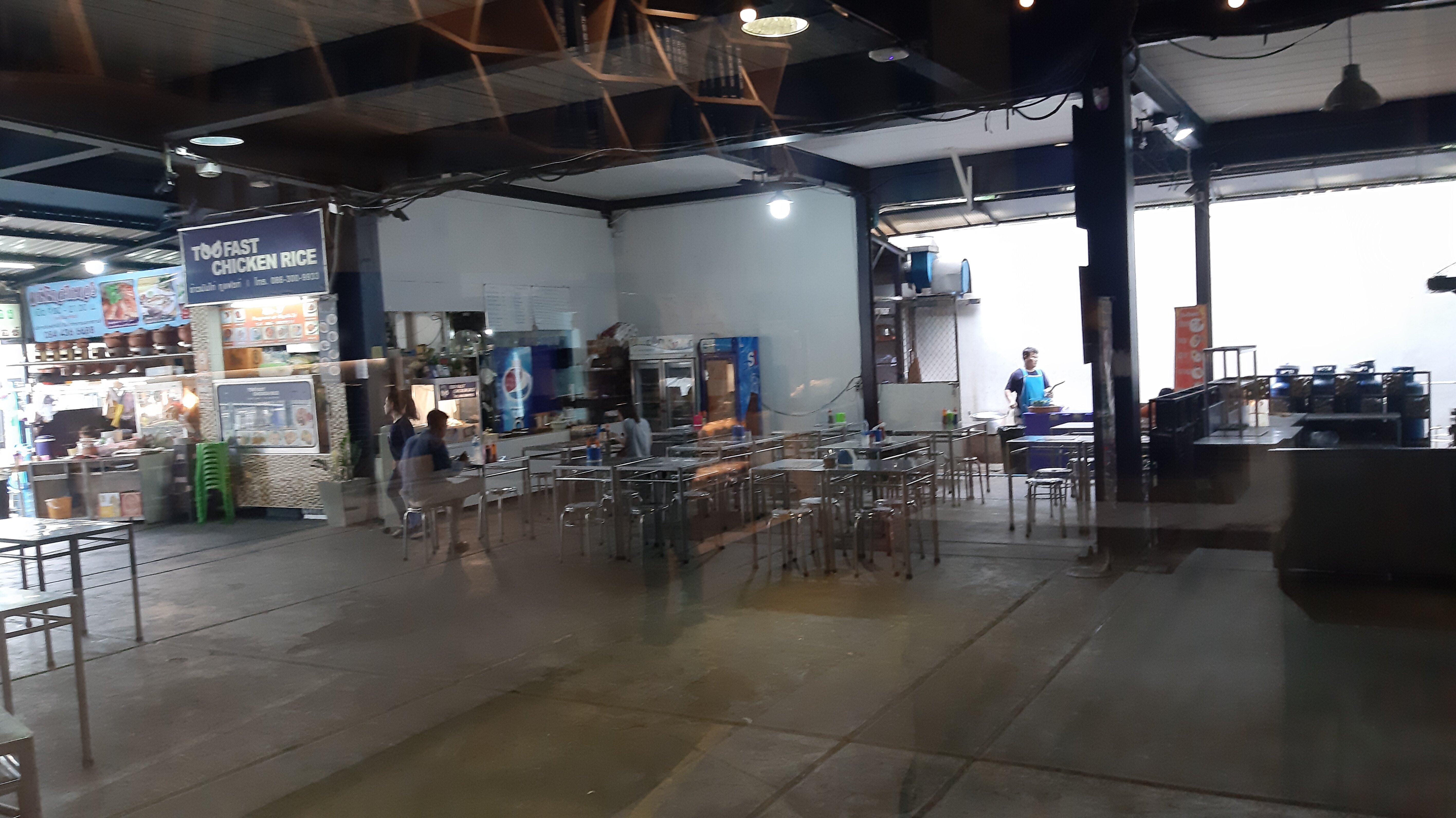 Food court at Too Fast To Sleep Samyan.
There's a food court just below Too Fast To Sleep too, but I didn't eat there personally so I can't particularly comment on it, but it might be convenient if I were to stay longer!
Chao Hostel
During my first visit to Bangkok back in November, I accidentally chose a very run-down hostel to stay in - but that's a different story. My friend Daniel stayed in a much nicer Hostel at around the same time, which I was very jealous of. The place was called Chao Hostel, and it was about as centrally located as you can get, with great vibes and facilities. This time around, I learned from my mistakes and chose to stay there too.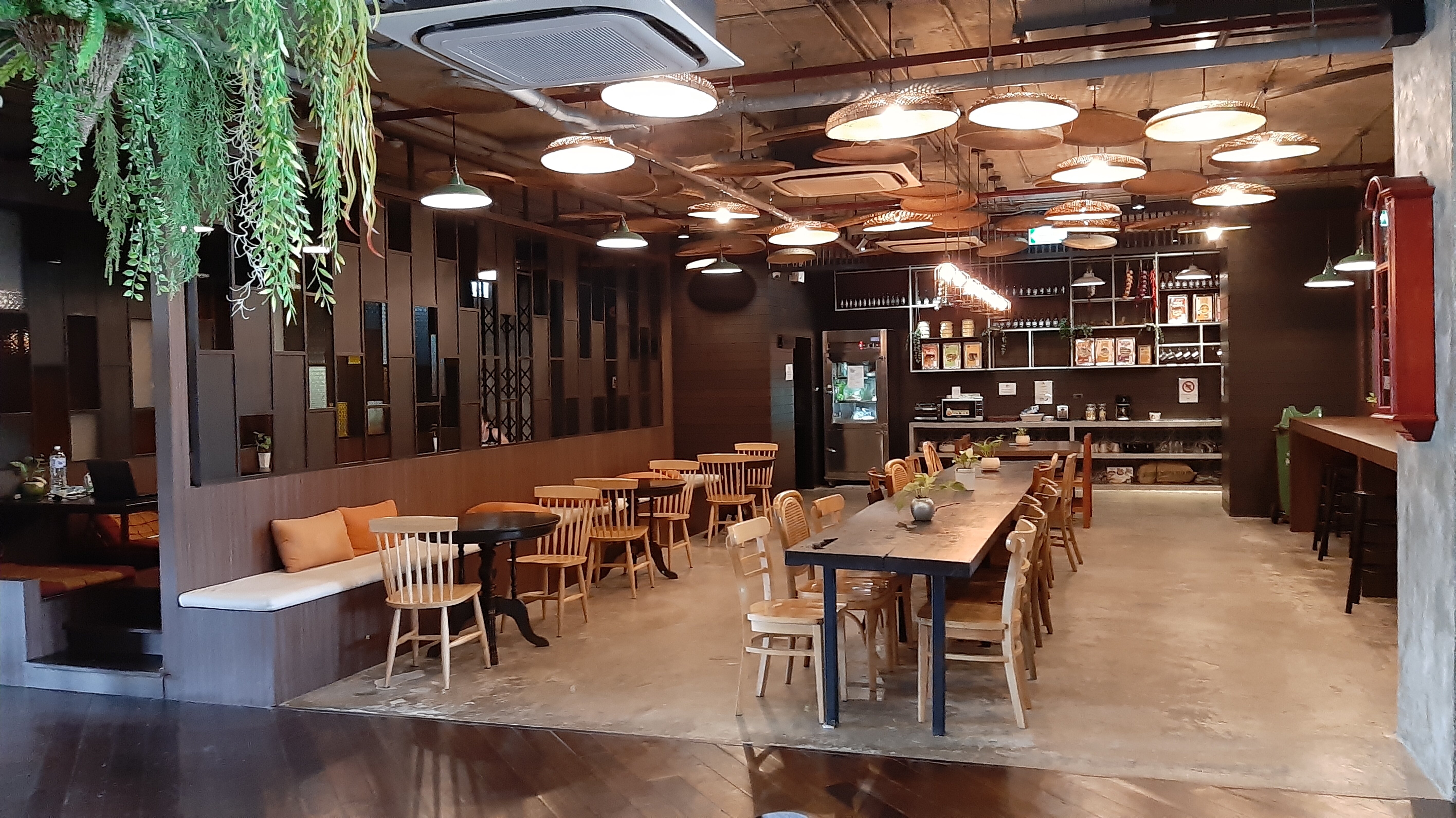 Dining and laptop space in Chao Hostel Bangkok.
Chao Hostel isn't some low effort affair like those hostels the world over that are just a few bunkbeds and perhaps a locker crammed into any available warehouse space or spare room with little further thought. No - it's a dedicated space that was designed to be a hostel, and clearly received care and investment. It's a hostel where the guests are given space to breathe and be themselves.
The vibe is like a regular hotel but instead they chose to install hostel rooms. It's located on the 8th floor of the swanky Siam@Siam Design Hotel, so perhaps it was intended to be hotel suites at one time.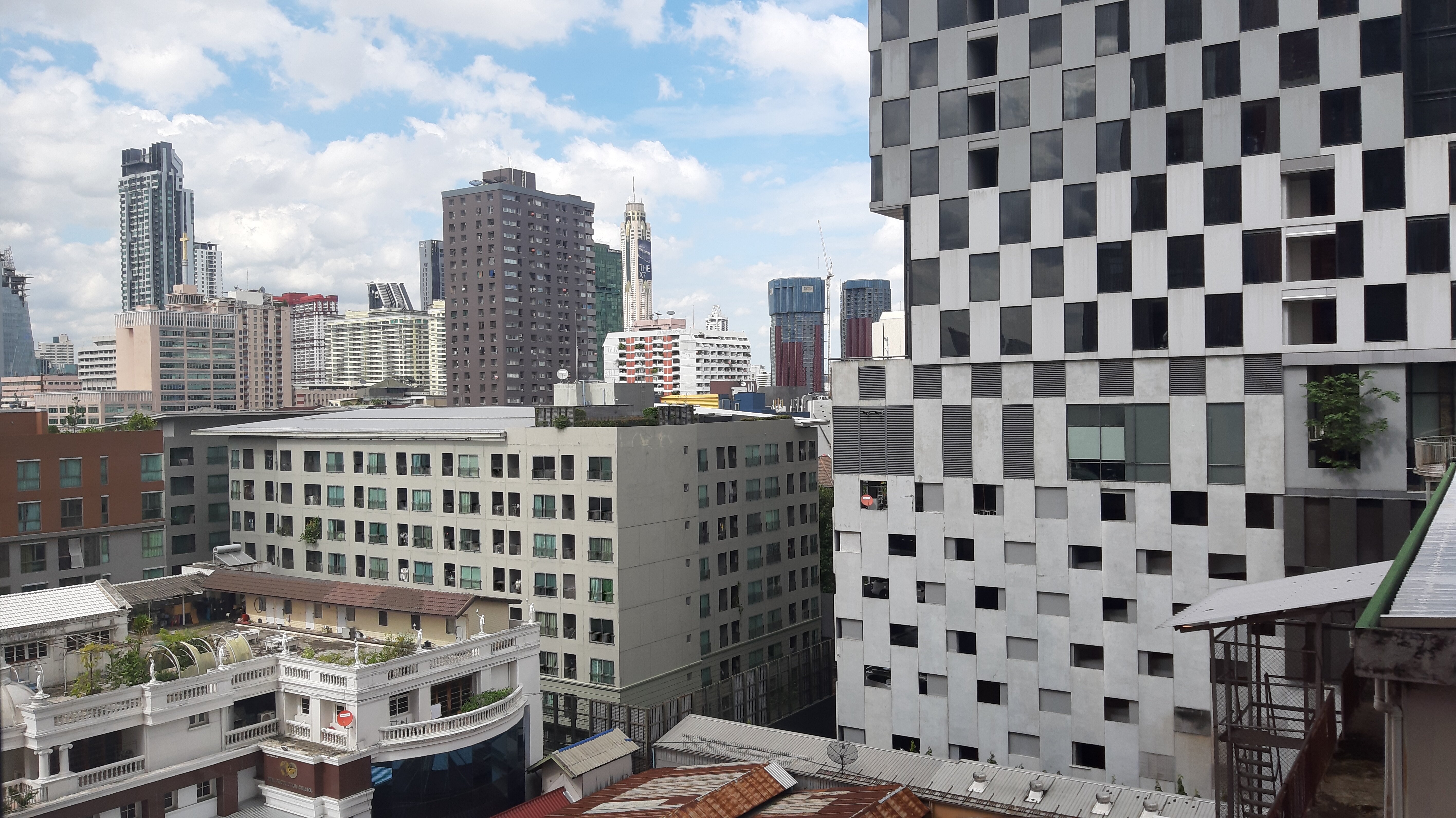 View from my room in Chao Hostel Bangkok.
Each bed has it's own wooden "structure" with a built-in locker underneath and a drawable curtain surrounding it. The doors to the rooms lock and unlock electronically, with an additional main door to the street that also locks electronically during the night. This makes it feel like more than just a hostel room, as you have more privacy than a steel bunkbed crammed into the room. Unfortunately, the lock to the locker under the bed felt very flimsy to me - I guess nowhere is perfect!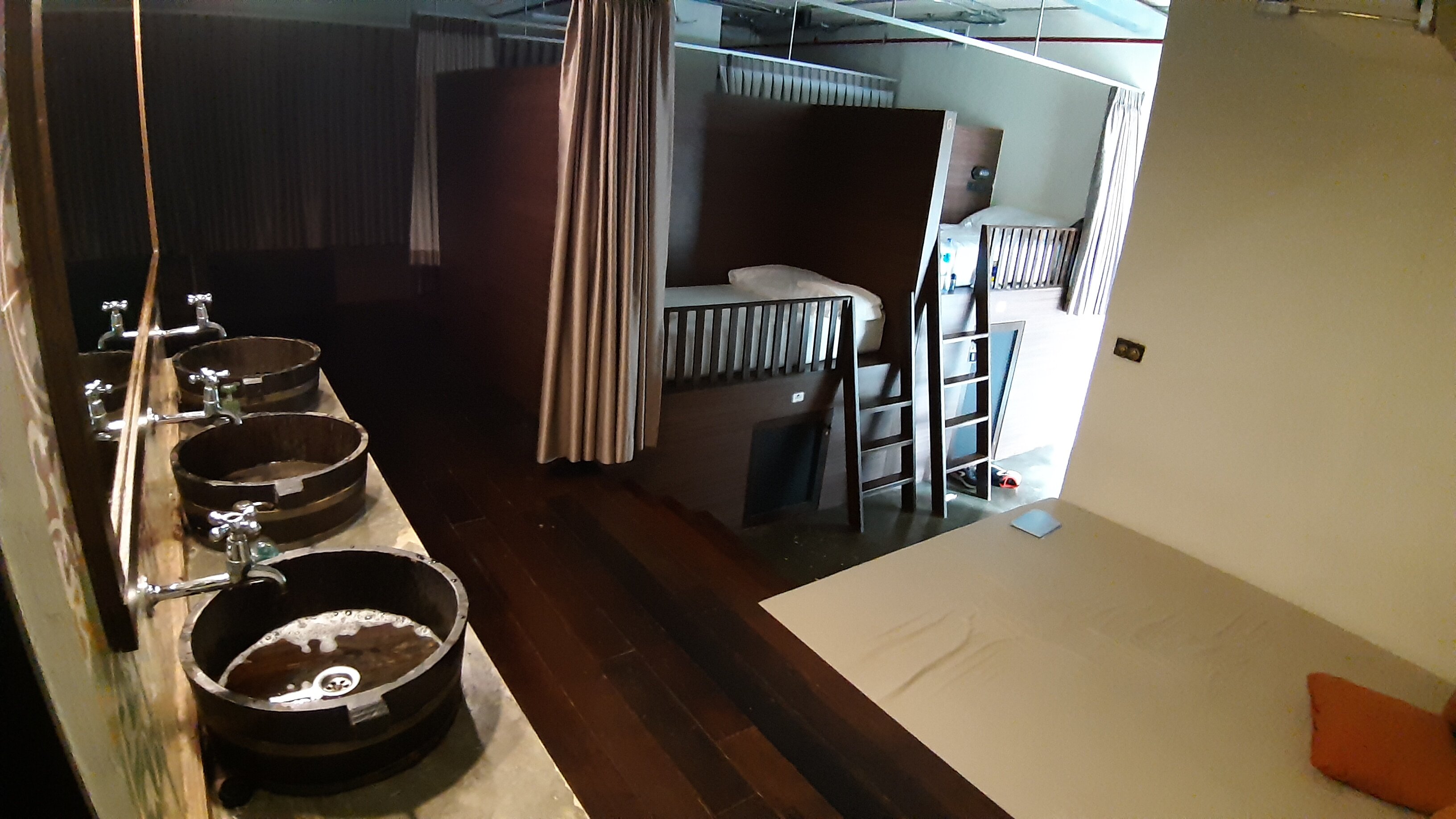 Mixed hostel dorm in Chao Hostel Bangkok.
There's a common room playing chill hipster music that has books, films, and board games for you to relax with whilst sitting on beanbags, sofas and floor cushions. There are also public computers for people didn't bring their own laptop with them.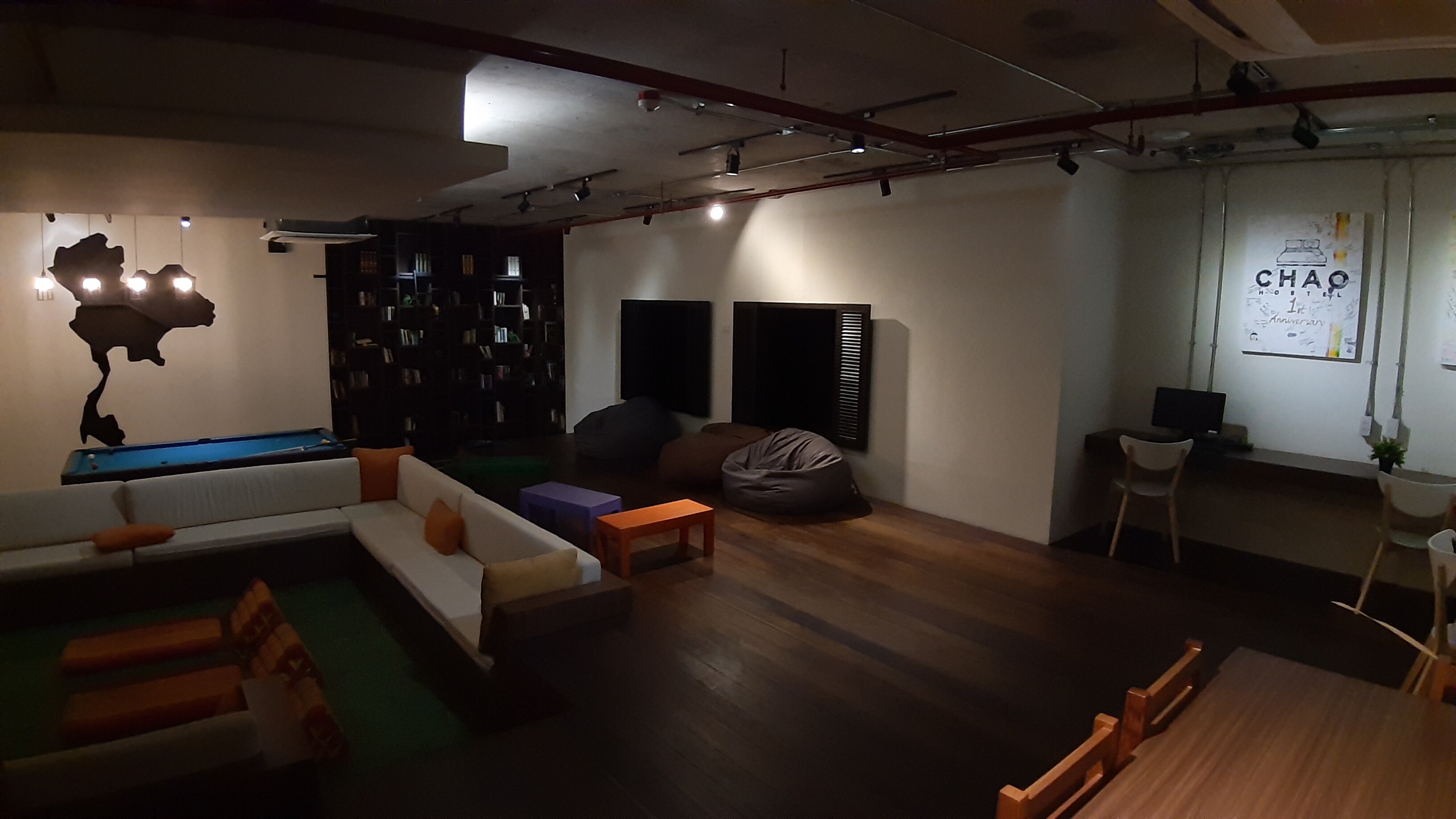 Relaxed common room area in Chao Hostel Bangkok.
Adjacent to the lobby space is a main kitchen/dining area (see first picture) where Thai snacks are served for free during the mornings. You can use it for whatever purpose you need, but there are also 'laptop spaces' off to either side of the dining hall that you can set up in. My stay was during a relatively low season, so this large space was only being used by a couple of people.
Bangkok City
I've heard a lot of people say that they often feel more comfortable in a place when returning there for a second time. You know a few nice places to work, eat, and sleep, so you can relax more and not have to rush around worrying about finding those things. You understand the situation of the city and can make better decisions.
Colourful swirl tents that reminded me of gumdrops. In Siam.
This statement certainly seemed to ring true for me with Bangkok. I was mostly walking down streets that were entirely new to me, but I knew roughly where and how to get what I needed, so even somewhat unfamiliar locations felt known and comforting.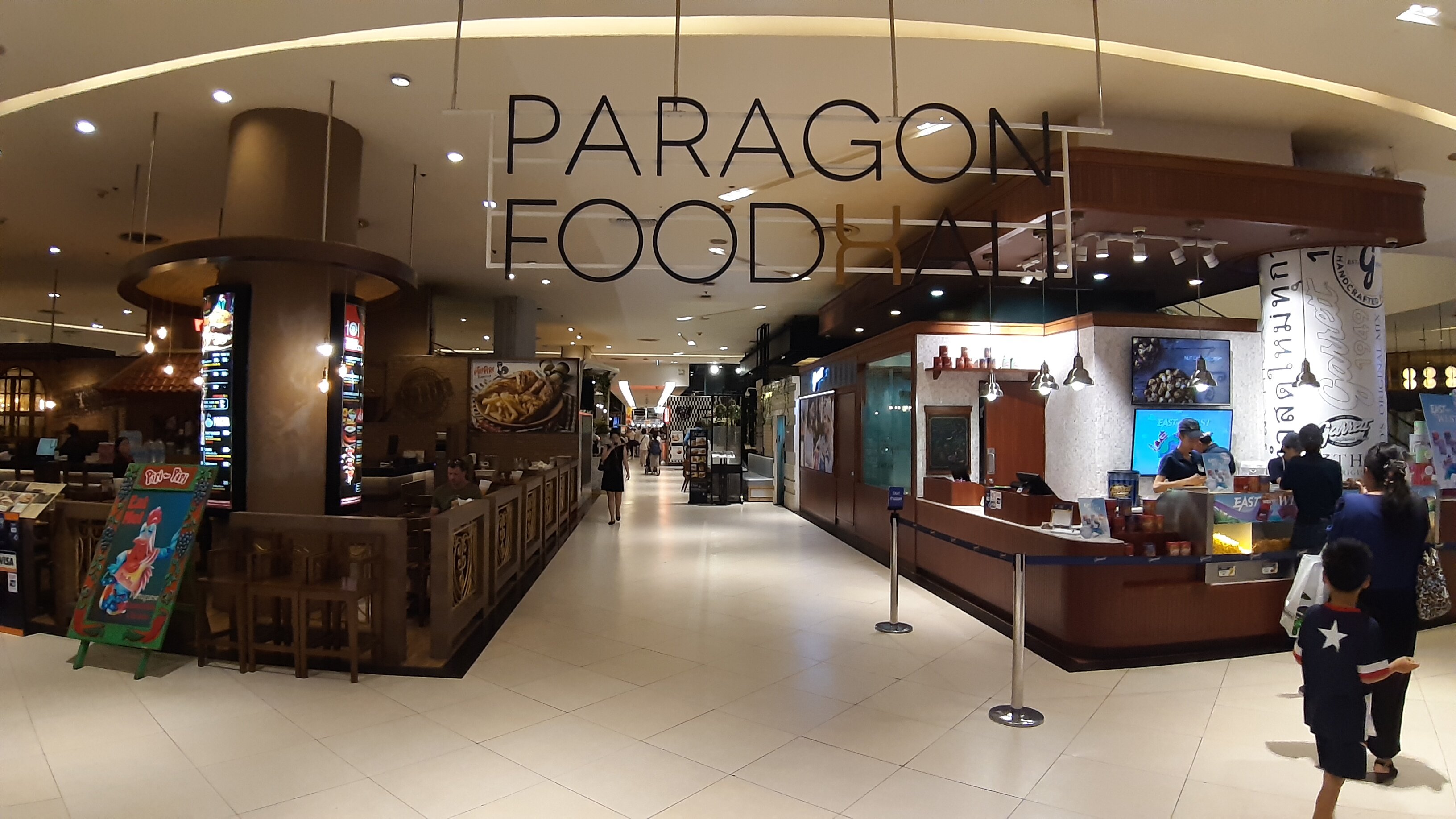 The entrance to the food hall of Siam Paragon.
A big example of this was the Siam Paragon Food Hall. In November, it had seemed like an endless maze of hundreds of different stalls and eateries. Daniel and I were specifically looking for the Royal Indian restaurant but we just kept getting lost and seeing more and more restaurants.
Returning alone eight months later, the space felt much smaller and more navigable than my memory led me to believe. I didn't particularly get lost at all and was able to find what I was looking for relatively quickly on the three occasions that I was there. This might be that a single person can be more methodical than a pair, but I think a big part of it was that I was overwhelmed the first time around.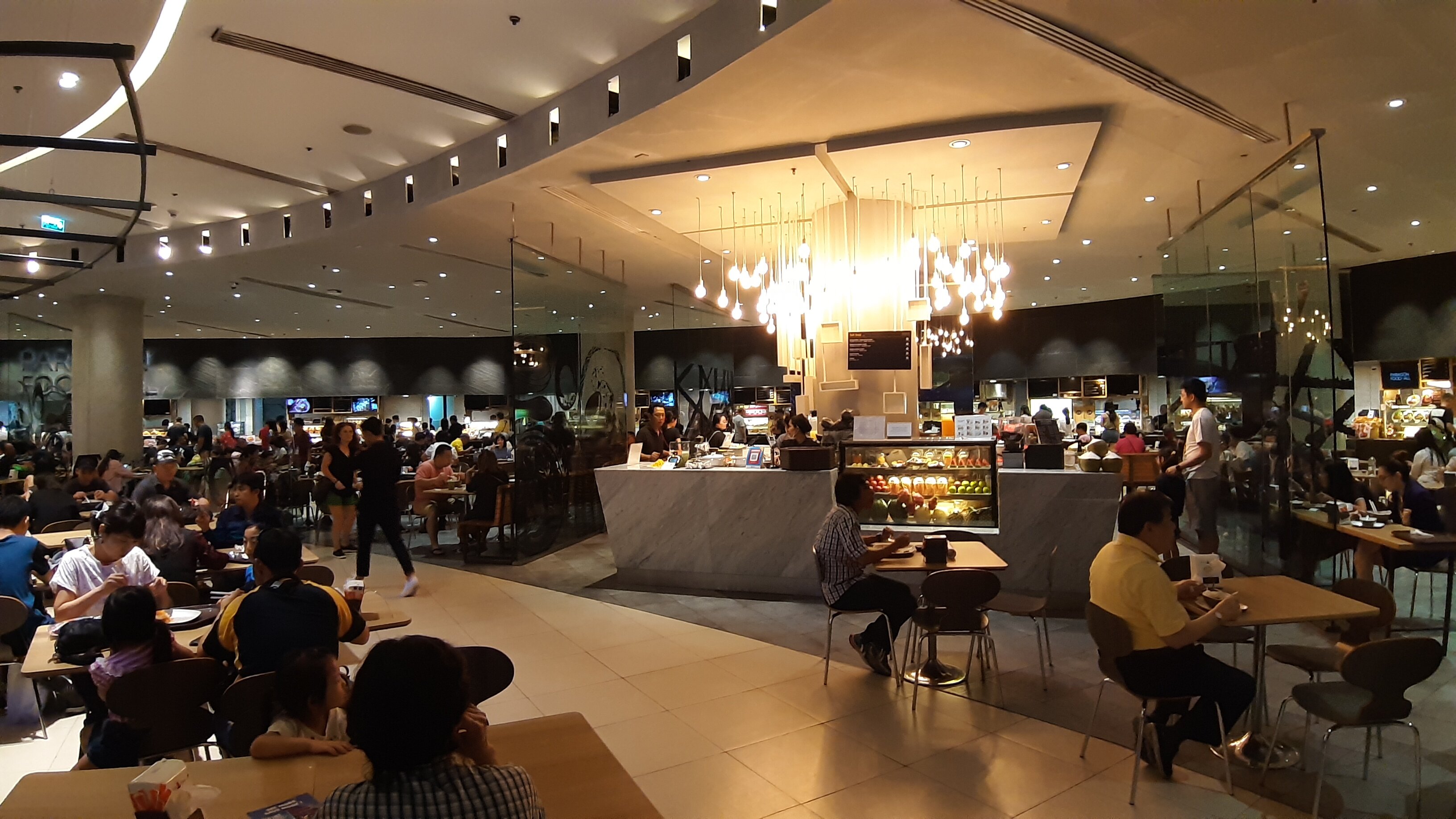 Food court inside Siam Paragon Food Hall.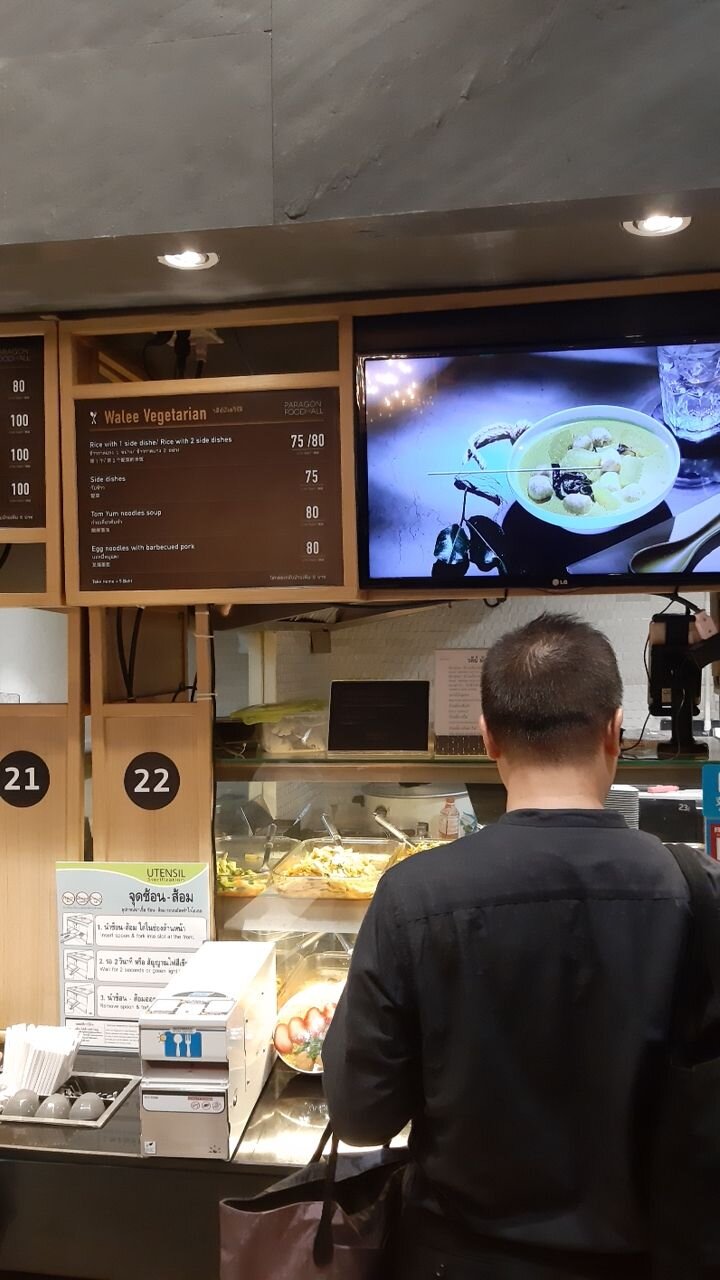 Vegetarian Stall at Siam Paragon Food Court.
Return To Base
Eventually it was time for me to make my way to the airport. I checked the public transport connections on the map, and by chance it turned out that Phaya Thai was the Airport Rail Link station closest too me. Phaya Thai is the terminating station, and the furthest west, so in November I had departed there to be closest to my hostel on the west side of the Chao Phraya River.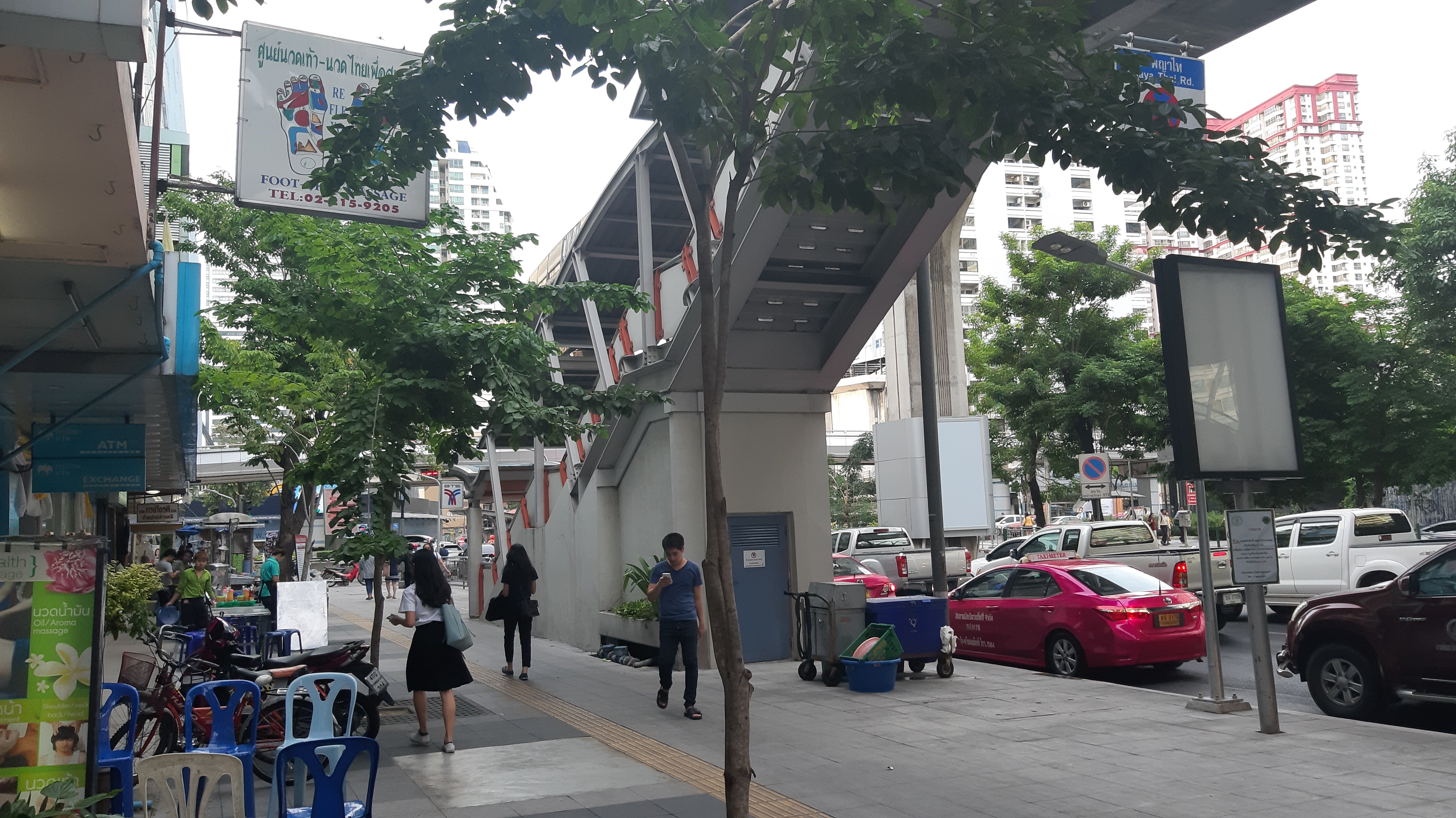 Heading north from Siam to Phaya Thai.
As I set off walking, I suddenly realised that this trip through Bangkok was almost a perfect mirror of my initial experience of the place. Where before I had started in Suvarnabhumi airport and left via Hua Lamphong, this time I started at Hua Lamphong and went to Suvarnabhumi. Many of the intermediate destinations were comparable too. I hadn't planned it, or even considered it, but I'd basically done everything in reverse.
I reflected that when I first arrived in Bangkok, I had struggled to traverse the city because of the ceaseless churn of traffic, something I'm hardly phased by after spending time in some places that are arguably much worse. I remembered how I hadn't been able to use my phone because my hands were slick with sweat and condensation from a chilled waterbottle. My hands rarely have that issue now, and even when they do, my newer phone handles a wet screen just fine. I recalled how I had even struggled the first time that I tried to buy something in the 7/Eleven because my ear wasn't tuned to hearing the Thai accent. I didn't know that the Thais often pronounce 'Twenty' like 'Seventy'.
My travelling has normalised me to being in these unfamiliar situations, and I have become much more independent, confident, and acclimated. No longer do I feel so oppressed by fear that I avoid going to a coffee shop to be productive out of fear that they will turn me away. No longer do I fear going through airport security (okay, maybe a little. It's still a hassle. But I much more fear having to get my ticket from an attendant who might try to nail me for having a bag that is 0.1kg too heavy).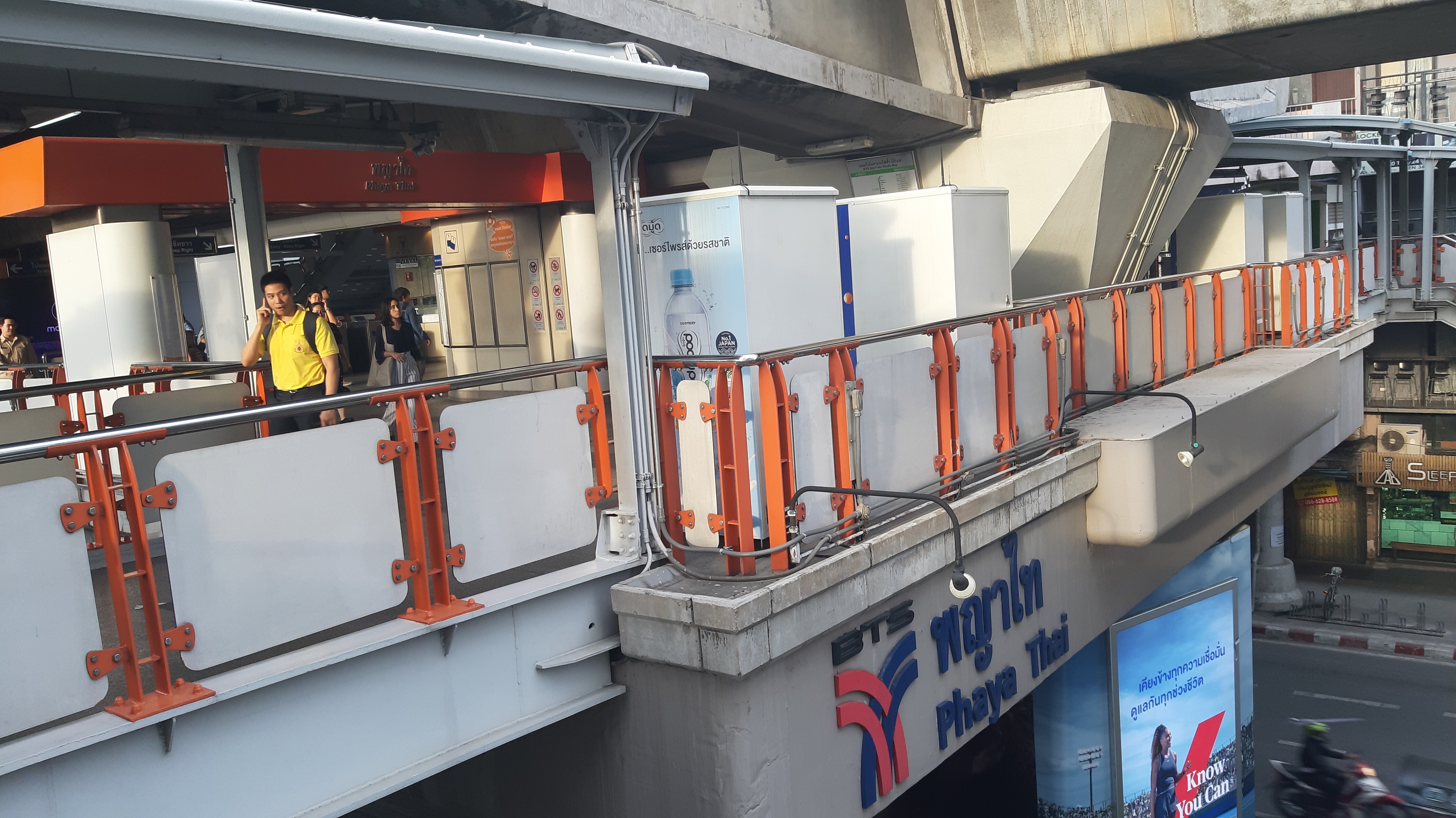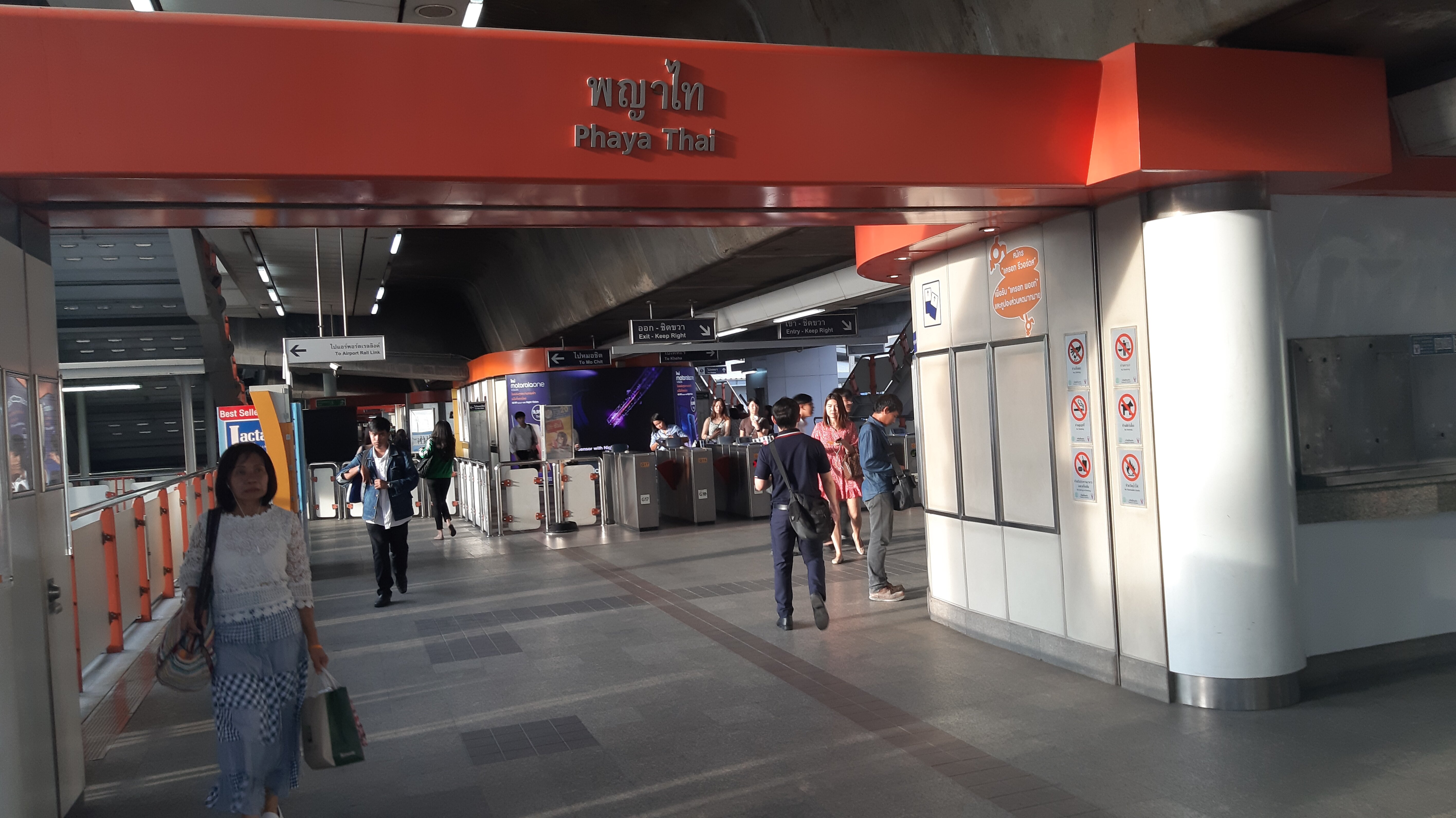 Phaya Thai Transport Hub.
Eventually I reached Phaya Thai, the first place that I had experienced Asia proper, and melancholically packed myself into the train like a sardine. This adventure was over.
Before I knew it I was back on a long-haul flight back home…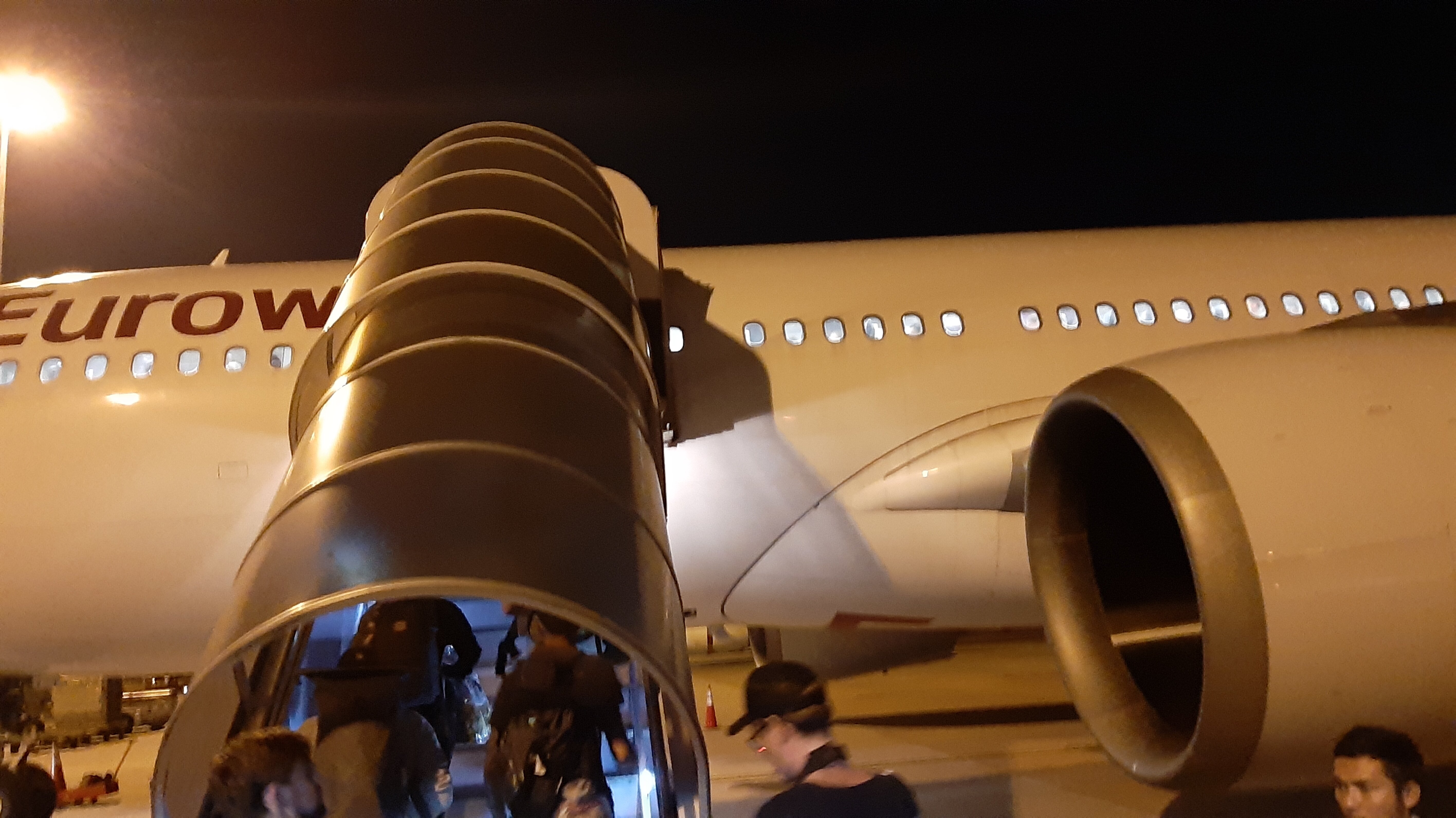 Boarding the Eurowings flight in Bangkok.
.. and less than two dozen hours later, I was back in England.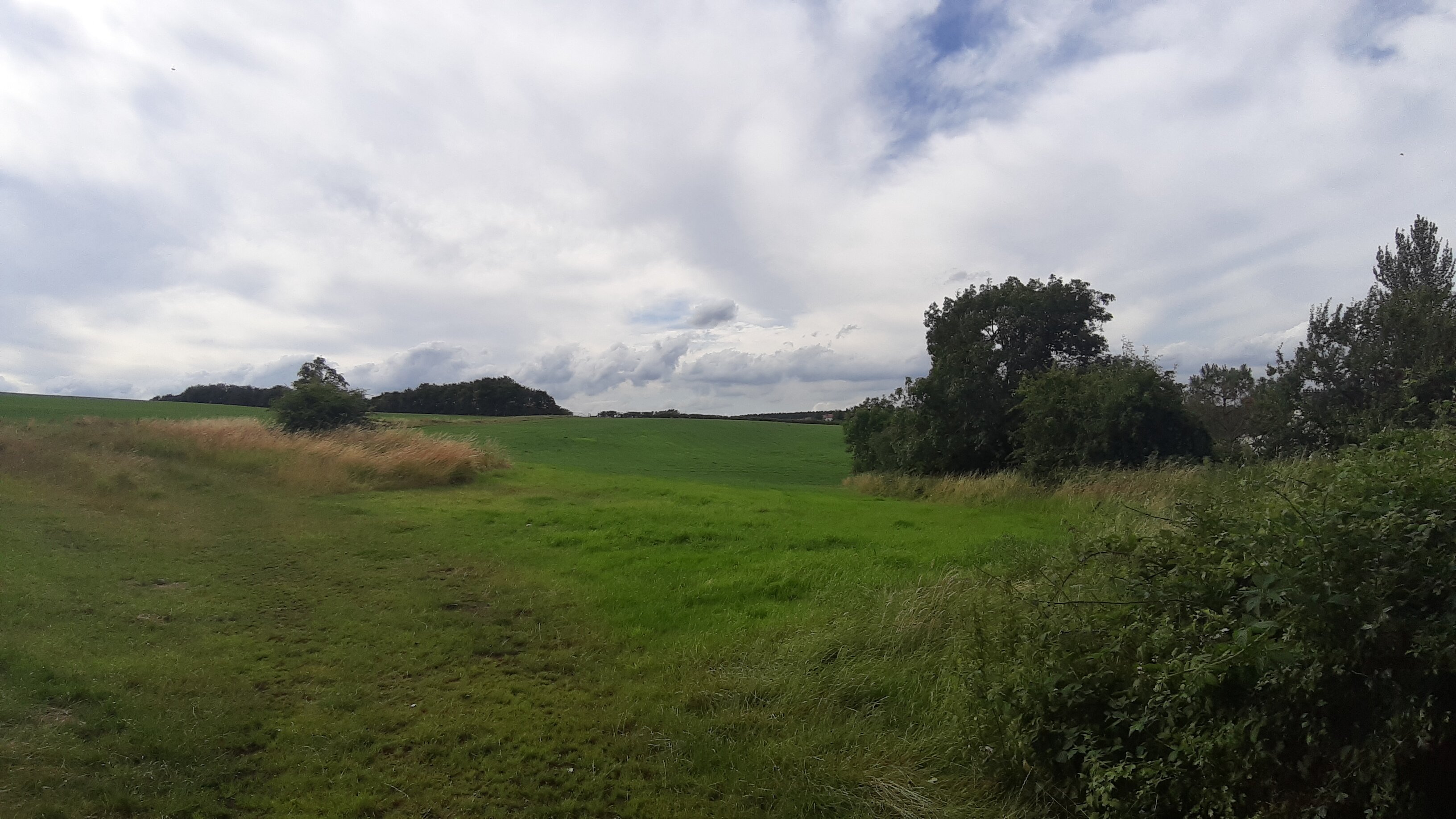 P.S. I'm late to the party, but I recently got a twitter account that you can follow here.
---
---