Hiking New Year
Myself and my friends celebrate New Years Eve in Chiang Mai, hike up the nearby mountain on New Years Day, and do a ball-busting workout the day after.
---
I don't normally do anything special to celebrate New Year's Eve, instead preferring to celebrate by doing something special on New Year's Day. This year, I just planned to hike up to the temple at the top of the Doi Suthep mountain with a few friends.
Although I hadn't planned to go out on New Years Eve, at 10:30PM or so, Guilherme invited me to join the celebrations at Tha Phae Gate. I considered rejecting him as I just wanted to do a little work and then sleep before the hike, but decided to go, spur of the moment style. I'm glad I did, because I ended up having a blast.
New Year's Eve
In all, I went with Guilherme, Aiden, Jurn, and Daniel. We all rode Mobikes together to get there, and in that moment we were the Chiang Mai Bike Gang.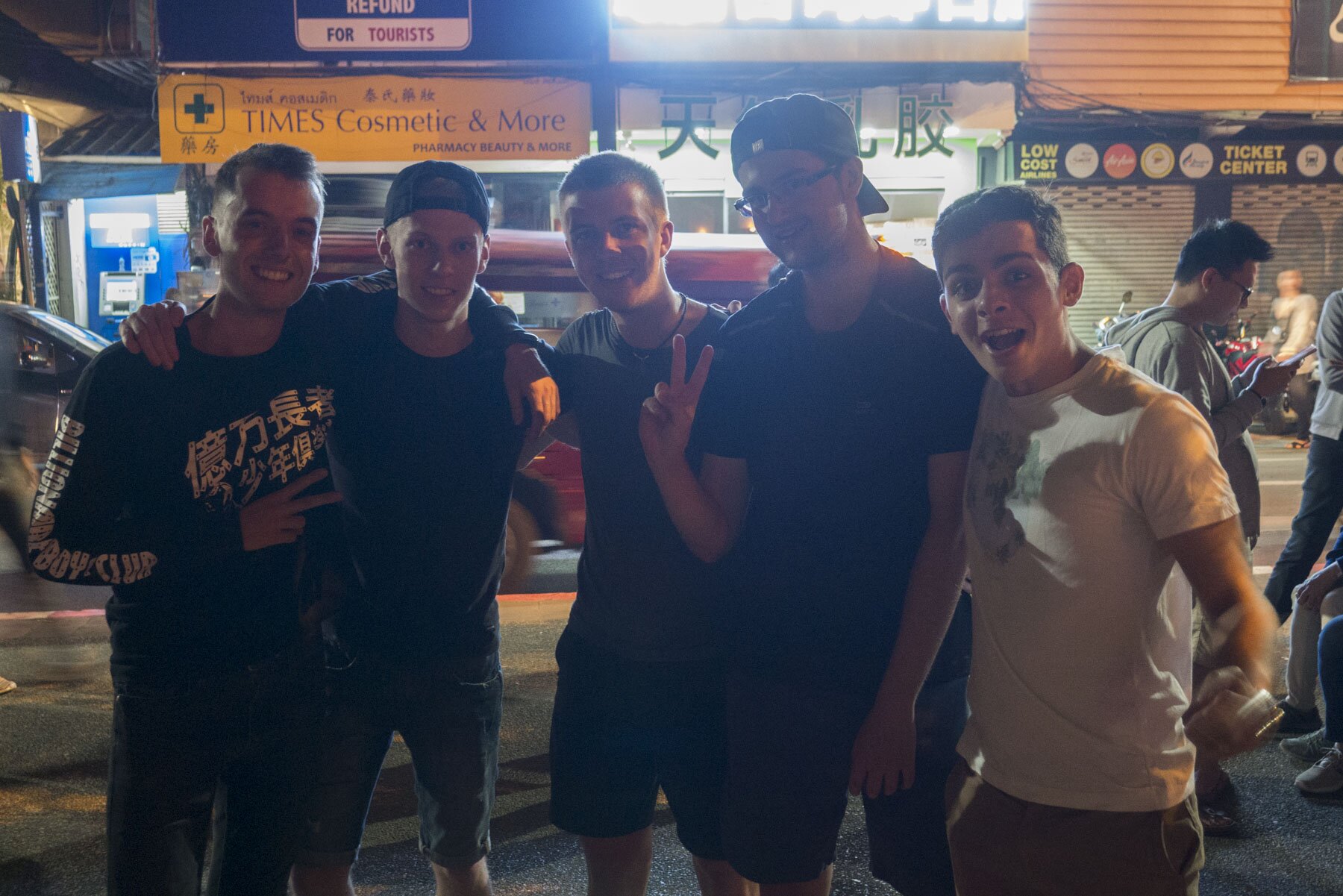 Aiden, Jurn, Daniel, Me, and Guilherme.
As it turned out, it isn't necessary to come to Chiang Mai specifically during the Loi Krathong festival if you want to see lanterns; you can come for New Years, too. There's a relatively small plaza in front of Tha Phae, with really bright overhead floodlights at the top of very tall poles. The plaza was PACKED. It was impossible to move. Lanterns were being set off everywhere. People were smiling.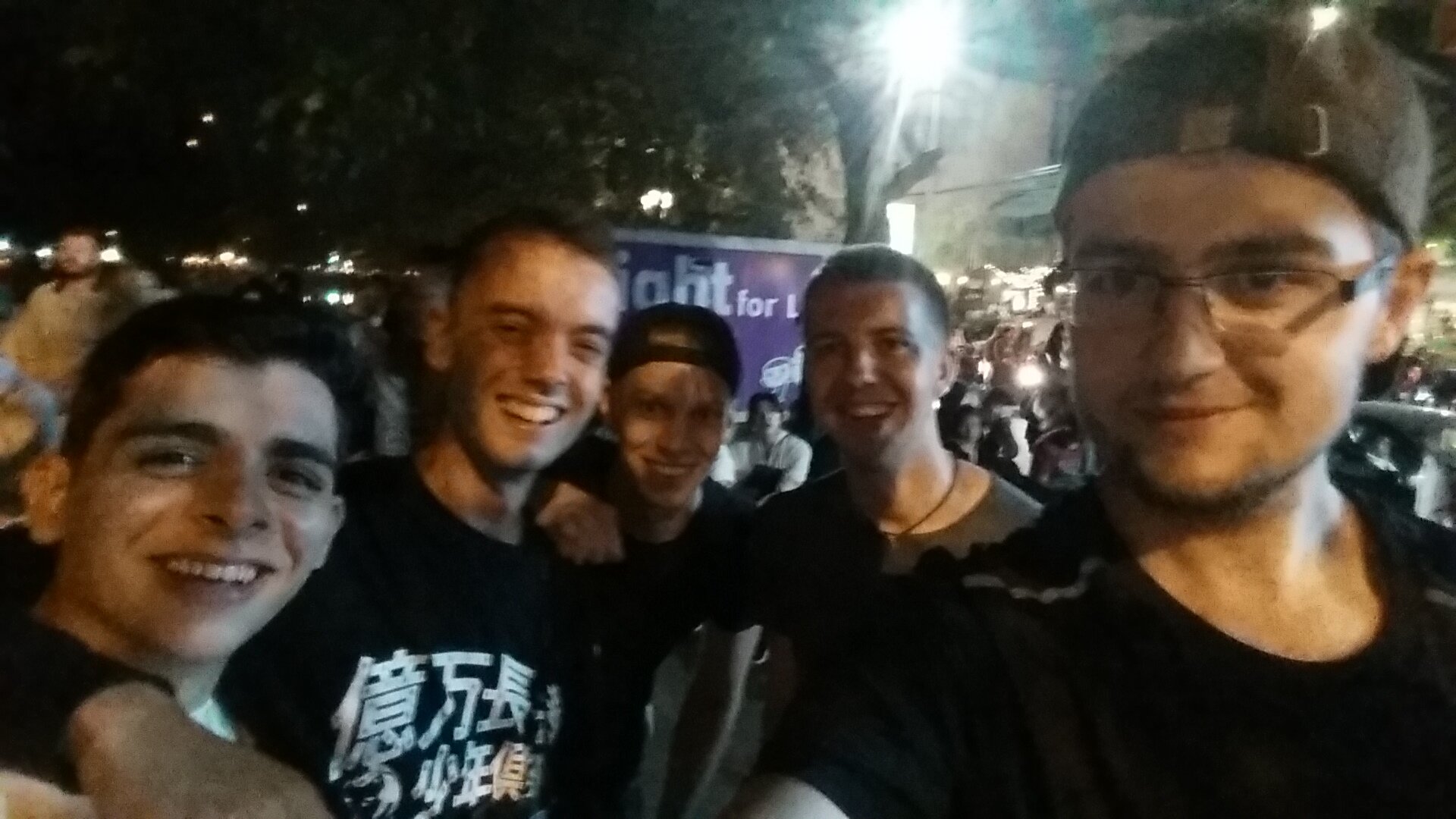 As before, the lanterns are just as beautiful, and I still loved watching the ones that burn up in mid-air. A few times, the lanterns collided with the floodlights, and a huge swarm of bats would reveal themselves, which was really cool to see. The plaza was also packed to the point that when the lanterns fell, they'd more often than not fall on people below.
Eventually, Aiden suggested we launch a lantern of our own. I'm so stingy, frugal, and anti-consumerism that I actually didn't launch one last time. It was neat to participate this time. We just bought one, but it had a little rip in it so we complained to the vendor and he gave us a second one for free. Bonus!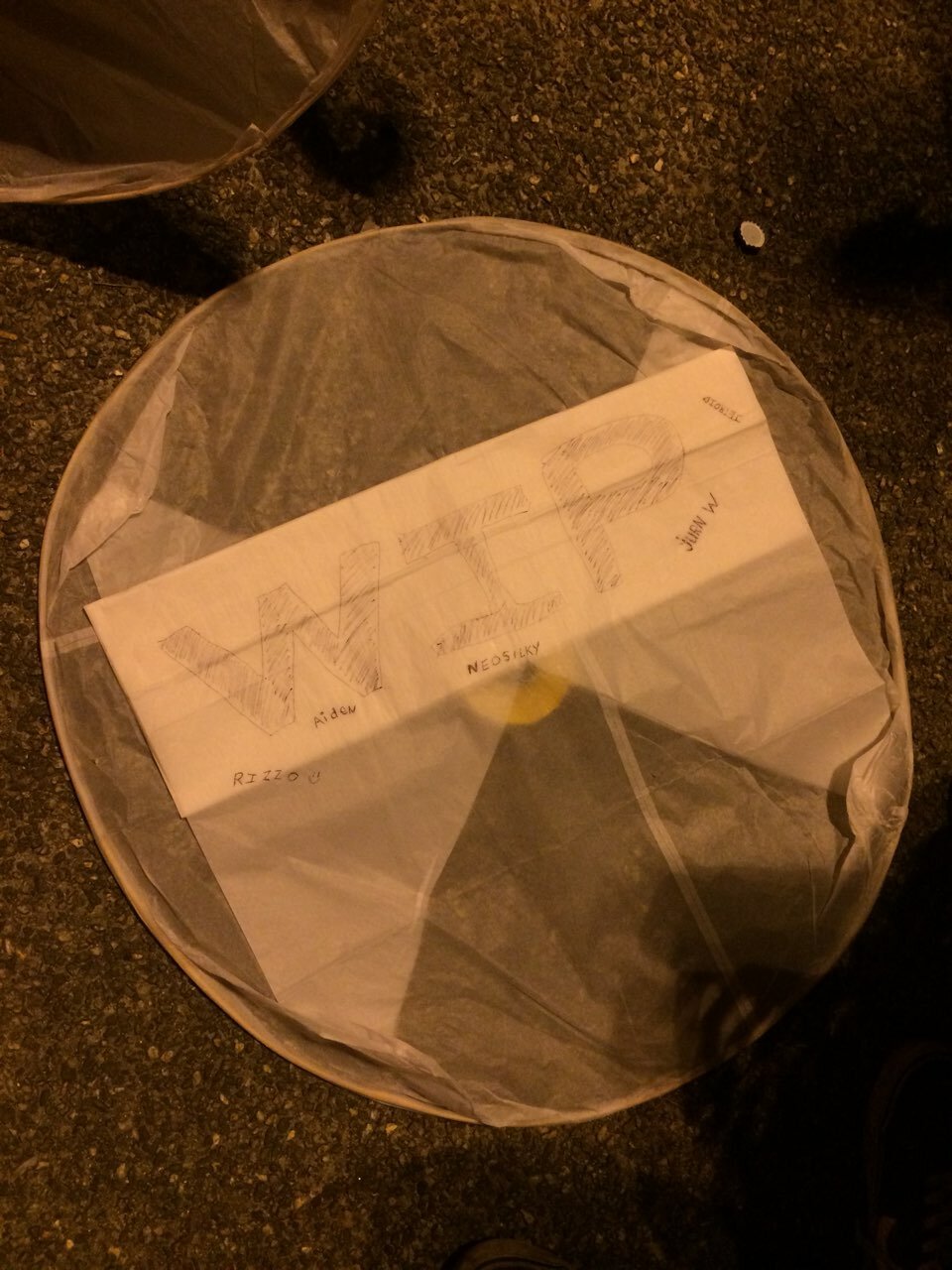 Aiden had a pen, so he scrawled a big WIP on it (as that's how most of these guys met), and then we each took turns signing it with our name. It would be our last 'launch' of the year.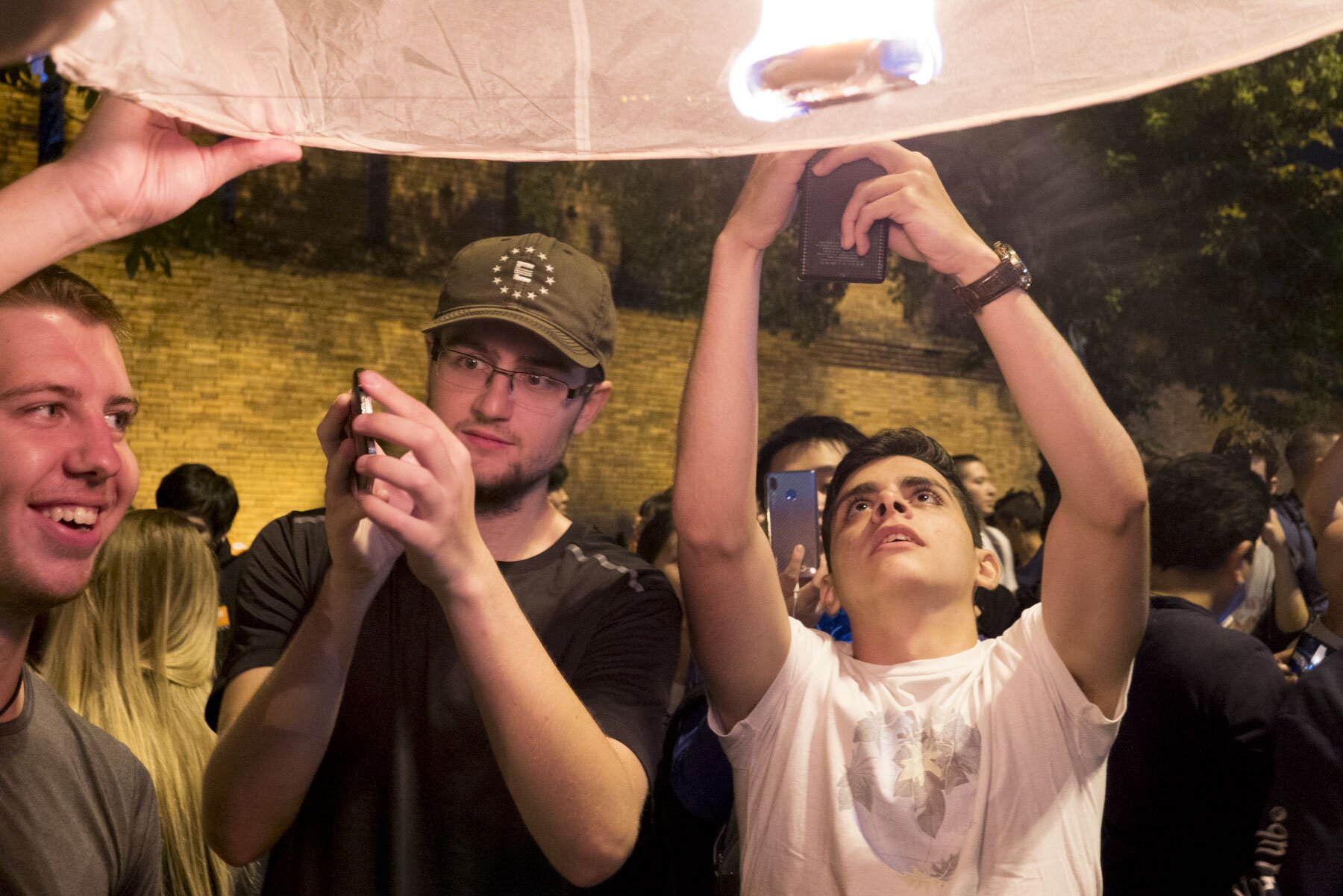 I recorded the whole thing, which you can watch below. Sorry, but the footage seems to have gotten a little corrupted, so there are occasional artefacts.
Guilherme was taking pictures the whole time, and he caught this picture of me whilst I was recording. I honestly don't think I have ever looked happier.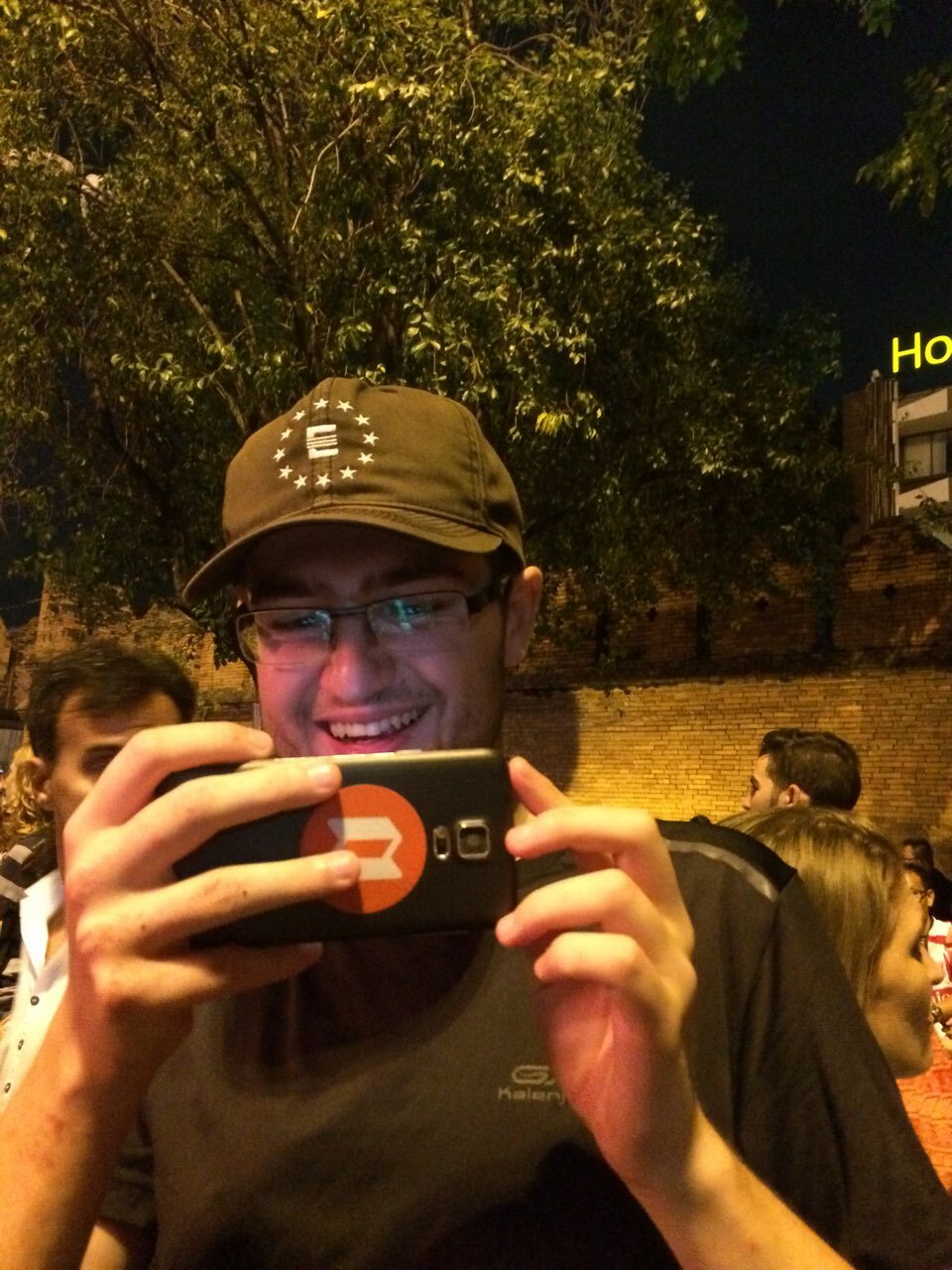 Eventually, midnight started to roll around and everyone started chanting - I actually think our group might have been the first to start as I didn't hear much of anyone at minus 10 seconds, but the chant really picked up by minus 8 seconds. That's what I like to think anyway. When New Year hit, so many people let their lanterns go, and launched fireworks. One particularly big firework extinguished a big circle of lanterns, and it left some kind of hole or vortex in the sky.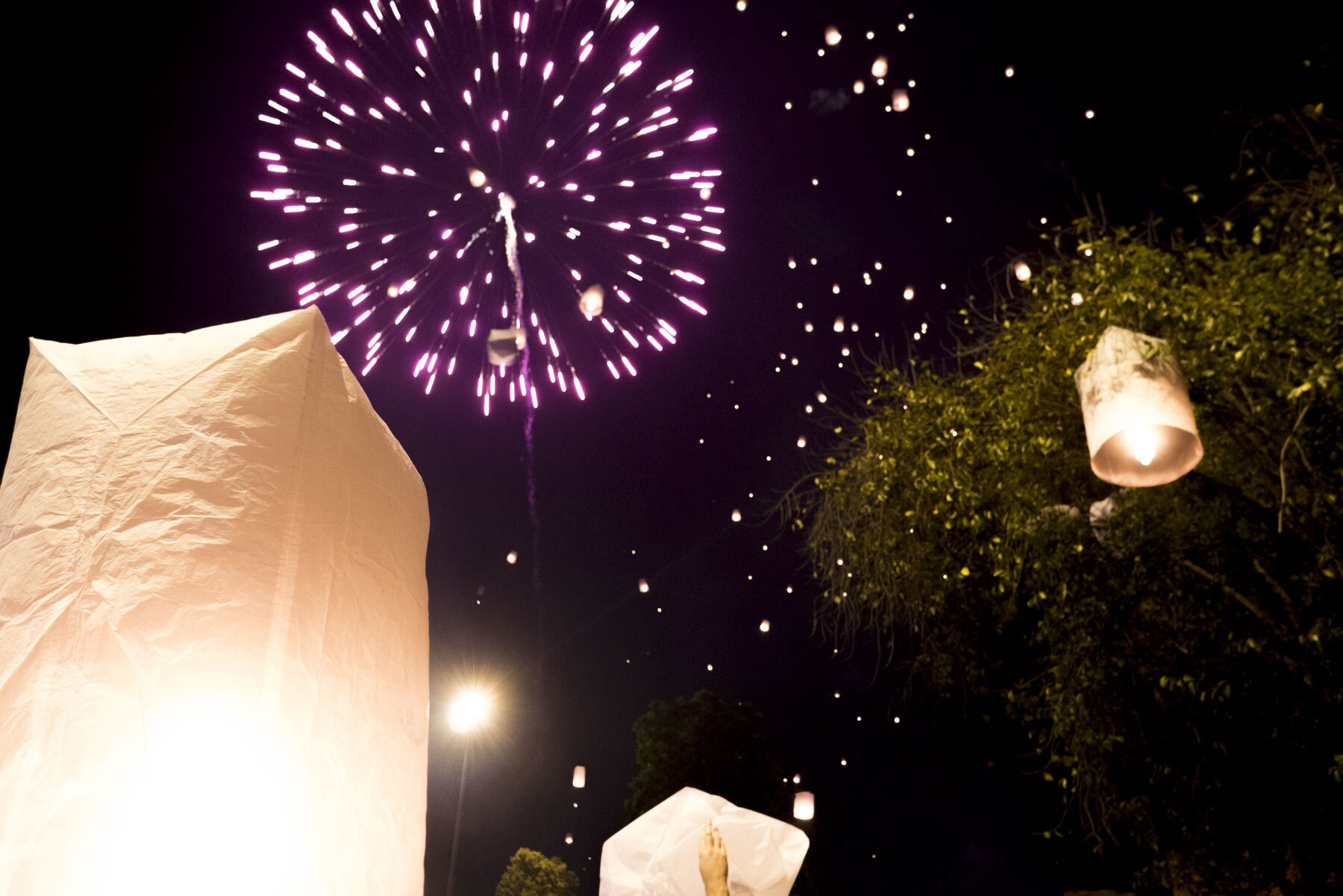 The first few minutes of 2019 were pretty sweet, and gave me a good vibe for the future. We all shook hands and hugged each other. D'aww.

Eventually, we decided to go home, and once again we were the Chiang Mai Bike Gang. This time though, there was hardly any traffic. Somehow or another we all decided to 'race', and we put 'pedal to the metal' so to speak (really just spinning our legs crazy fast) and were competing with each other. I was at the back (because I was the last to set off and didn't react very quickly), and this guy wanders into the road in front of me (and I feel like at first I need to slow down to avoid him), but he actually starts gesturing and yelling "Go on mate! You can catch up to them!"
We kept up the 'competition' pretty much the whole way - the roads were so clear! When we got back to Huay Kaew, we were all pumping with adrenaline and we had definitely had a great night.
New Year's Day
We were going to be hiking from 9:00AM. Everyone from the New Year's Eve celebrations was joining, and Pat was going to be tagging along too. At this point, Daniel had moved out of Huay Kaew, so him and Jurn were going to be meeting us at the foot of the mountain; Aiden, Guilherme, Pat, and I met up outside of Huay Kaew and headed out together.
We would be hiking the Monk's Trail. It starts off going up some concrete and asphalt paths with little shacks to the side, but quickly deteriorates to dirt paths going through heavily wooded areas. There are a few places where you're climbing around on loose, fist-sized rocks. Now we were the Chiang Mai Hike Gang.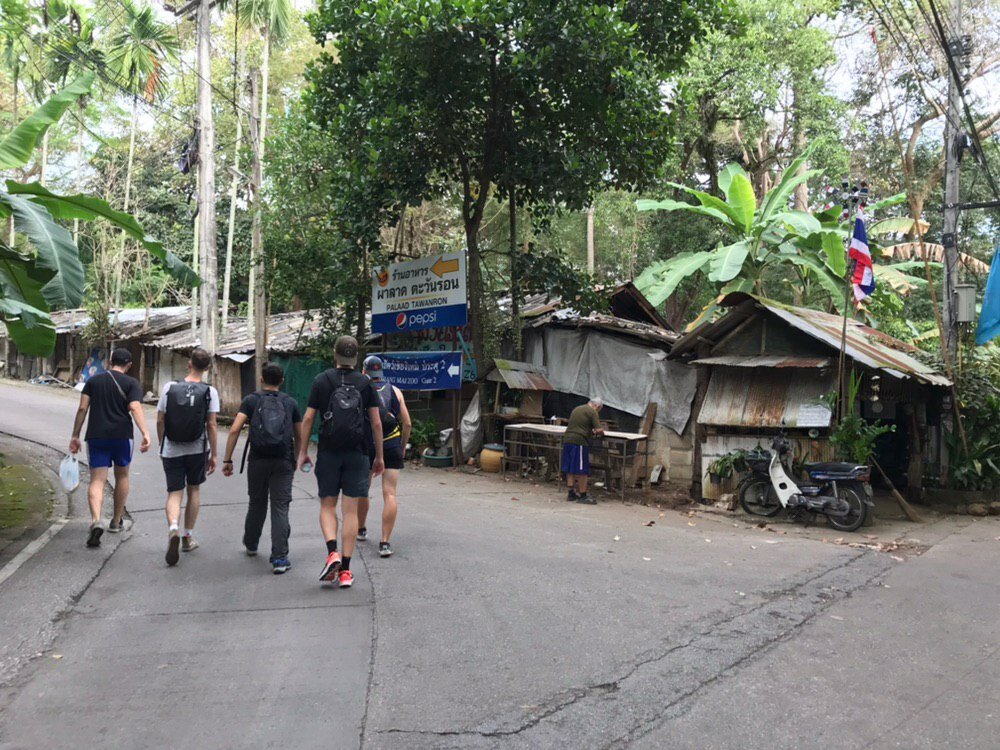 Chiang Mai Hike Gang!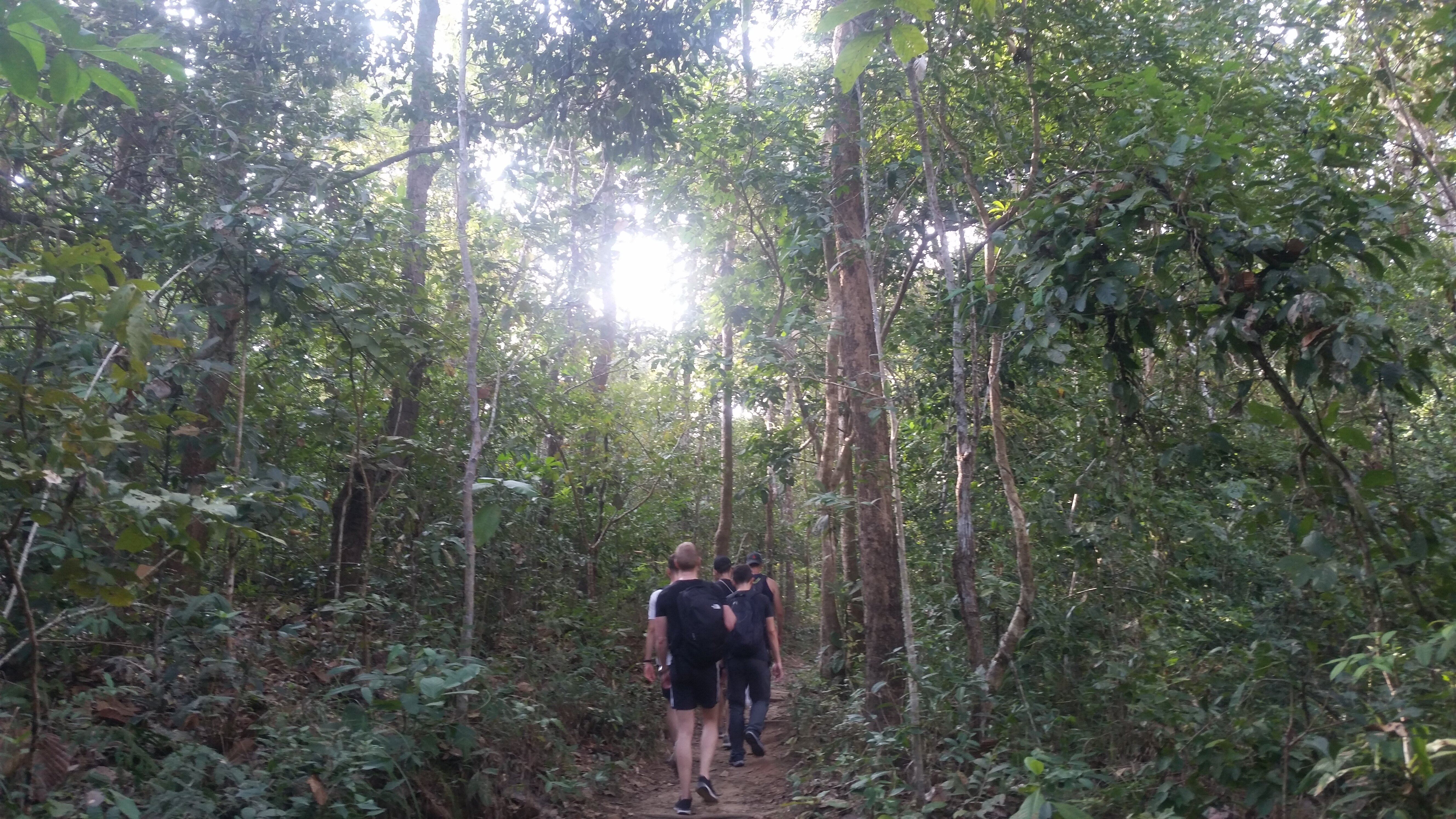 Into the woods.
For long stretches of the route, you can hear flowing water, but it's hard to discern where it's coming from. In a few places, you can raise up just high enough to see a waterfall and a stream, and it feels really rewarding after all the build up.
Something I noticed very quickly was that there were a lot of black ants crawling around everywhere, especially up and down the trunks of some trees. I saw how tropical places have a lot of ants like this in nature documentaries, but I wasn't really prepared for the reality. Past a certain point, it felt like every tenth or so tree I saw was swarming, and I had to be careful where I put my hands.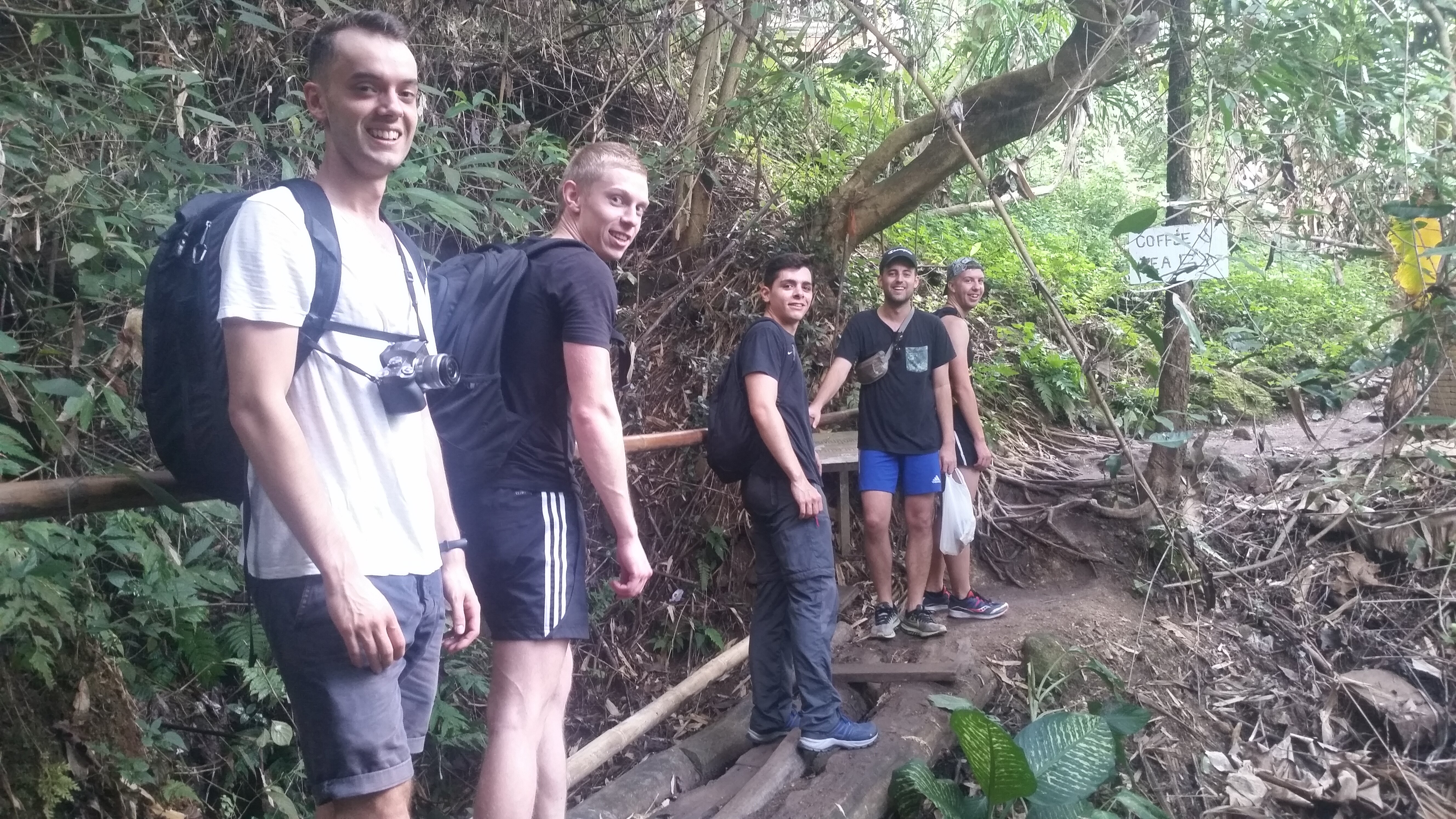 Crossing a small wooden bridge before the hidden temple.
Eventually, we crossed a scrappy wooden bridge (pictured above) and suddenly we appeared in Wat Pha Lat. There is a watchtower to the left, where you can see a pretty good view, and then you round a corner and can see this artificial waterfall. There is a small bamboo bridge crossing the water, and it leads to a path past the temple.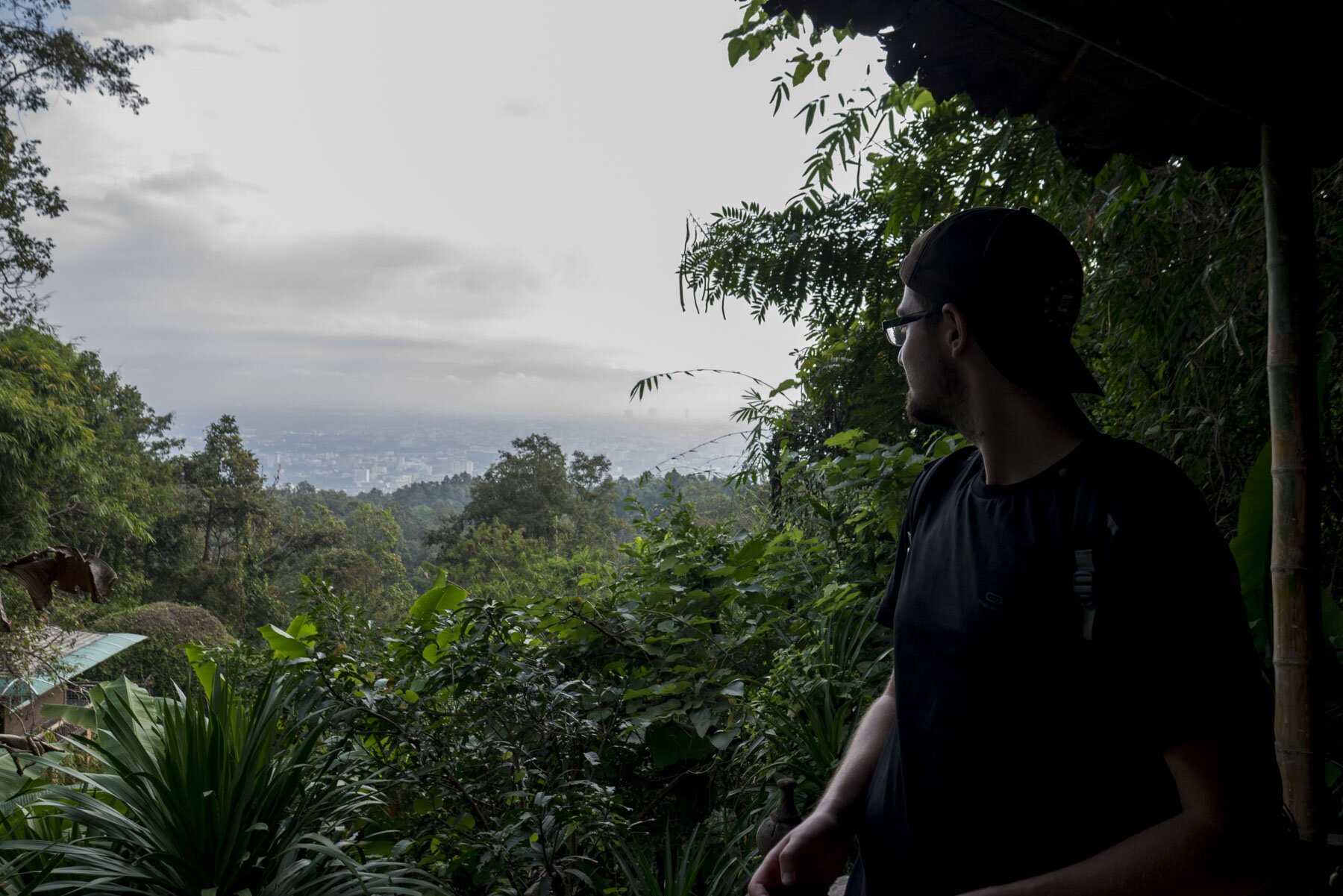 Looking out from the watchtower.
Waterfall at Wat Pha Lat.
It looked very scenic, but it quickly lost some of it's touch when I realised that what I had assumed were colourful rocks to the left of the waterfall were actually big sacks of cement that had just been chucked in the water to form steps. Hmm.
Also, I hadn't noticed it on the way past, but just before the entrance to Wat Pha Lat was a huge spider, about 10 metres away from the path, up in some trees. Aiden called it out to us, so I went back to look at it. I found out later that it was a Nephila Pilipes, which is supposedly one of the biggest spiders in the world. These things can be 20cm across, and I reckon our little friend was somewhere around that mark. I tried to take pictures and record a video, but my camera wasn't able to capture it.
Aiden recorded this video, where you can juuuust make it out:
If you have a strong constitution, watch this video to get an idea of the size of one of these things. Incredible.
The waterfall at Wat Pha Lat actually goes into a very specific channel, so you can hop around on the rocks in front.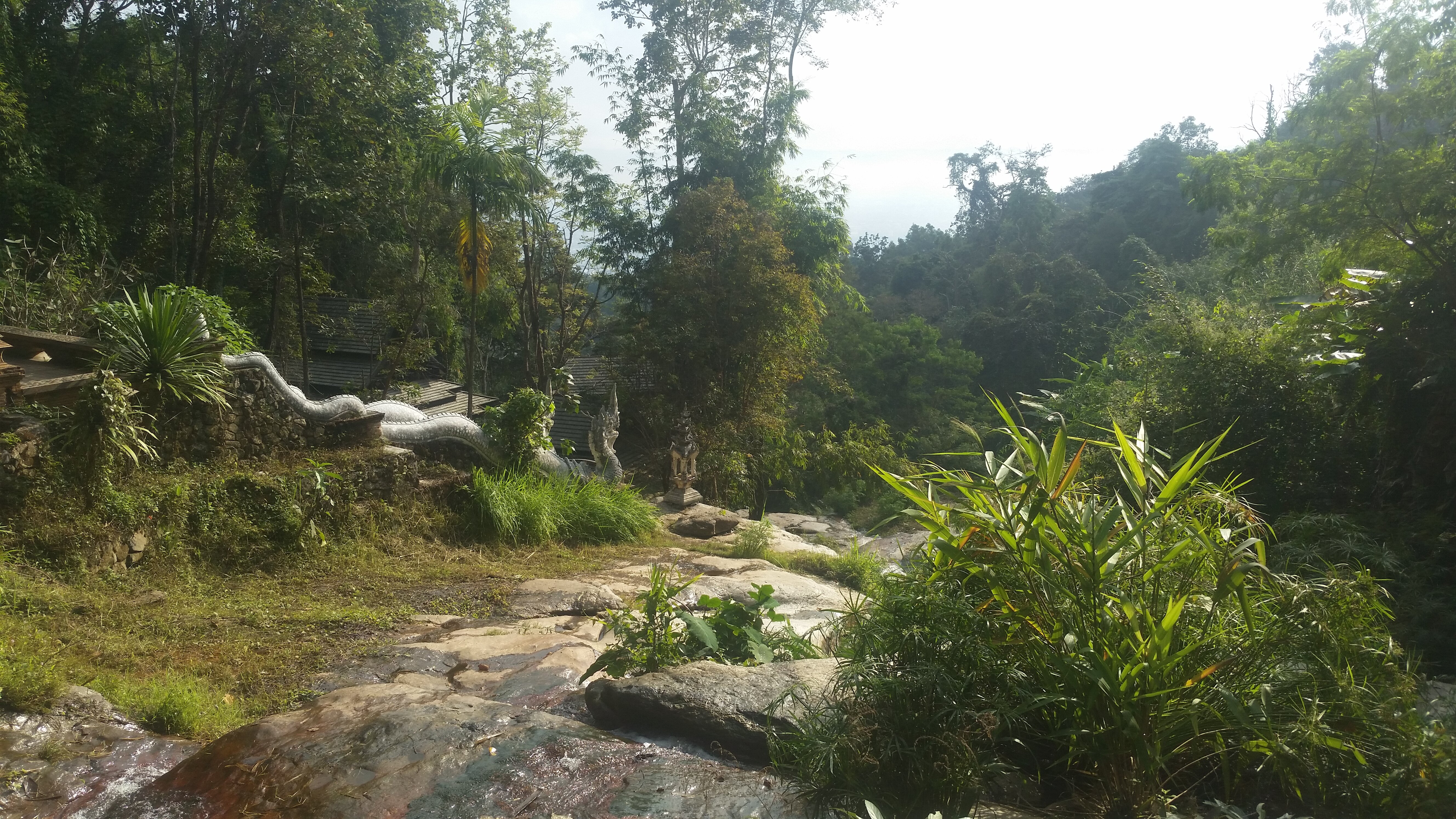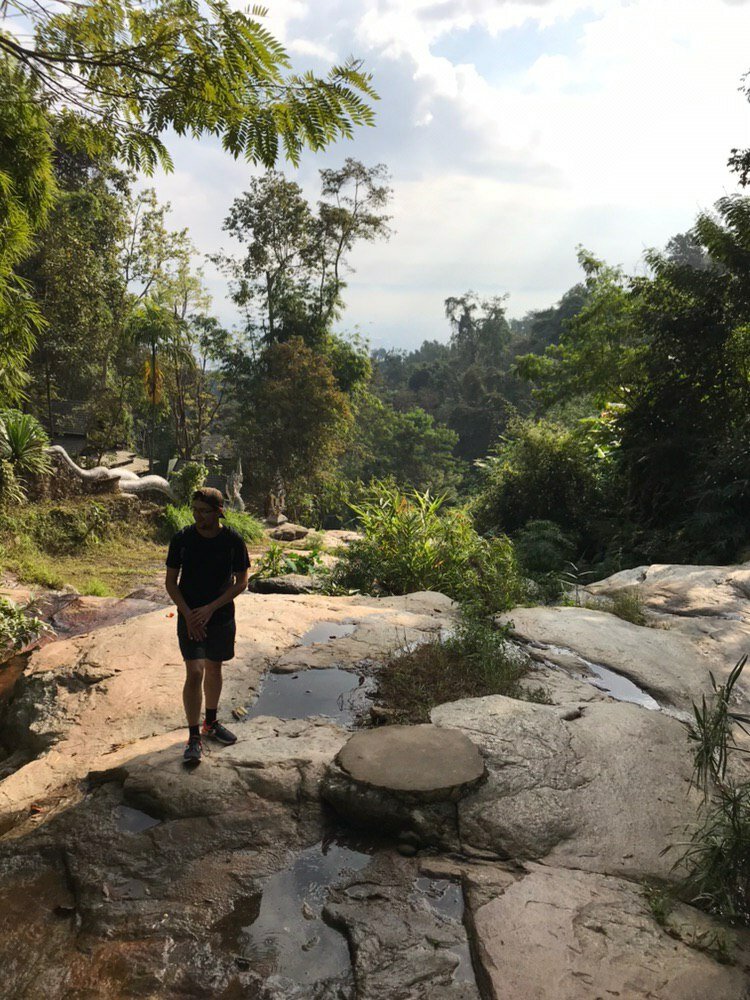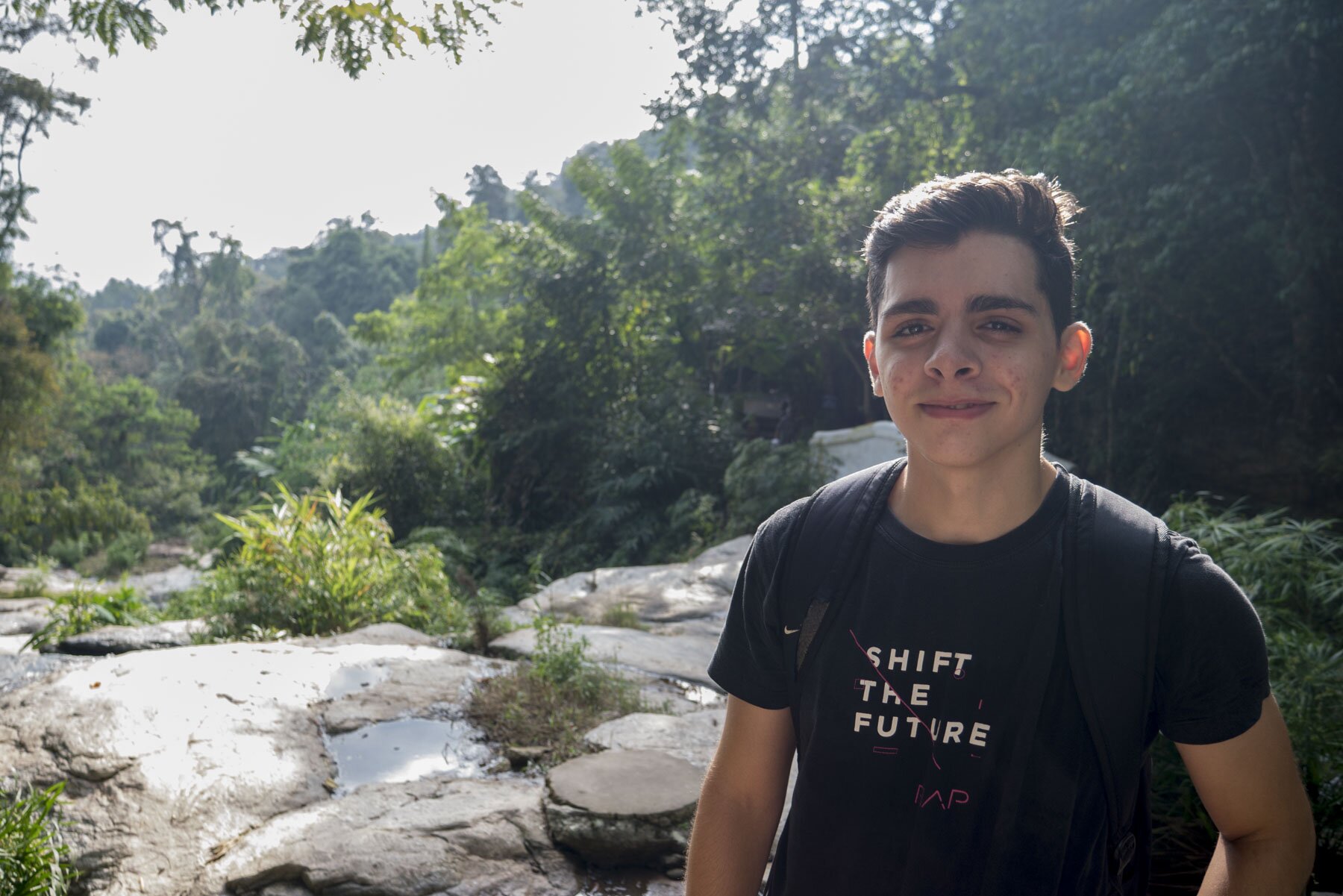 The view from up here is really cool.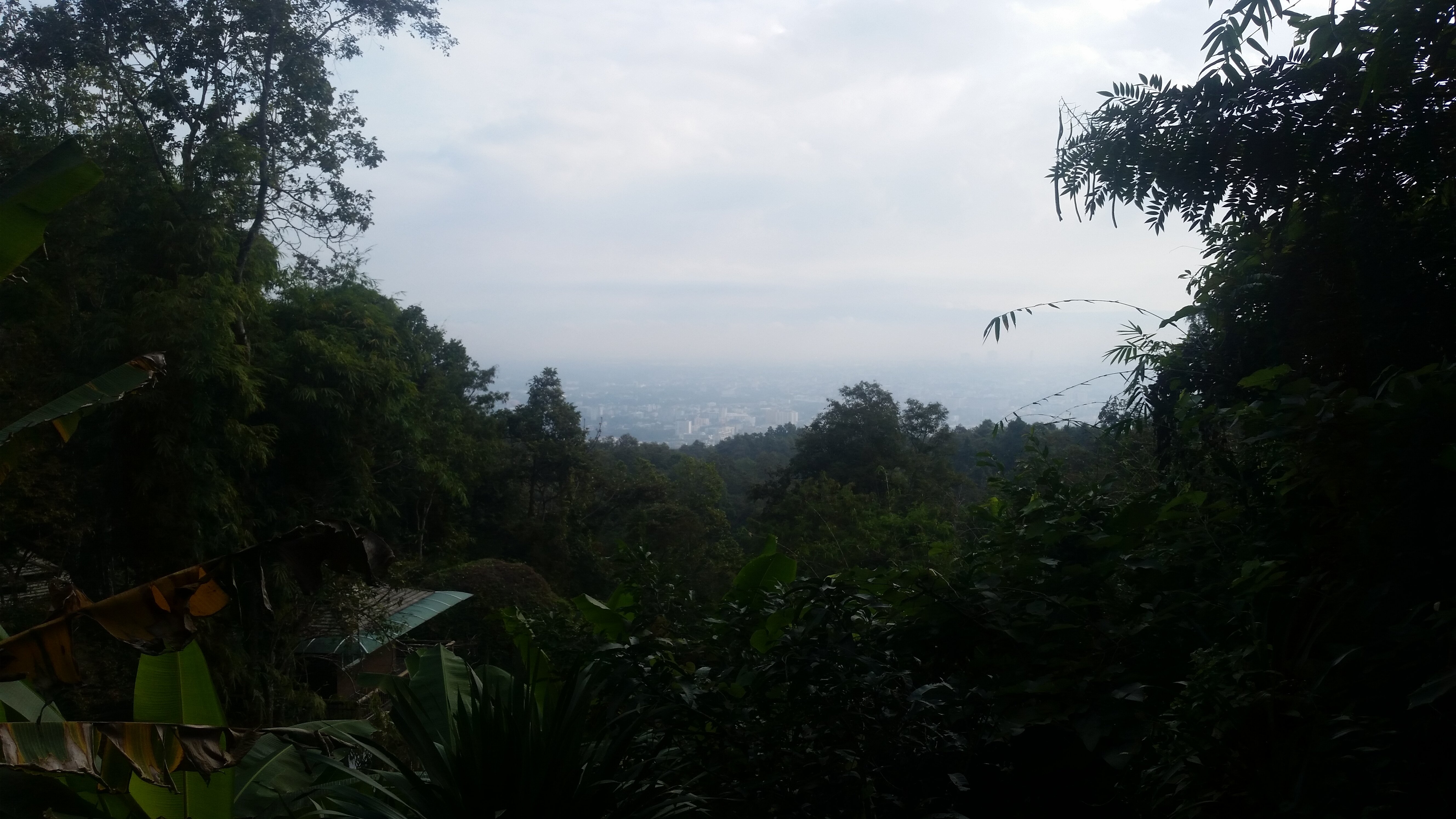 View from Wat Pha Lat.
We moved on from Wat Pha Lat without particularly exploring the structure. We wouldn't have been allowed inside anyway as we were wearing shorts.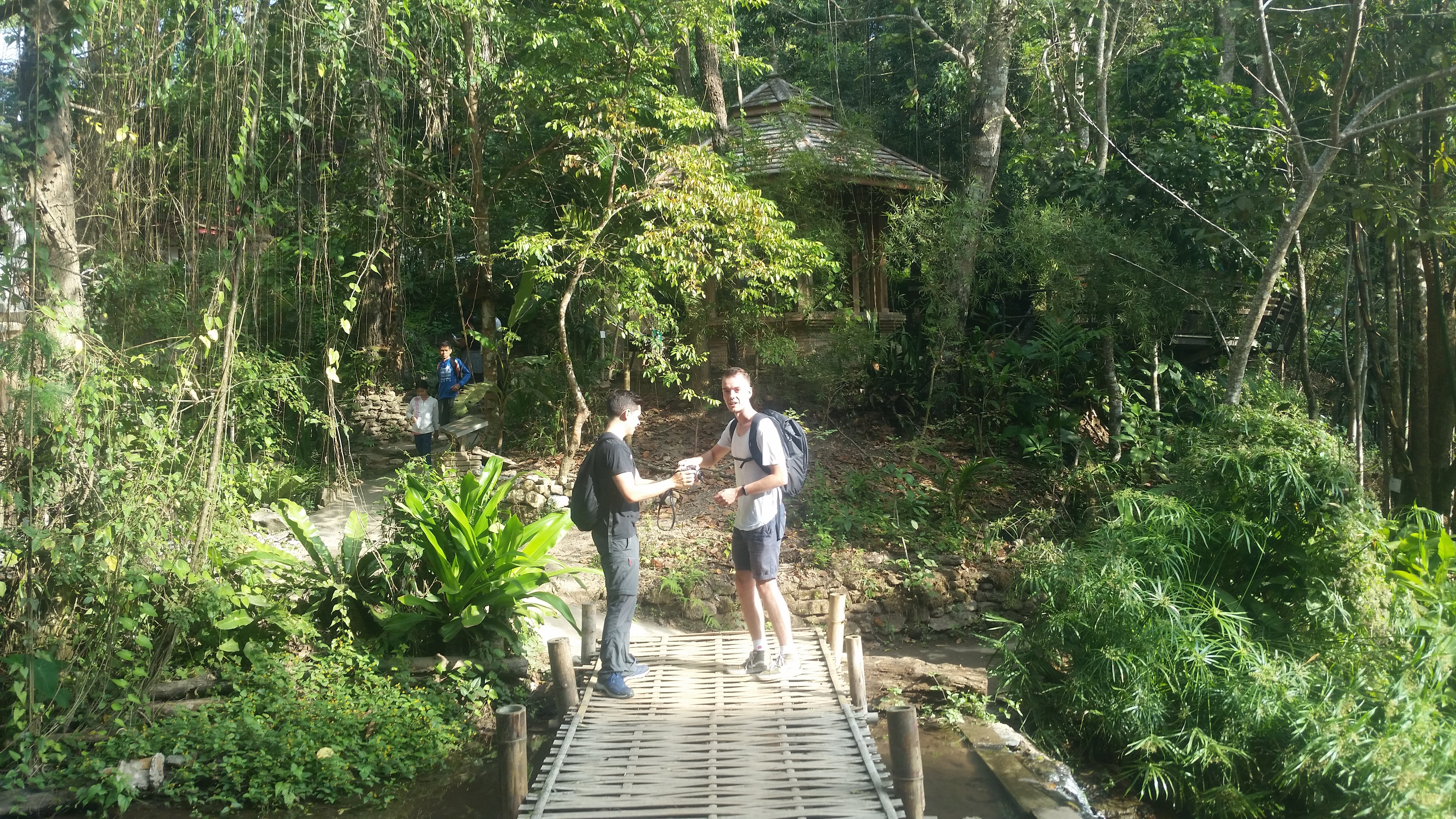 Aiden and Guilherme at Wat Pha Lat.
After hiking for maybe another ten or fifteen minutes, we reached a waterfall and decided to take a break. We'd been going for a while by now and collectively our thighs were burning. This was more work than I was expecting!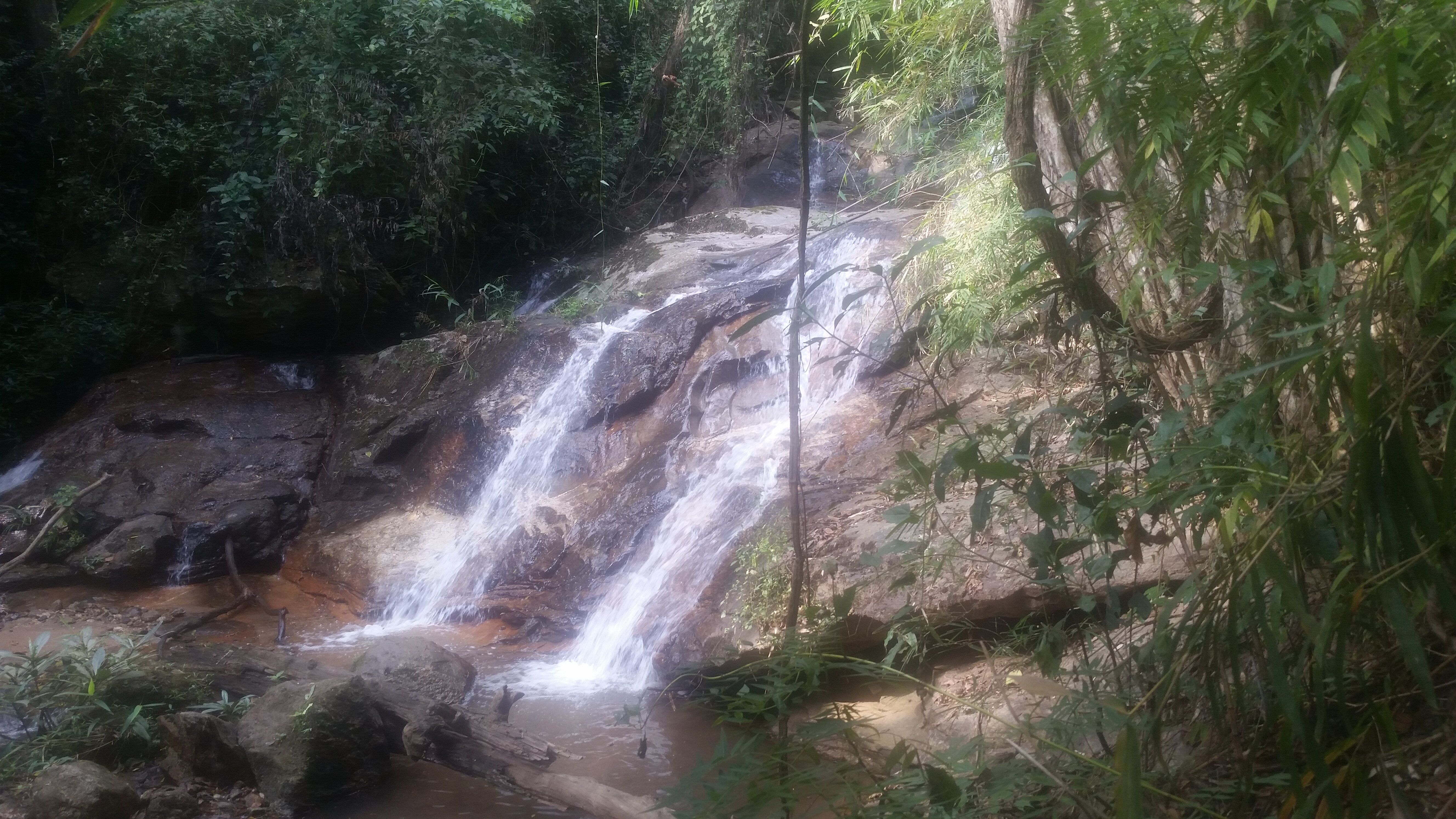 I ate some peanuts I had brought with me, and drank some of my electrolyte drink. Aiden gave me a banana which was really nice of him.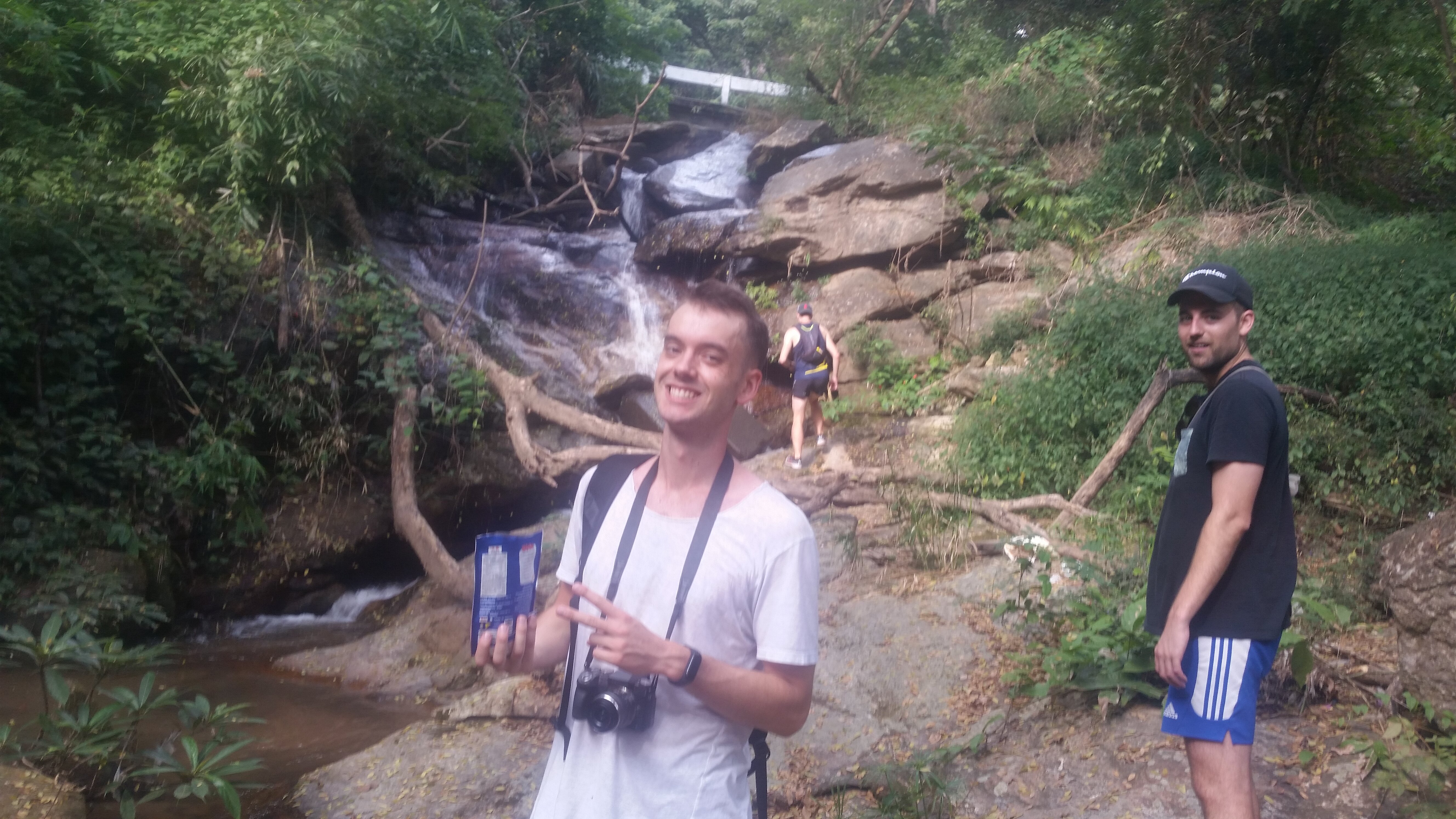 Aiden and Pat resting at the waterfall. Daniel is investigating the route up to the road.
A short walk further from here and the trail intersects with the road. On the other side, the steepness just increased rapidly to the point that we ended up just grunting as we went up. There were these really smooth foot-shaped steps carved out of solid rock (presumably from people continually stepping there). It almost looked like something that might have been created by flowing water.
After a total of 1:45 hours of hiking time, we reached the end of the trail and started to make our way up the steps to Wat Phra That Doi Suthep. I actually sent my sister a postcard of these same steps! (Most postcards I saw featured unfamiliar locations; I knew I would be going to this temple eventually, so it seemed a good pick).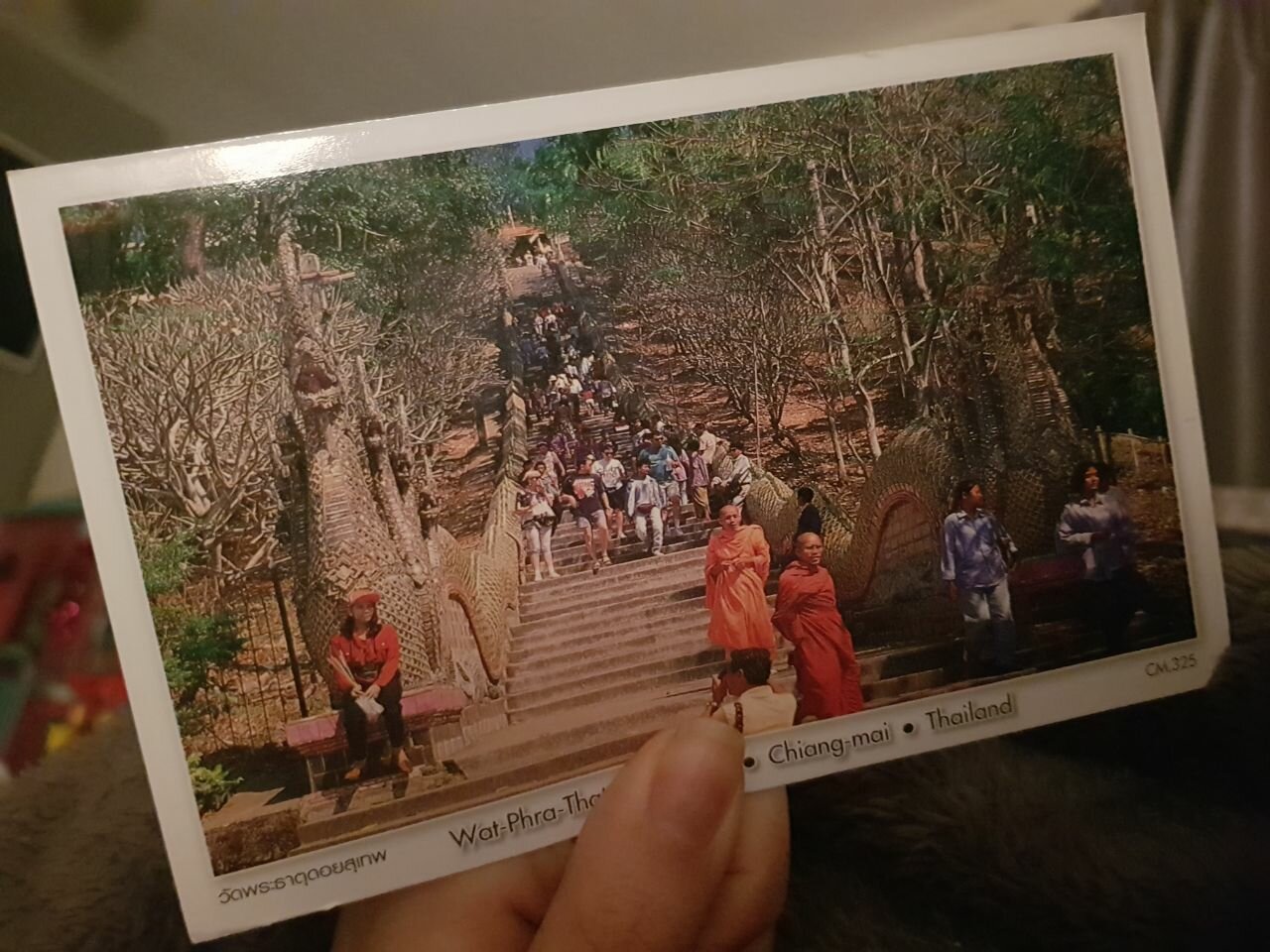 Postcard I sent to my sister.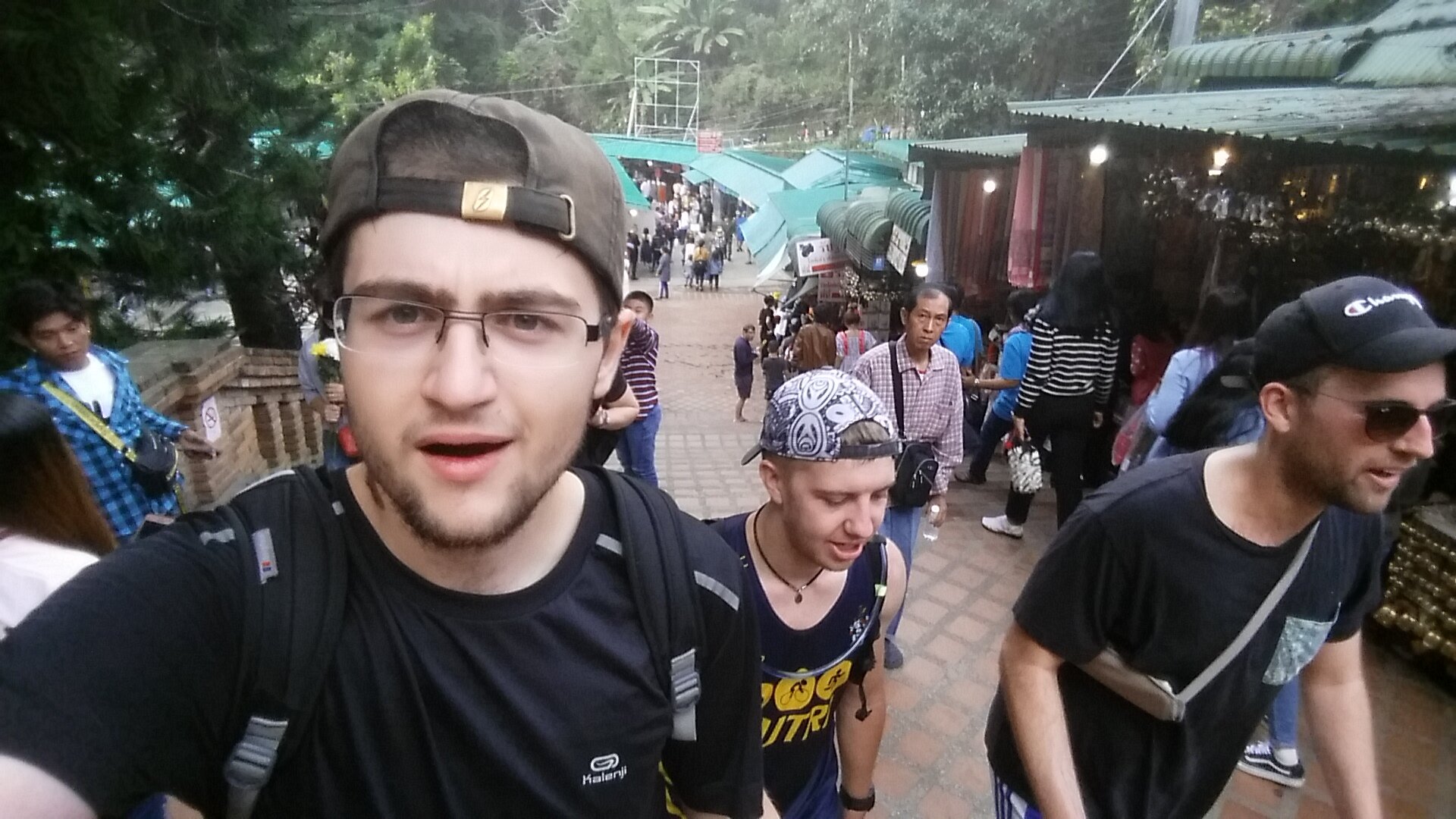 Myself, Daniel, and Pat just before the base of the steps.
The view from the temple was pretty incredible. Just amazing.
I kept trying to make out details I knew from the ground, and was quite impressed with how many locations I could make out. I could see Maya, Hillside 4, Huay Kaew Residence, The University Running Track, The Airport, The Moat, and a few miscellaneous shops.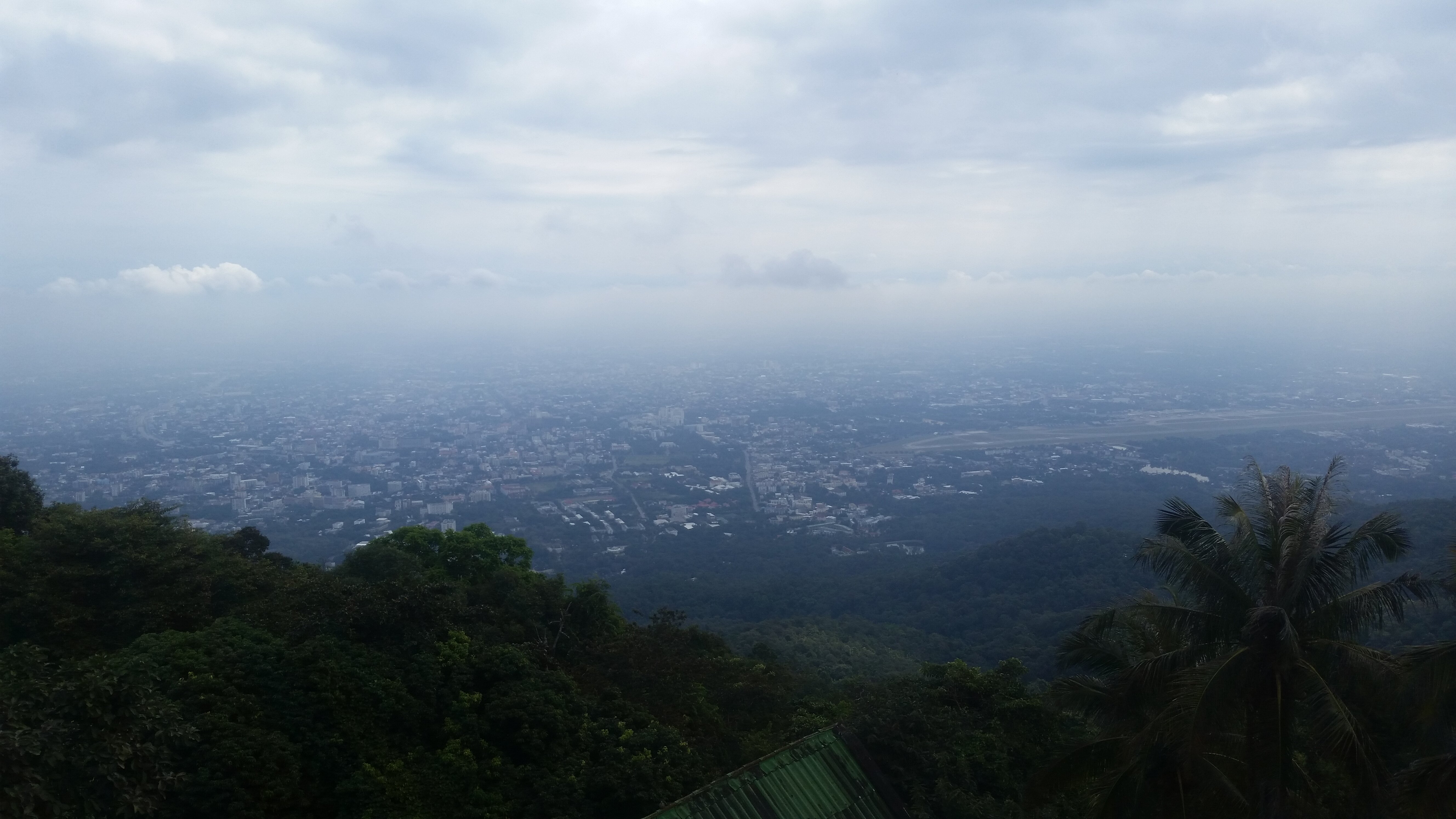 The view of Chiang Mai from Doi Suthep.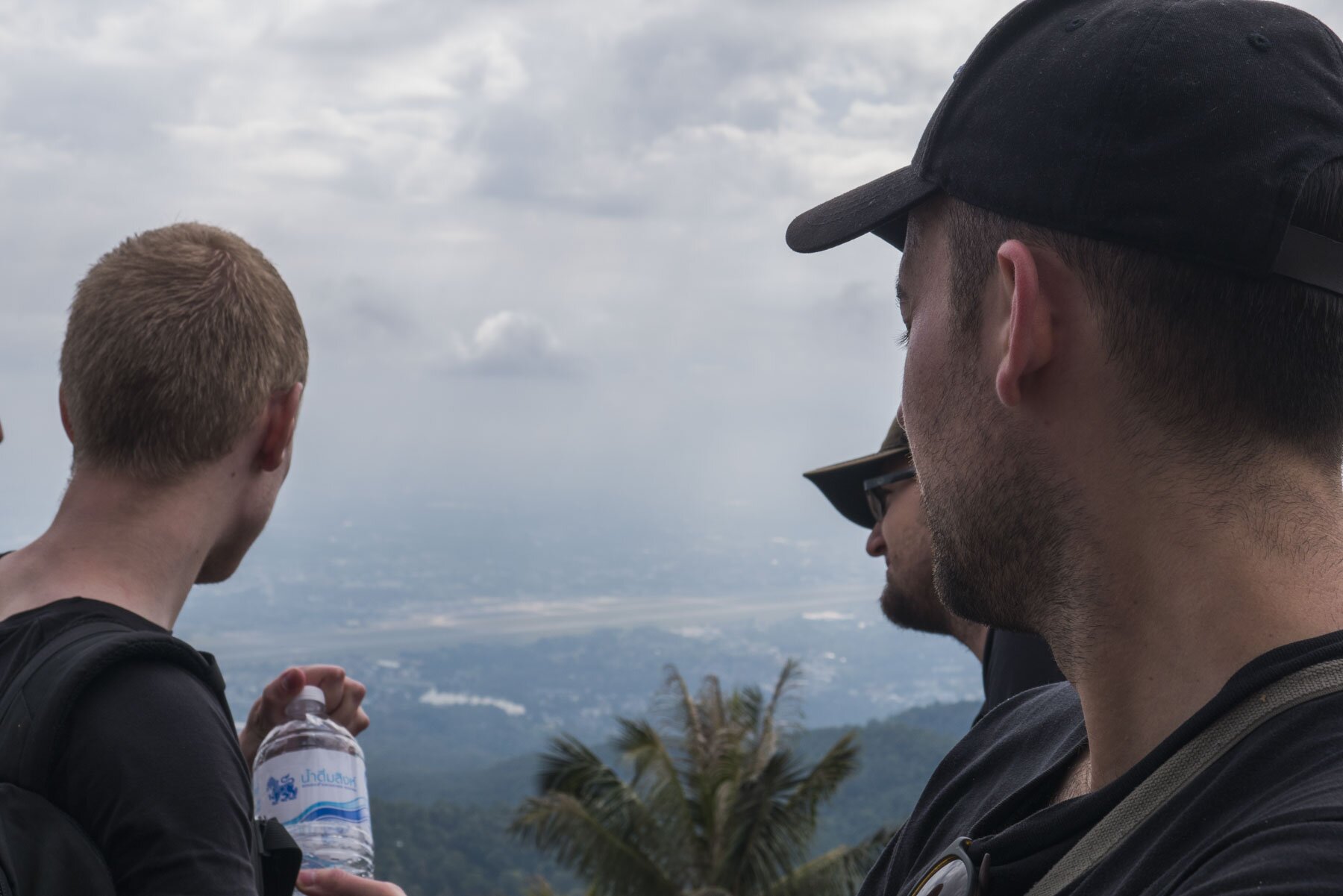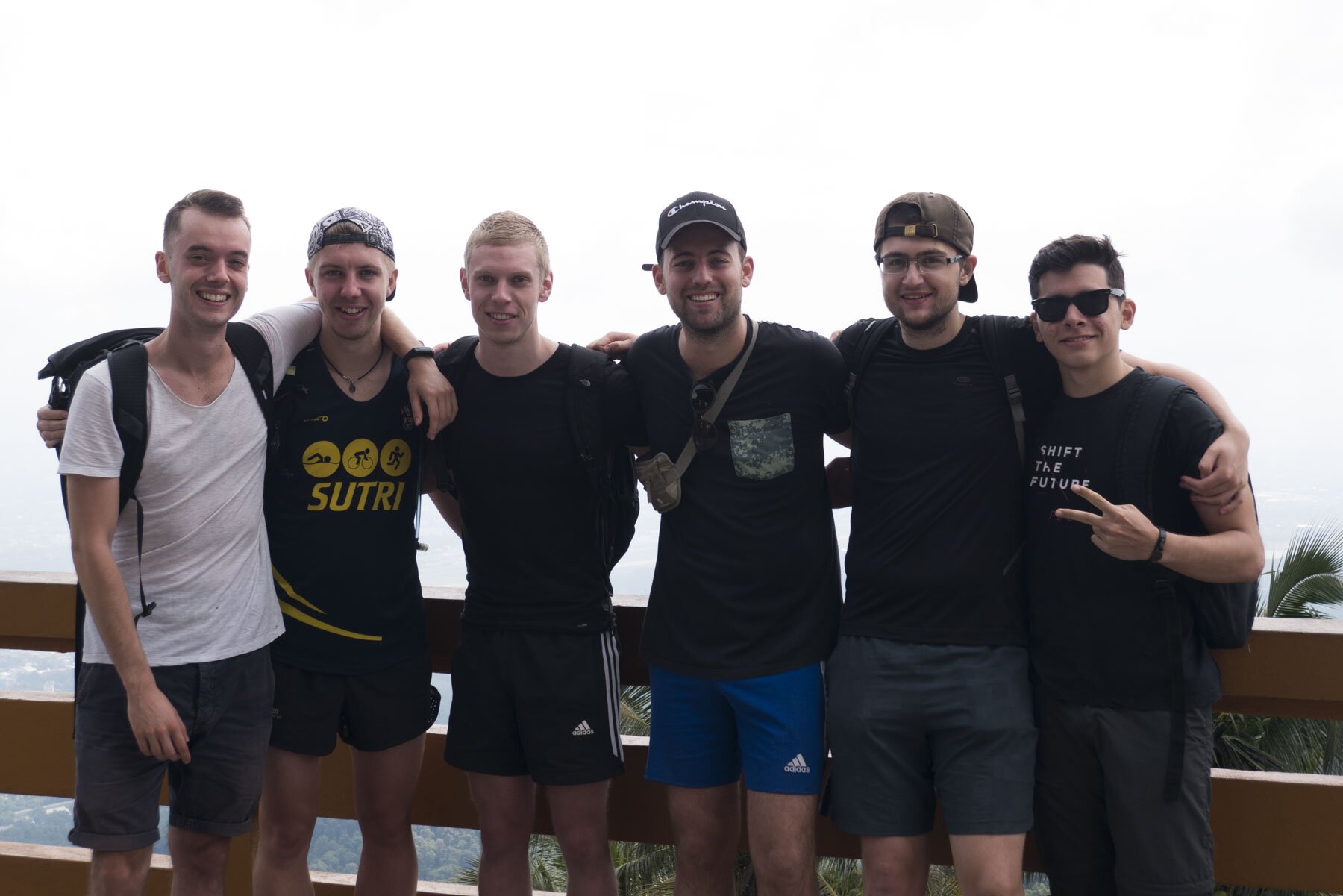 The temple itself was nice to see. There were lots of big metal bells all over that people kept going around and clanging. We weren't able to go inside because - again - we had shorts on, but the temple itself wasn't really our reason for coming here.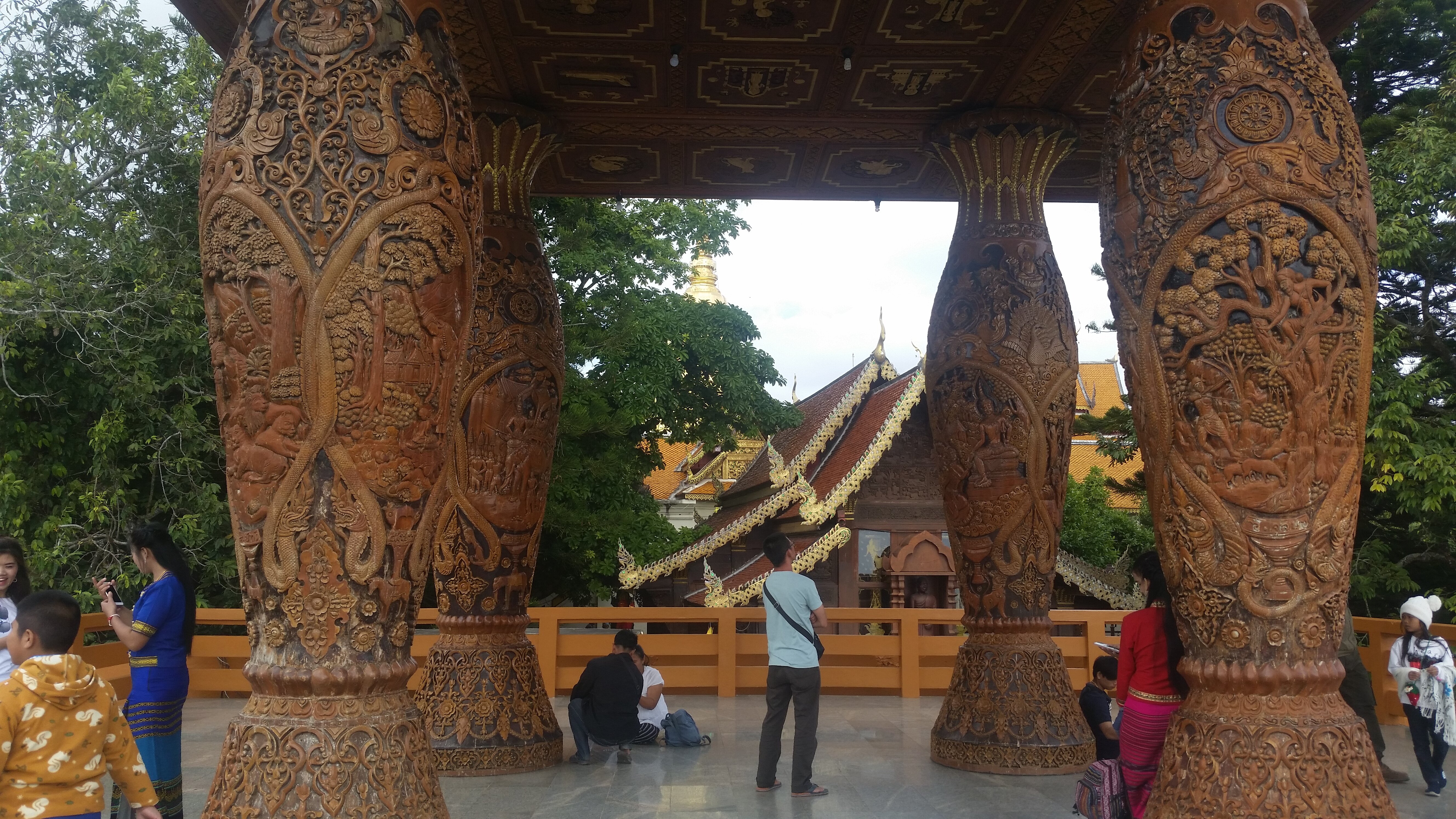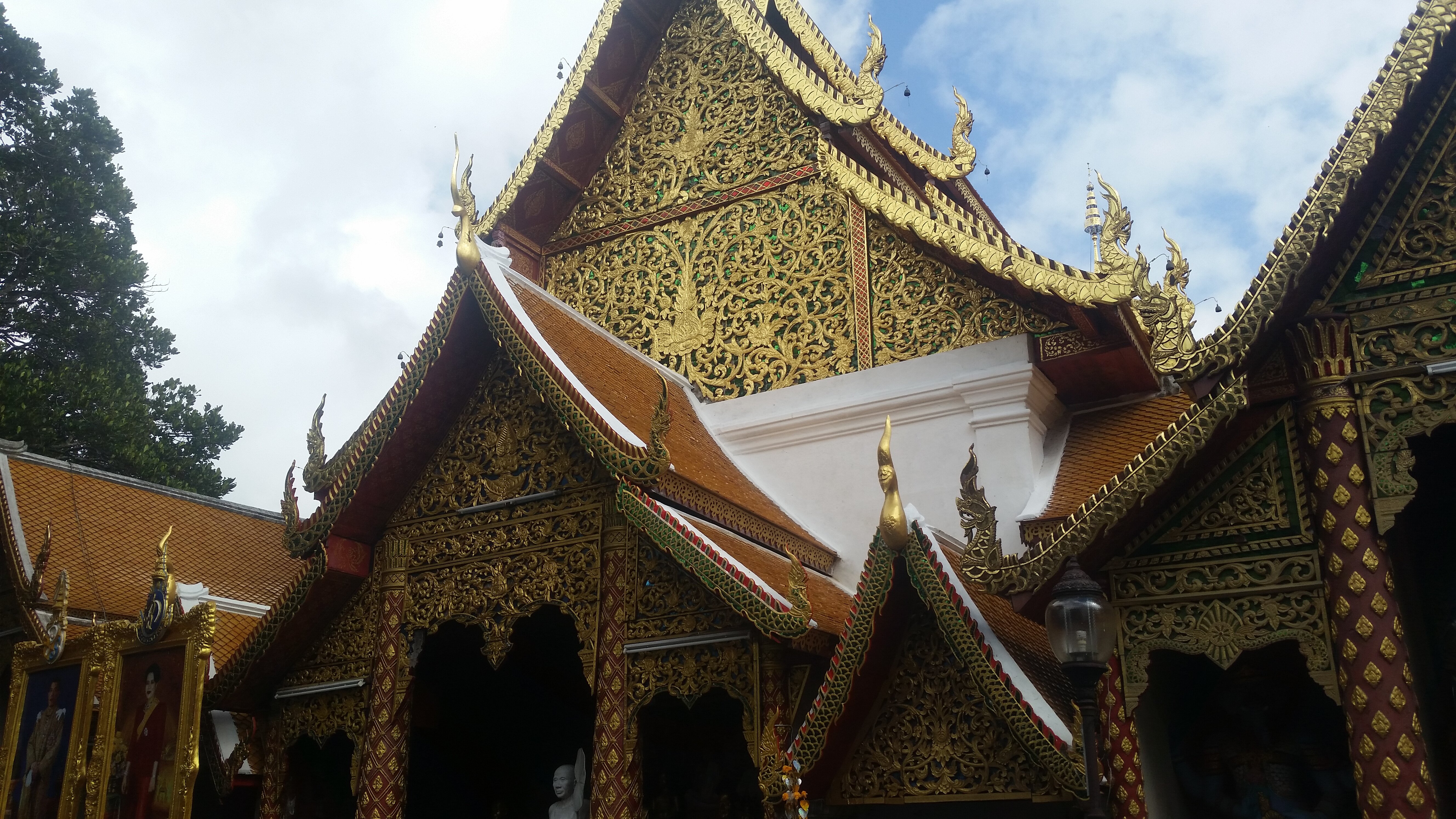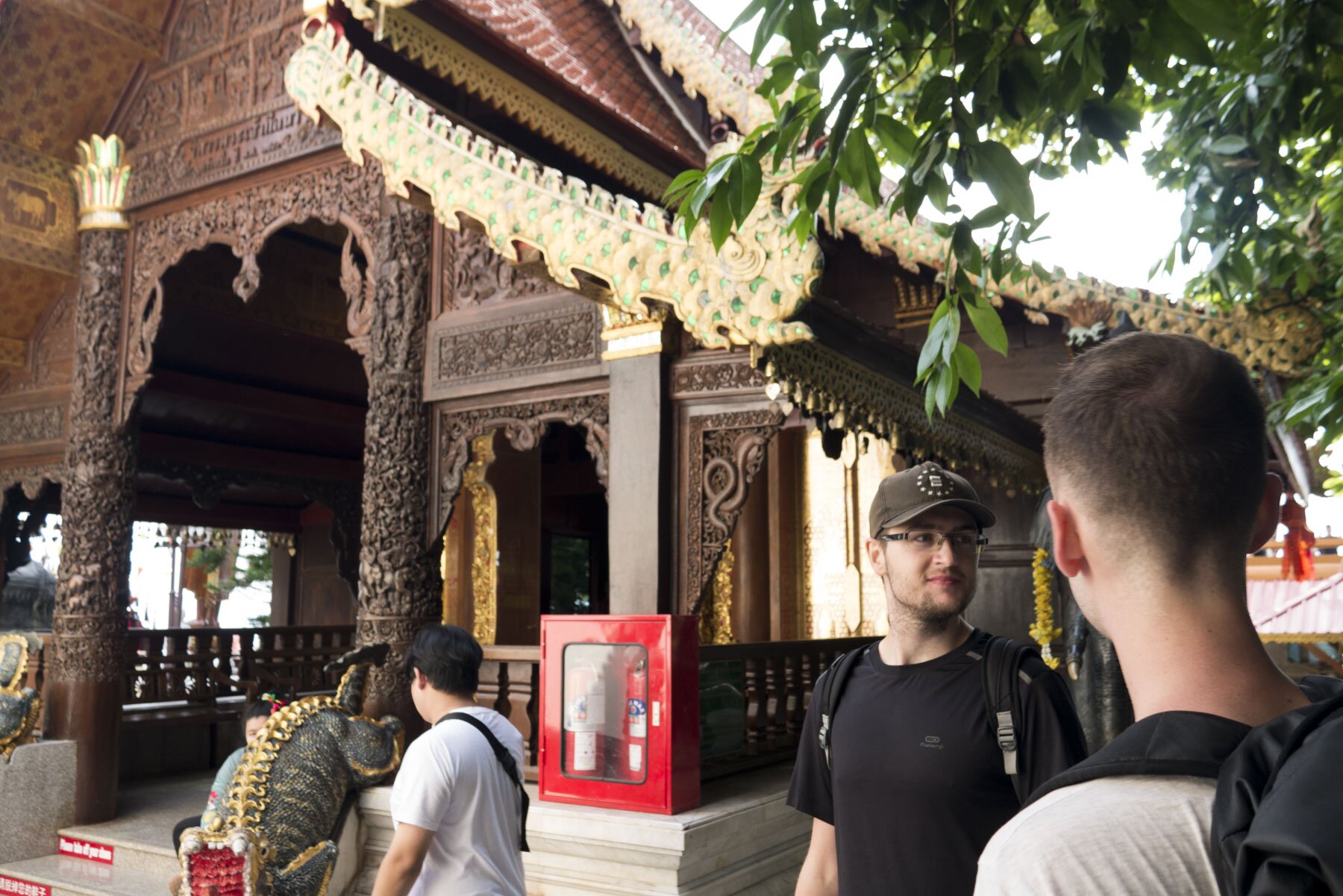 We went back down following the same route, but arguably it was much more fun as you could almost run down. I found that if I went down slowly and cautiously, I was actually more likely to slip than if I let my body take over whilst chatting to the others. We were much quicker on the way down, and we finished in around 45 minutes.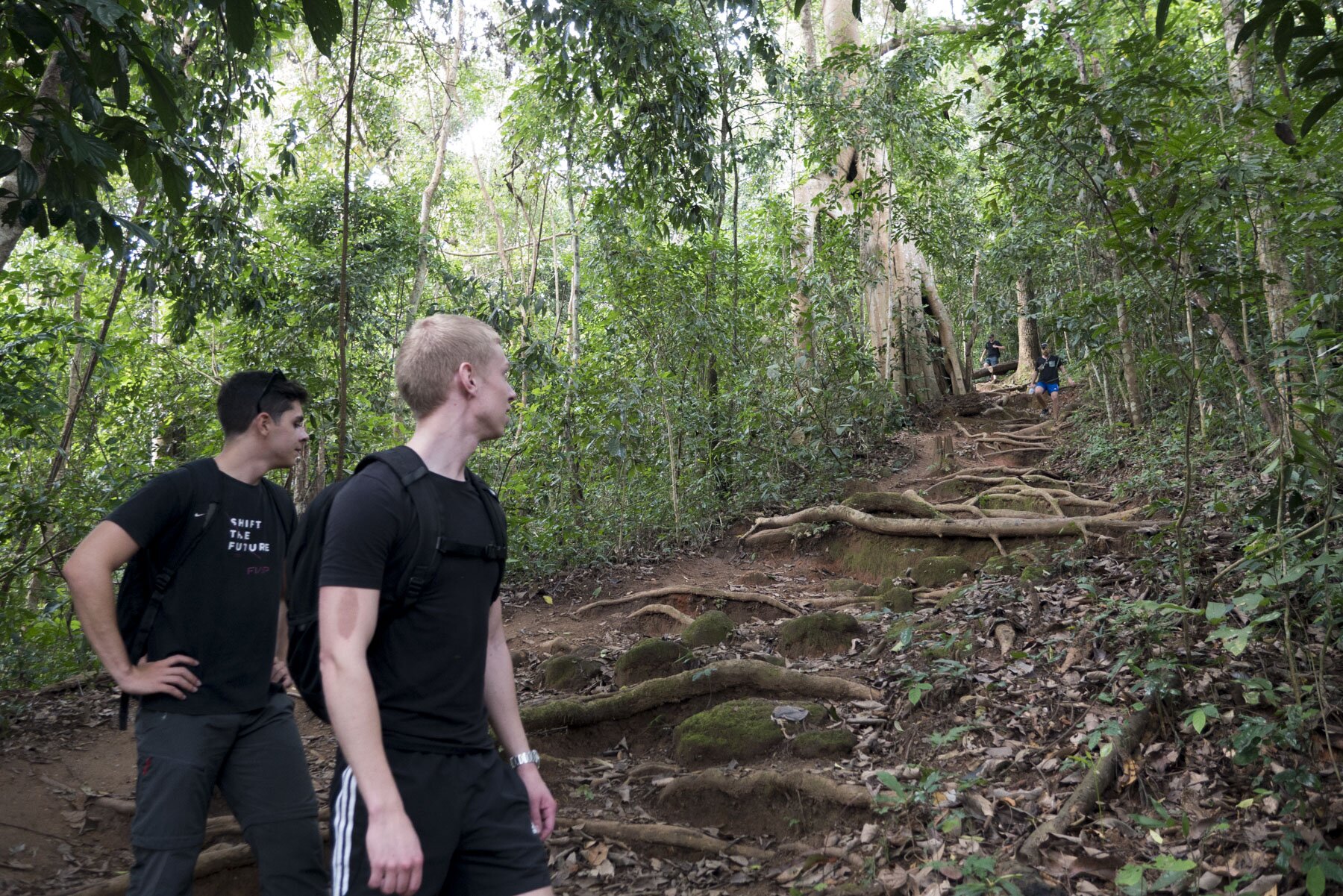 Guilherme and Jurn wait for Pat and I to make our way down a treacherous slope.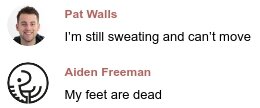 It was a hard hike.
Disaster Strikes
Well, maybe not as dramatic as 'disaster strikes', but…
After we got down from the bottom of the mountain, I went to Maya to get food from Shan Tou Hao Chi, but I was disheartened to see they were taking a few days leave. (I was sad at the time because I was really hungry from the hike, but I later felt good that they were actually taking a break, as they are usually there all day every day)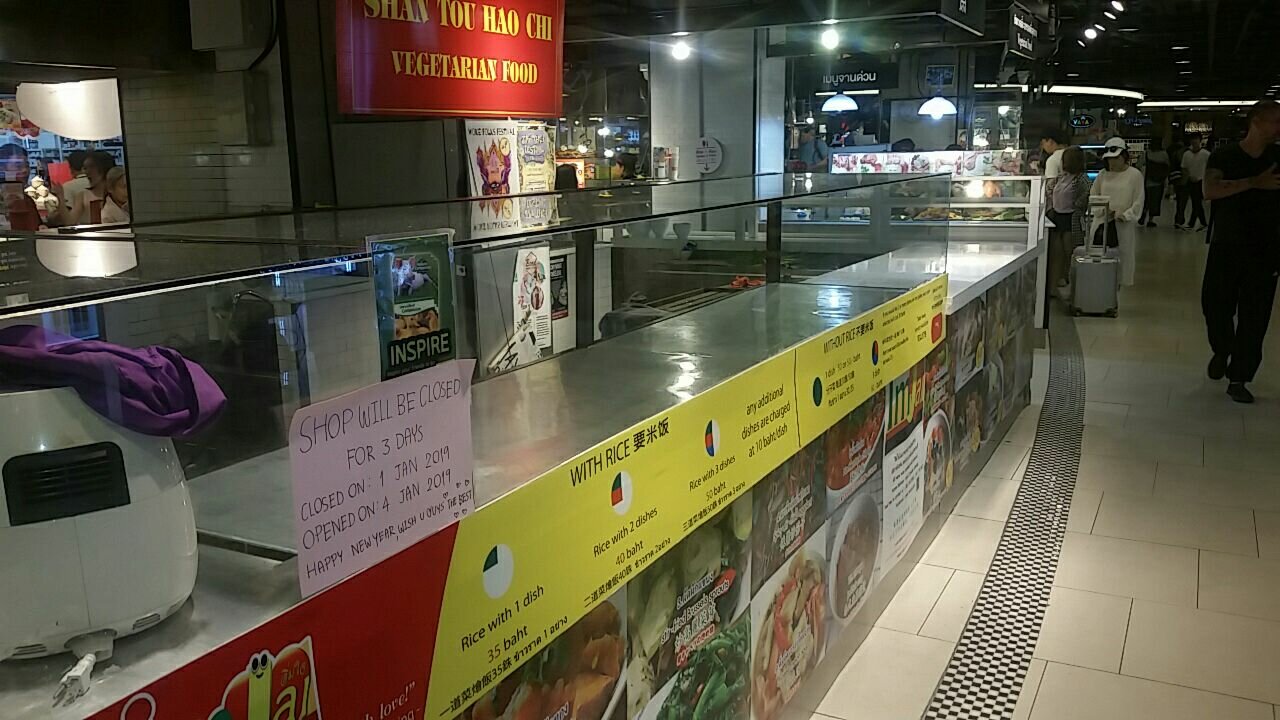 Oh no!
I had been really worried over the 'Christmas' period that everywhere I like to eat would be closed. Fortunately, that didn't happen - whenever I asked someone "Will you be open over the holiday period?", they always said "Same same!" or similar - they'd be open. Cool! What I didn't expect was that everywhere would be closed for the few days after New Years. It wasn't even just me and the places I went - everyone was having trouble!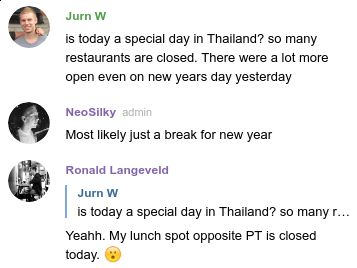 I only had a little bit of my money that I brought with me for the hike. I had intended to spent it all at Shan Tou Hao Chi and get two plates and feel really full. Instead I went to the nearby 'WrapMaster', which was tasty but not very filling.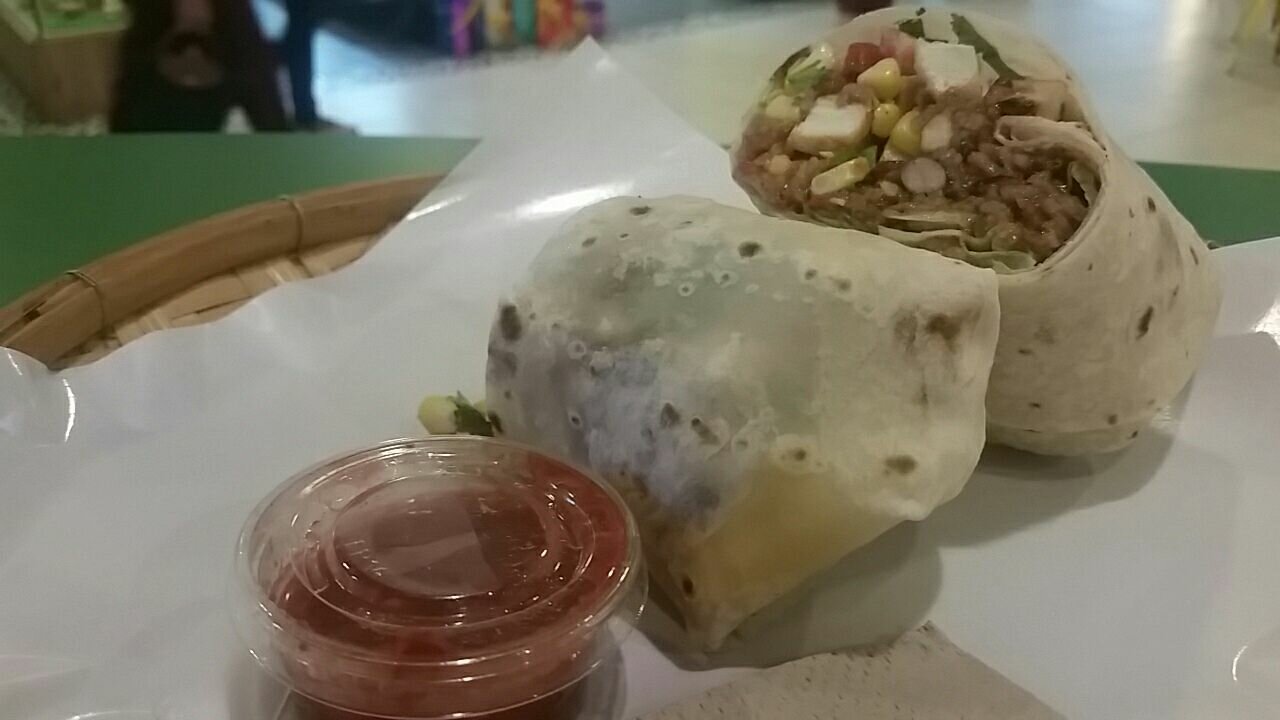 A small meal after a tough hike!
When I got home I actually just unintentionally fell asleep whilst I was drying myself after my shower; I was so under-fueled that it just happened.
When I woke, I was so so hungry, but many, many places were closed. The Mexican place I like to eat sometimes was even accidentally closed because their running water had stopped working! I ended up getting two lots of The Salad Concept that night - one to eat in, and one to eat out.
During the period when everything was closed, Guilherme took me to meet Al, who has her shop set up in the bottom of Central Kad Suan Kaew, which is right next to Huay Kaew Residence where I am staying. I actually checked out Central Kad Suan Kaew's food court (and the rest of the mall too) when I first arrived, but I hated it. The food was poor quality, overpriced, and the vibe of the building just depressed me.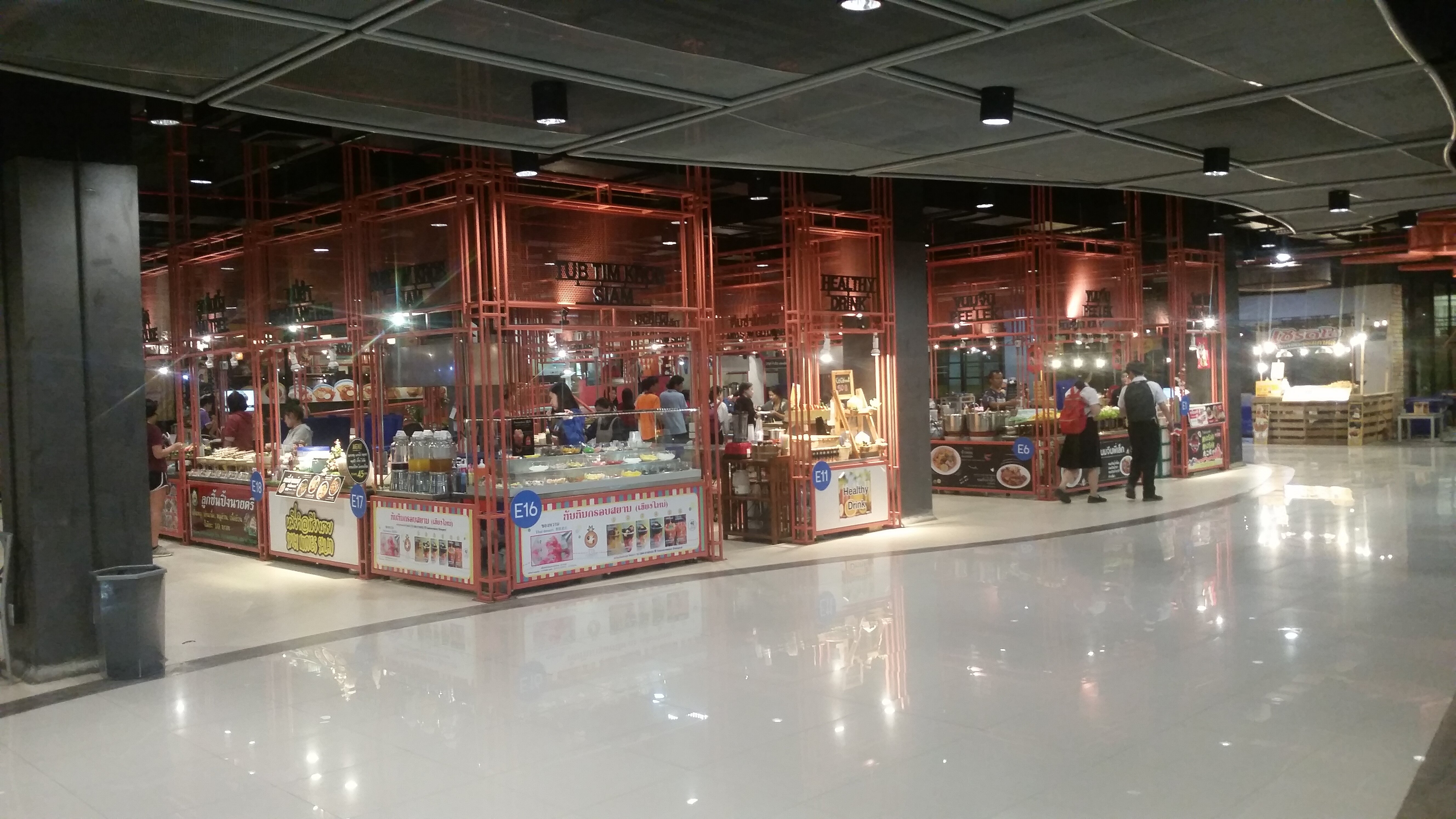 The food court I didn't like in Central Kad Suan Kaew.
Turns out, there's a second smaller food court away from the more modern food court, and I didn't know about it. This food court actually looks worse and is even dingier, which is really strange, but in many ways it feels more authentic. It's feels like to me a bunch of street food stalls were brought into the parking lot.
Guilherme and I went together, and he introduced me to Al. Al immediately gave me a cup of what she calls Chlorophyll - grasses and leaves that have been blended with water, and then strained. It tastes quite odd, but is apparently very healthy, and I'll eat or drink anything green.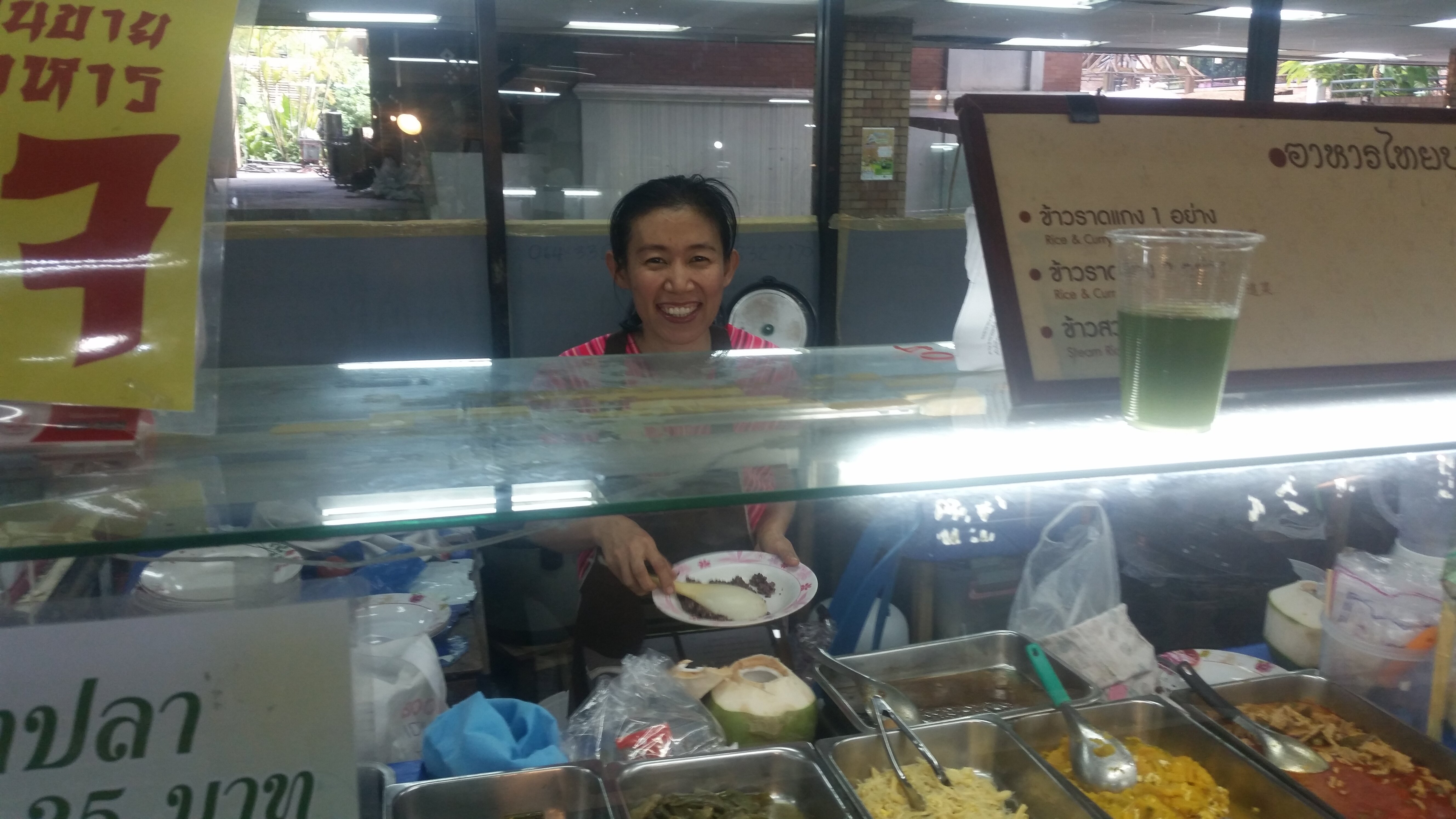 Al is incredibly friendly and generous!
Now, Al's prices says she gives rice plus two dishes for 30 baht (For comparison, Shan Tou Hao Chi gives rice plus three for 50 baht), but actually she gives you so much more than just two. She'll fill your plate with two, then point to some other food and says "I'll give it to you!" and piles more on your plate. Then you're sitting down eating and she comes over and offers you beans and heaps them on to your plate. Then 5 minutes later she gives you a quarter of an avocado. Then she refills your chlorophyll. Honestly it's crazy how much she gives you - I really struggle to believe that she can be profitable. But the fact that she does it definitely brings people back, at least in my experience - she seems to have a lot of regulars!
The 'Ballbuster Workout'
The day after our hike, Daniel and I planned to run. I had wanted, requested, and expected to do something fairly mild, but Dan had a different opinion. He had been reading David Goggins' book Can't Hurt Me, and another book about him, Living With A Seal. He told me we were instead going to be doing a 'Ballbuster Workout'. I don't know if the workout he'd planned for us was in either of those two books, but it feels like something that might have been; if it wasn't, I'm sure it was inspired by it.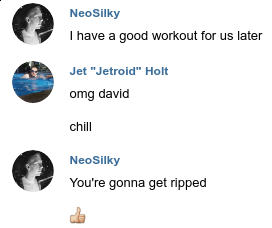 Daniel and I aren't strangers to a hard workout together; in the summer of 2018, we would hang out in the gym just doing blocks of 10 minutes of Cardio with only as much break as it takes you to switch between stations and refill on water. 10 minutes of rowing, 10 minutes of cycling, 10 minutes of the elliptical machine, 10 minutes of running, 10 minutes of rowing again, another of cycling, then running again; you get the idea. You feel great afterwards but there's a sense of dread before hand.

Dan told me the workout as we stretched, and it didn't sound so bad. Hardly the "Ballbuster Workout" he had been threatening. Apparently I misheard him - though I didn't find that out until I was part way through the exercise. I had thought he said that we were going to run three laps of the university running track (1.2km) at a comfortable 5 minute kilometre, followed by 25 sit-ups. What he actually said, was that we were going to be doing that 5 times in a row.
We jogged to the university running track at a comfortable pace. I like the workout Dan had picked to do, as where he is stronger at running, I am better at core strength. This meant that whilst I would have (relatively) little difficulty doing the sit-ups whilst he was struggling, he would have (relatively) little difficulty doing the running whilst I was struggling. So there was a nice balance where we could each encourage the other.
I did the first three laps of the track okay, but when I was doing the second lap I really started to regret that I had eaten so recently; I had finished eating a pretty big vegan enchilada just an hour before we started exercising (I had intended to eat much earlier, but everywhere I looked was closed). My body was really not happy having food in my stomach whilst I was running, and I kept vomiting stomach acid into my mouth, which was unpleasant.
After three sets of runs and situps, my body was hurting. My thighs were hurting hard - it was only yesterday that I had hiked the mountain, and I was still aching from that a little. I was starting to wear away the skin from my tailbone too - it was making contact with the rough asphalt floor every time I did a situp. And I kept vomiting into my mouth. I couldn't tell if my lower torso felt bad just because of the situps, or the all-too-recent food, or both.
By now, Dan was really struggling with the situps. He doesn't train strength often, mostly just cardio. 25 situps was a little too much for him now - by the time I reach the full 25, he's done 13 or so, and his face is going bright red. We agree that he forfeit the situps, but that he has to do twice as many as pushups as he had situps remaining.
By the fourth and fifth sets, we're really struggling with the strength stuff. I'm doing my situps in like 5 at a time, with little rests in-between - for me, the most difficult part is my tailbone, as the ground is really digging into my flesh. Dan is panting doing pushups. I never see him pant. He looks in pain, and says that he can't do (up to) 50 pushups in a row, and that all those he can't do, he'll do in even more squats instead. I'm tell him "Yeah, okay.", but in the back of my mind I'm thinking that he would have insulted me and called me weak if I had forfeited two different activities like that. Tu quoque.
My situps finish faster than Dan finishes his medley of activities, so I join him to do squats - thirty or so. We stand facing each other, going up and down at the same pace, staring into each other's eyes in concentration. Dan looks awful, and I'm sure I do too. I had been doing my sit-ups in the same spot all night, and a huge wet patch has formed from my sweat.
Eventually, we're done, and all that is left is to jog home. Dan tells me he wants to do three more laps to build up a little more distance, but I'm personally done for now. Whilst Dan is running laps, Pat unexpectedly arrives, and we all run three laps together, before jogging back home.
In total, I ran/jogged 12.4km, did 125 situps, and maybe somewhere around 80 squats, all within less than two hours. I sat at my laptop trying to cool down when I got back to my apartment, and my abs were just twitching.

I was hurting for days afterwards - it even hurt just to walk from my bed to my bathroom - but it felt incredible, and we didn't let the pain stop us from running again just two days later.
I have a good feeling about 2019!
Thank you to Aiden, Guilherme, and Jurn for letting me use some of their photographs for this article.
My visa expired a few weeks later, so I moved on to Kuala Lumpur.
P.S. I'm late to the party, but I recently got a twitter account that you can follow here.
---
---