My Backpack Is My Home
Everything I packed to travel the world with.
---
I've written before how I'm not drawn to owning the latest things or gadgets. Other than a time during my first year of University where I went a little crazy due to having disposable money for the first time in my life, I have lived quite minimally. Since I left to travel the world, I've had to make hard choice about what I want to keep. Here's everything I've packed to go on the road with.
When you're carrying everything around with you, you necessarily have to pair down your things to just the essentials. And because you're moving around from place to place without a fixed abode, your things are more important than your location. And they start the fill the same role that a home once did.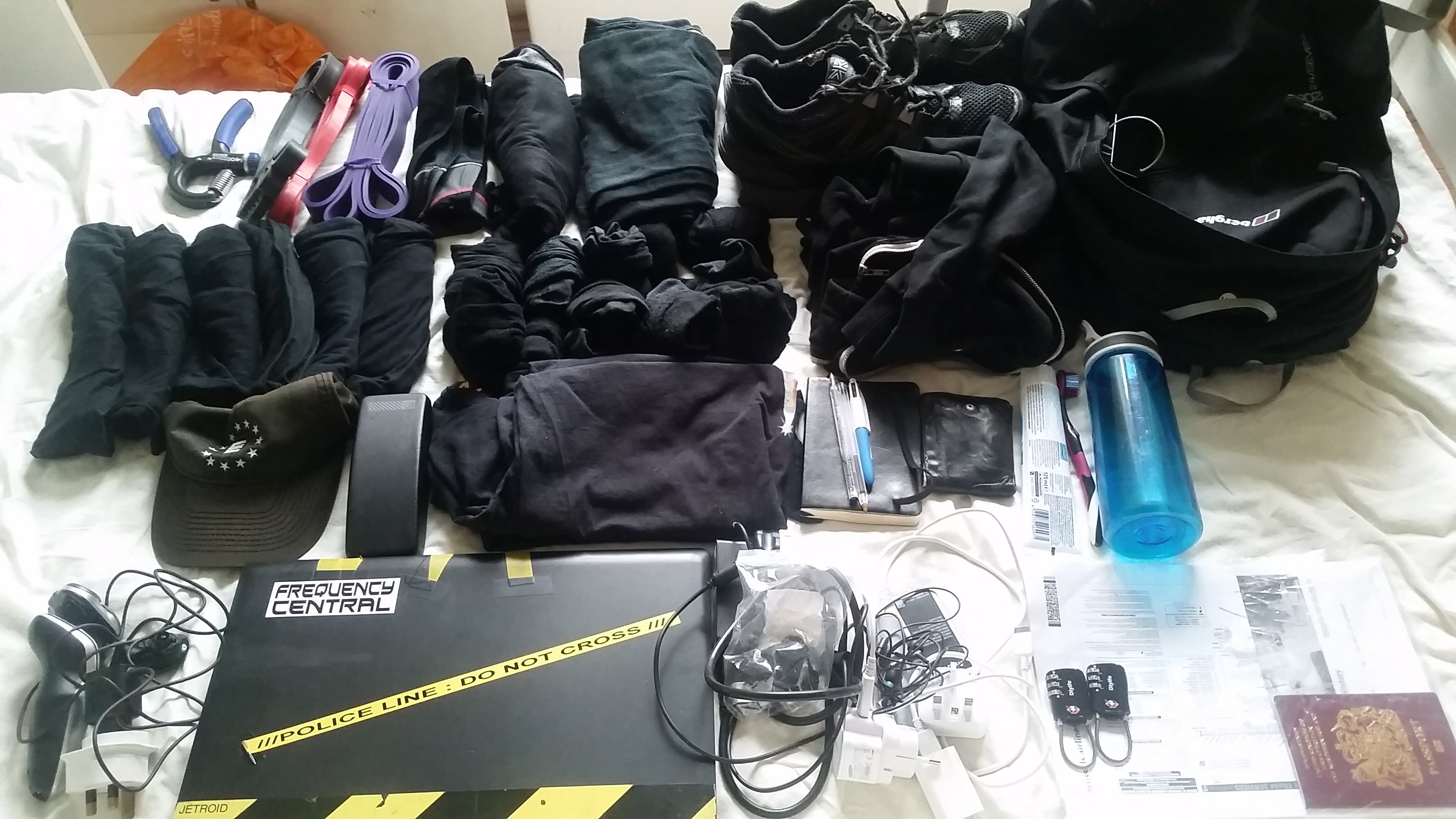 (Going by rows in the picture above, left to right)
First Row

Workout Equipment
Adjustable Hand Grip Strengthener, 3 of a 4-set Resistance Band kit. I haven't had much call for these yet. I've been busy exploring, racking up an average of 30,000 steps per day, which results in being kind of tired in the evenings. The fact that it gets dark by 5PM here in Croatia at this time of year also encourages me not to use them in the morning to make the most of the daylight.
I used these things extensively during the summer, so I'm confident they are a good thing. It's like carry a very basic gym with you everywhere. They don't weigh too much, and aren't too big, so I'm keeping them for now.
Swim Trunks, Shorts
I haven't used these yet. I'm sure they'll come much more in useful in warmer countries / coastal locations, so I'm keeping them for now. But there's an argument to be made for buying them when I need them rather than carrying them. I'm not even sure if the swim trunks fit as I didn't wear them for a year.
Jeans, 2 pairs
One pair pictured. Very heavy and awkward to wash. I've lost weight since I bought these, and they don't fit very well now. Will ditch these in favour of shorts for when I move to warmer climates.
Beat-Up Karrimor Tempo 3 Trainers
I originally bought these so that I could run during my first year of University, making them 3-4 years old by now. I used them a lot for running/at the gym, at they are really getting worn out; the sides are ripped, the laces are threading at the end and have burst out in places, the soles are coming loose and I have to keep cutting off worn bits of tread.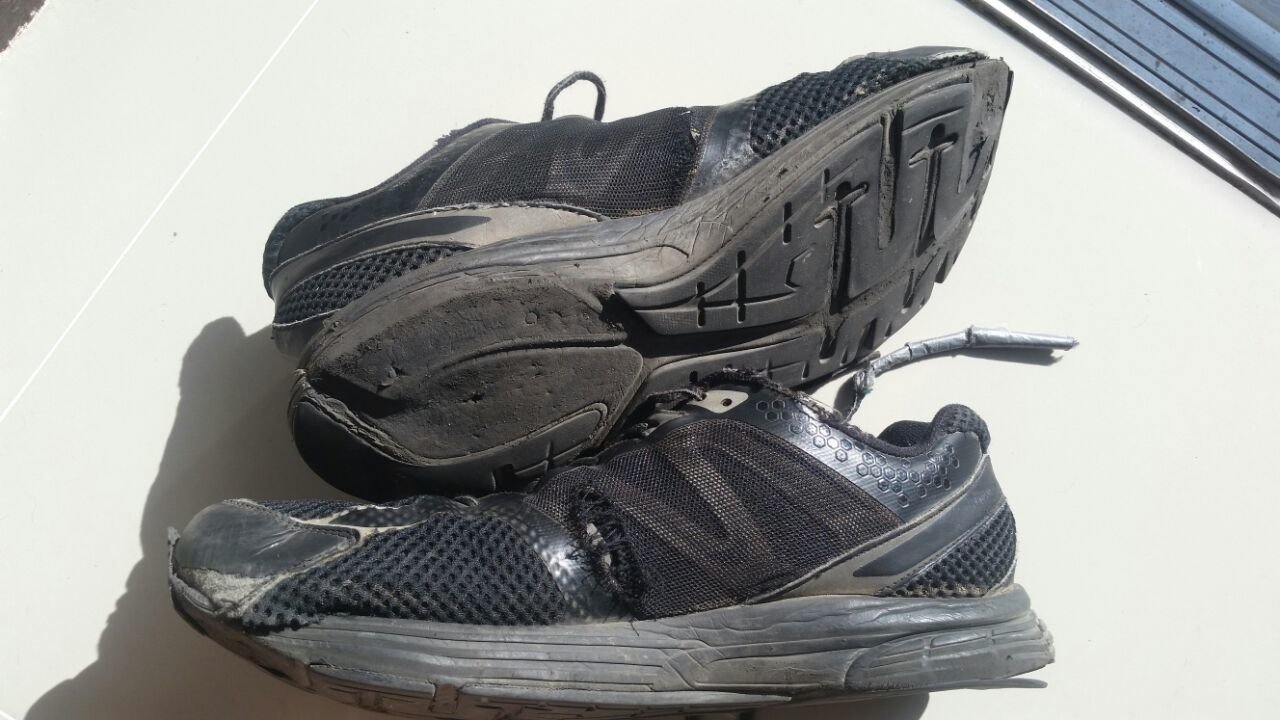 I'm currently using them as my only pair of shoes; this means that I don't need two pairs of shoes for running and day to day. I chose to use these as they're a lot lighter than my leather boots that I chose to leave at home. They're not particularly practical during heavy rain as they get wet through and take a while to dry out. I'll probably need to replace these soon.
Microfibre Towel
This is actually below my trainers in the picture. My towel is super useful. It dries incredibly quickly, is very thin, and is very large. I can use it to towel off my body, and then by the time I'm ready to try to dry my clothes the towel has dried itself. It's also great because I can use it as a makeshift curtain when I stay in a hostel.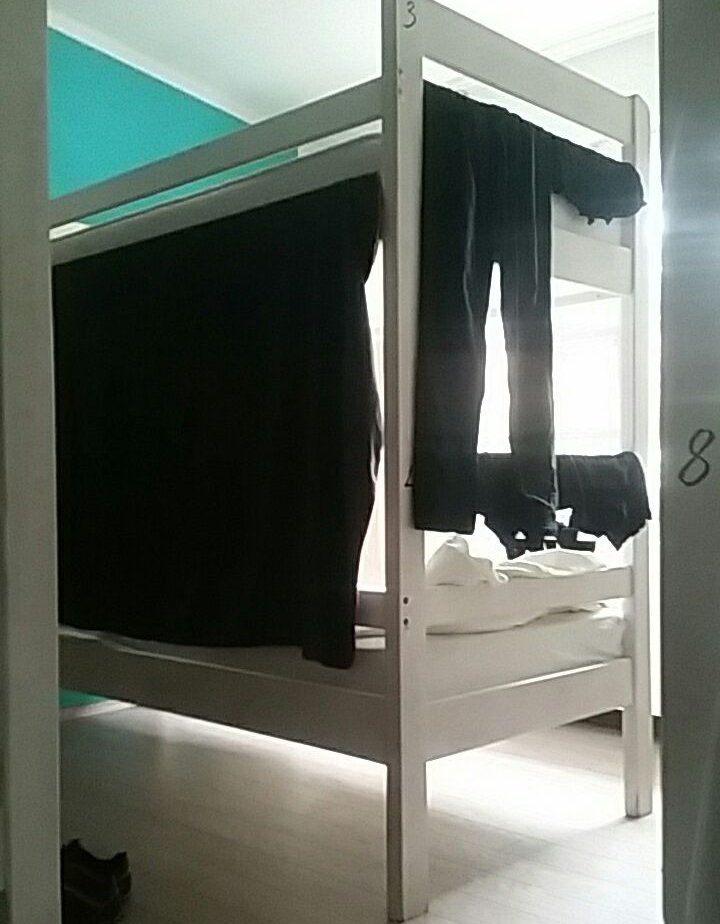 Two Backpacks
Yes, two. I guess maybe I have two homes?
I have the Berghaus TwentyFourSeven Plus 20 litre and 30 litre bags. I didn't put too much effort into choosing them; I just picked up something versatile. I picked these for use as a student, so there are a few things that make them inconvenient for travel. I'd prefer something that unzips all the way to the base.
I was initially just going to take the 30 litre bag, but I'm kind of glad I took both. My father had told me that sometimes an airline will try to put your carry-on luggage in the hold, but that if you have a smaller bag inside to take out they might let you keep that.
As such when I'm on the move, I have my laptop, chargers, documents, etc, inside the 20l bag, which is itself within the 30l bag along with all my clothes. I hope I don't run into that problem with Airlines - and I haven't heard about it from anyone but my Dad - but if it does happen I'll be prepared for it.
On a day to day basis, I leave my 30l bag wherever I have been staying, and take my 20l bag with me with all of my valuables inside. This really helps reduce the weight and size of what I'm carrying.
These bags feel really durable, and together only weigh less than 1kg (I have seen single bags which weigh more!), but there are probably better options out there if you know exactly what you need. I like these two because they're quite versatile, and fit my method of just cramming everything into one space, though I feel they could be more useful with some additional zips sewed into the inside pockets. The 20l day bag could definitely be lighter and have less padding, though.
Second Row

Underwear, 7 sets
Six are pictured. Probably going to be getting rid of three of these as I haven't used them yet; I've been cleaning them as I use them, so I just haven't had to touch those three pairs. I could probably even get by with just three pairs, but then I don't have any leeway for if I get rained on or something.
Socks, 11 pairs
Ten pairs are pictured. I definitely brought waaaay too many of these. I have always considered socks to be very important as I can get quite bad feet after walking, but again I haven't touched most of these yet. I don't think I'd want to go below six pairs, for now anyway.
A hoodie
Just a hoodie. I've been wearing this every day in Croatia. It's pretty terrible when it gets rained on. The elbows are getting quite worn out because I've owned it for a year or two now. Will probably ditch this when I move to warmer climates.
Third Row
Baseball Cap
Mine is Fallout Themed - I bought it shortly after Fallout 3 came out; I don't think they sell it anymore. I've repaired it a few times and have had to bash the adjustment clasp back into shape with a hammer. It's also going a brown colour from all the discolouration from the sun. An essential item; I wear it every day, whatever the weather.
Glasses Case
I have both sunglasses and regular glasses by Duck and Cover. I swap out whichever pair I'm not using at the moment into the case.
T-Shirts, 3 pairs
Cotton t-shirts, fairly thick. These were all gifts. I'd like to replace with something a little more breathable, and also something which fits with my current thoughts on branding.
Notebook and Pen
Useful for Calculations. I sometimes jot down ideas here.
Beat-Up Old Wallet
I've had the same wallet for seven years now. It was quite nice when I first got it, but now it's just a wreck. I've repaired it in so many different ways, and given it touches of my own unique style. Would probably actually miss this if I lost it.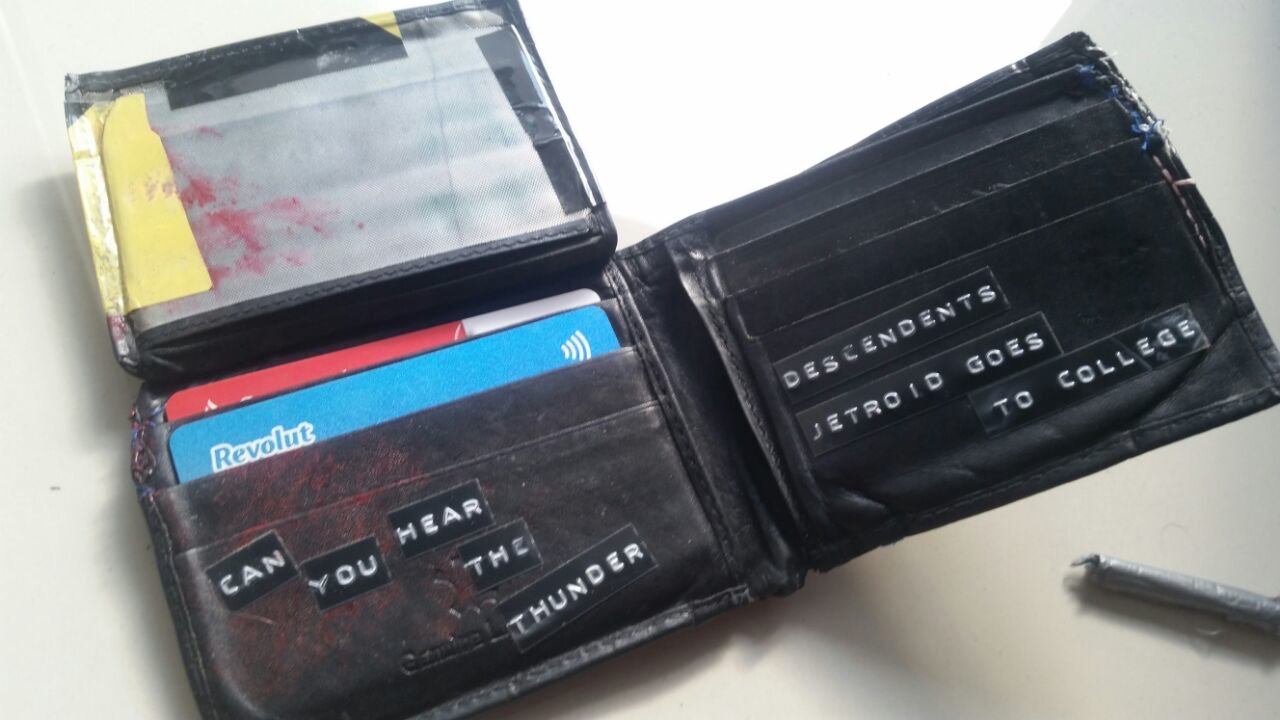 Toothbrush/Toothpaste
I actually bought these here in Croatia. I won't be taking the toothpaste on a plane, I'll buy that on location.
Beat-Up Water Bottle
I bought this a few years ago, and it's kind of falling apart. I really like the shape of it though, so I don't want to get rid of it. Useful in countries where you can drink the tap water. Might be less useful in countries where refilling isn't quite so easy.
Fourth Row

Electric Shaver
Intended for clean shaving a beard, but I also sometimes use this to shave my head. I probably need to replace the blade heads soon if I want to keep using this, as it's been a few years since I bought it. It's kind of frustrating as it uses the special 'shavers only' power head, which I don't ever see anywhere. I have an adapter that takes that to a UK plug, and then I have to use another UK plug to European power adapter. Frustrating.
I honestly don't like this model. I've borrowed shavers from other people which were hundreds of times more useful than this one. This one really gets clogged up on longer hairs and doesn't work very well.
Beat-Up Laptop
Lenovo g30-50. I've seen this model described somewhere as a contender for one of the lowest-end notebooks, and that was four years ago. Like many other things on this list, it's incredibly beat up; It's currently held together by superglue and electrical tape. I bought it in 2015 with my profits from the sale of the Bartos Flur.
For the duration of time I owned it, I've improved and changed this thing, so it differs from stock in a few ways. I upgraded the processor to a Pentium N3540 (from the stock Celeron N2830), gave it a 240GB Kingston Solid State Disk, and replaced the battery pack with a double-sized one. Most importantly I replaced the pre-installed Windows OS with Debian Linux, and then later, Arch Linux. Arch makes the laptop feel so much more fast and powerful than a Windows machine. Combined with the Solid State Disk, it now boots in seconds. Not bad for one of the 'lowest-end' notebooks! I've also ripped out the built-in camera and microphone, as I was never going to use it, and personalised the case with touches of my own unique style whilst I was at it.
It's fast enough for what I need, and the battery lasts for most of the day, so I'm really happy with it. The only bad thing is that it's really big and heavy. It probably weighs 1/3 to 1/4 of the weight of everything in my bag. I carry this with me everywhere, so having a laptop with a reduced weight could be a lot more convenient.
Electronics Gubbins
USB charging sockets, USB cables, battery packs, spare phone battery, Earbuds, USB thumb drives, UK to European power adaptors. I have acquired a European USB charging socket, so I plan to throw one of my UK ones. European charging sockets are a lot smaller than the UK ones and I don't need an adaptor for it. I'm not sure I need multiple USB charging sockets, so I might be reducing further down to just the one.
My Earbuds are super useful as they allow me to concentrate even in the busiest of places. Some travelling makers have expressed their love for over-ear noise-cancelling earphones, but I don't currently see the need for this.
2x Combination Padlocks
I haven't used these at all yet. Everywhere I stayed had key-locking wardrobes, and they don't fit particularly well on my bags, unfortunately.
Documents
Passport, printouts of reservations, photocopy of passport, etc.
Not Pictured
Smart Phone
I have a Samsung Galaxy S5. I got it just a few months ago after I stepped on my old phone. I'm not particularly impressed with it. The camera has trouble focussing without the flash on, the charging port stopped working (and I had to get it replaced), part of the back case snapped off as it was too flimsy, and there are little pop-up warning boxes whenever you open up the charging port cover or take off the back case. Considering it's one of the newest purchases I have at this time, this is not good so far!
P.S. I'm late to the party, but I recently got a twitter account that you can follow here.
---
---